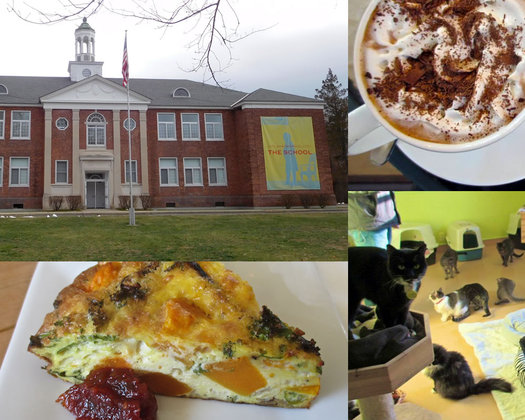 By Julie Madsen
Columbia County is special. Its quiet rustic aura attracts people from places such as Albany and Manhattan for a retreat from urban life. (And it's close enough to escape for just a day.) A multitude of little towns are filled with culture, fun, warm drinks, and good food, just waiting for you to explore.
If you're in a hurry hop on I-90 east, but there are plenty of back roads if you want to take it slow.
Chatham
Chatham has a charming old-fashioned feel. Marvel at the old brick buildings and clock tower in the village center. The little main street is located near the railroad tracks, and it's bustling. You'll find it lined with mom-and-pop shops and restaurants, an old movie theater, a brewery, and a bookstore.

Ben Gable Savories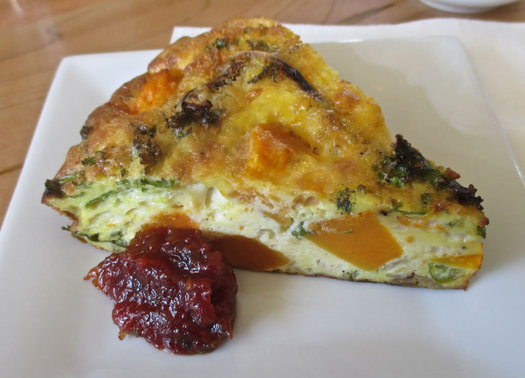 Wonderfully quaint and perfectly decorated, breakfast at Ben Gable Savories is the way to start your day in Columbia County off right. Quiches and pastries are handmade and seasonal. Ingredients come from nearby producers. There are also sandwiches, salads, soups, and sweets available. The menu and space are small, but you can taste and see the love and thoughtfulness put into this restaurant.
17 Central Sq, Chatham, NY 12037

If you're looking for a grab and go while maintaining a special ambiance, head to Mado Patisserie. Tantalizing sweet and savory pastries line the cases of this tiny shop. (Get there early, because many items sell out.) You'll be dreaming of this little slice of France in Chatham for days to come.
10 Main St Chatham, New York 12037


Hudson
Hudson is a great town to visit if you enjoy popping in and out of galleries, boutiques, vintage, and antique shops. There are plenty of those spaces to warm up in on the long and lively main strip, Warren Street. Nestled amongst the many stores and restaurants are quite a few gems to uncover.

Animal Kind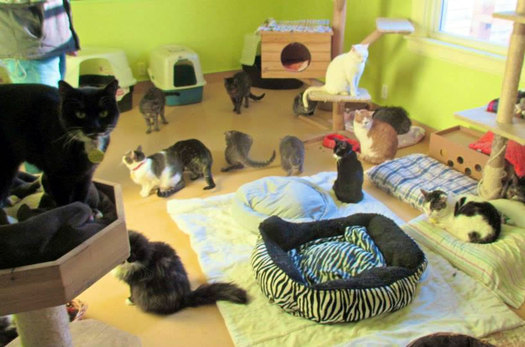 Embrace your inner cat person with a visit to Animal Kind. This volunteer based organization aims to protect the welfare of feral and stray cats. After signing a waiver you are free to interact with the many, many, cats there. You may enter a large room filled with many cats and, an adjacent outdoor compartment, or small closed off rooms. And a few cats roam around freely. You may fall in love and decide to adopt a cat right then and there.
721 Warren St, Hudson, NY 12534

Or, if you're more of a dog person, grab a beer and read a book at the nearby Spotty Dog Books & Ale.
440 Warren St, Hudson, NY 12534

Verdigris Tea & Chocolate Bar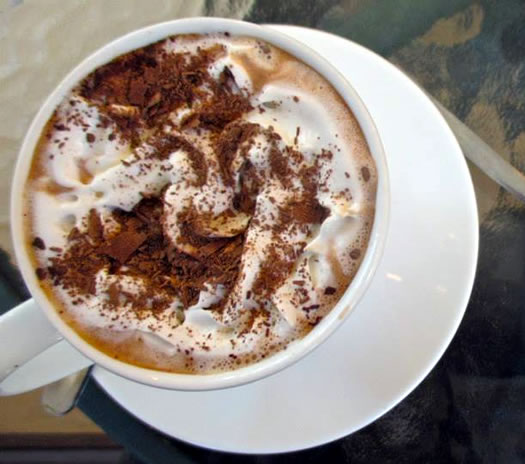 Verdigris is a perfectly cozy corner filled with some of the best comforts of life -- tea and chocolate. Find yourself a nook and try to figure out what you want to drink when all things sound so good. Sniff around the tea library or think about a coffee. I found myself gravitating to the chocolate bar which is full of warm, interesting concoctions. Try the Hudson hot chocolate made with dark chocolate, the Mexican hot chocolate made with cinnamon and cayenne, or the Coco-Chai, a mixture of hot chocolate and chai tea. Bakery goods and "all things chocolate" fill the counters and cases.
135 Warren St, Hudson, NY 12534


Kinderhook
On the way back north from Hudson on Route 9 you'll pass through Kinderhook, a sprawling rural town great for apple picking and cider donuts during the fall -- and well worth another look in winter. Without leaves on the trees it is easier to appreciate the fantastic architecture of the old homes and buildings. The streets are speckled with just a few shops and places of interest, but what is available is cultivated with care.
Jack Shainman Gallery: The School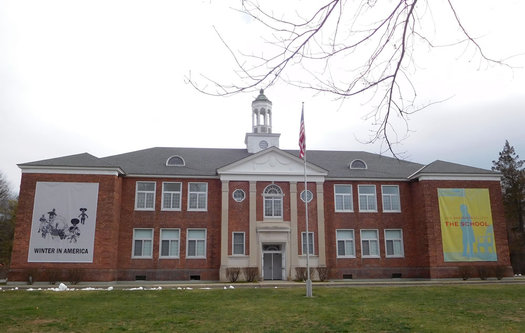 The School is in a former school.
A school building transformed into an art gallery, Jack Shaiman Gallery: The School is an A+ experience. Walk through the old classrooms filled with eclectic art ranging from sculptures to paintings to photographs. The current exhibit running through March 19 is Winter in America, portraying themes of the country struggling with war and intolerance. Hours are minimal -- open Saturdays 11 am to 5 pm, so plan accordingly.
25 Broad Street, Kinderhook, NY 12106

If you are more of a history buff head to the nearby Martin Van Buren National Historic Site, the 36 room mansion in which the eighth president of the United States lived. Tours are available May-October, but the grounds and trails are open year round.
1013 Old Post Rd, Kinderhook, NY 12106

The Flammerie
The Flammerie gets its name from an abbreviation of a German word flammkuchen, wood fired flatbreads, and the French suffix erie meaning "the place for." So it's no surprise the menu, which draws on locally-sourced ingredients, is inspired by German and French culture. There are many small plates for sharing, but order your own soup because it is exceptional! The space is intimate, so reservations are in order. If there isn't room in the dining room don't fret, the bar has comfortable tables with views of the wood fired oven.
7 Hudson St, Kinderhook, NY 12106
Julie has got the travel-bug. Whether it's day trips, weekend getaways, or wandering around the world -- she's always up to something. Read more about her adventures at juliejourneys.com.
Earlier on AOA:
+ Spending a winter day in the Pioneer Valley
+ Spending a winter day in Saratoga Springs