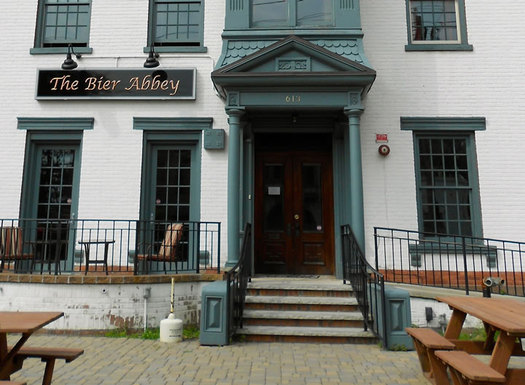 By Cristin Steding
Veg Out is short series about vegan dining options around the Capital Region.
While visiting a friend in New York City recently I found myself at a bar that had no vegan options. Every single option involved meat or butter. The only thing I could order was french fries. Rookie mistake to not research beforehand. I had foolishly assumed that since most places in Albany have veggie options, surely a hip bar in Brooklyn, of all places, would have something.
Here in the Capital Region, being vegan is relatively easy. We have Whole Foods and Honest Weight for all our geeky animal­-free cheeses and most restaurants have at least one veggie option. It's easy to get spoiled.
One great veggie option for a low-key dinner date or after work drinks is The Bier Abbey in Schenectady.
The Bier Abbey is a classic gastropub with a menu featuring a dizzying amount of beers and bartenders with breathtaking knowledge of the options. Posted up at the bar, I listened in awe as a bartender waxed poetic about various barrel­-aged, cask­-fermented, angel­ tear-­infused pours. (I don't know a lot about beer.)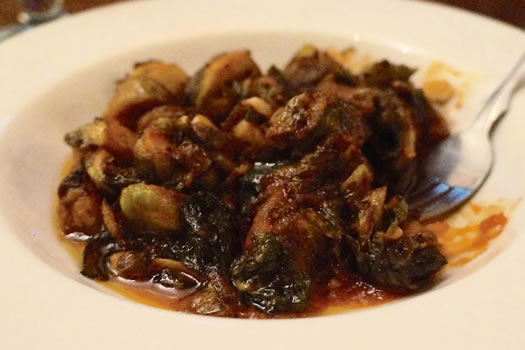 For food, I started off with something I do know a lot about: Brussels sprouts. I'm something of a Brussels sprouts connoisseur. Whenever I see them on the menu, I can't help but try them: shredded, roasted, sautéed, raw -- I'll devour them any way but boiled. Unfortunately, I found out after the fact that the sprouts I ordered are not vegan, but I'll leave them in here for the non-vegans of the world. (The sprouts' preparation includes butter, but no meat.)
The Bier Abbey's entry into my personal quest for the best Brussels is a dish called Sriracha Brussels Sprouts. Any health benefits of the brussels are delightfully thrown out the window in this gooey, greasy, and completely addicting version. The sprouts are fried in oil, tossed in a secret sauce that includes Sriracha, and served with sauteed shallots, garlic, and pickled onions in a soup bowl.
Each bite is hot to start, simmering down to a sweet and tangy finish. The brussels sprouts are slightly crunchy on the outside and the inside is soft but not mushy. The flavors are intense. And although the dish leans slightly to the greasy side, the sprouts are absolutely delicious. I sadly won't be ordering them again because they're not vegan, but flavor-wise the Sriracha sprouts are firmly in the top three.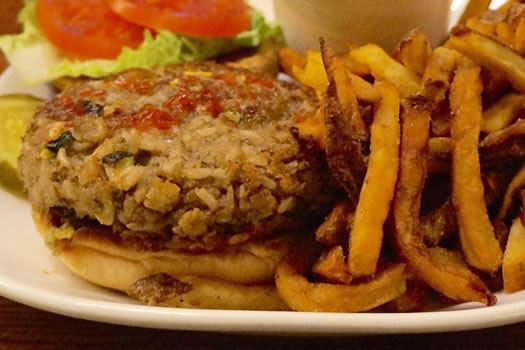 Next up was the Abbey's house-­made veggie burger. The default bun is not vegan, but can be switched out for a vegan version on request. According to the menu, the burger is packed with lentils, roasted veggies, and brown rice and topped with a roasted red pepper coulis and sweet chili sauce. The burger patty is thick and surprisingly sweet, like there might be a brown sugar coating on the outside. The inside of the burger is soft and has the savory flavor of the roasted veggies inside.
Unlike many frozen veggie burgers, this one is not pretending to be ground beef, and that works to its advantage. The patty sticks together well and does not crumble after the first bite like many homemade ones tend to. It's hearty ­and filling, no doubt a result of the lentil and brown rice combination. The chili sauce promised by the menu, however, was scarce on top and hard to detect. The burger was not too dry without it, but more sauce would have made it even better. The veggie burger is served with fresh french fries, which are made from scratch and provide the perfect ratio of crisp outside to soft inside.
My dining companion, who's not vegan, opted for the veggie sandwich (which is served topped with cheese unless otherwise requested) and gave it rave reviews. I've also heard that even staunch carnivores love the vegan veggie burger bites as an appetizer.
The only downside is the menu does not note which items are vegetarian or vegan, so you'll probably need to double ­check items with your server. A small annoyance, but worth noting.
Even coming from the Albany/Troy area, the Abbey is worth the drive.
Cristin Steding lives in Troy and spends most of her free time eating and driving to the High Peaks. You can find her on Twitter and Instagram
More Veg Out: Seitan wings at The Ruck
Earlier on AOA: The Bier Abbey (2012)
exterior photo: Casey Normile
Find It
The Bier Abbey
613 Union St
Schenectady, NY 12305
Say Something!
We'd really like you to take part in the conversation here at All Over Albany. But we do have a few rules here. Don't worry, they're easy. The first: be kind. The second: treat everyone else with the same respect you'd like to see in return. Cool? Great, post away. Comments are moderated so it might take a little while for your comment to show up. Thanks for being patient.