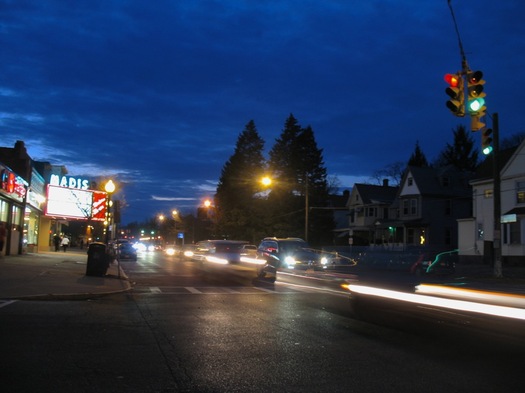 The city of Albany has made a choice of which direction to go on the much-discussed Madison Avenue Road Diet, a plan to calm traffic along the busy corridor in an effort to make it safer -- and, at the same time, friendlier to pedestrians and cyclists.
The long-developing project has recently been getting more attention because of a push for the inclusion protected bike lanes in the road re-design. A coalition supporting the idea has argued the lanes are both safer for cyclists and feel safer, which would lead to more people cycling.
Consultants for the project explained the reasons for the selected choice at a public meeting Wednesday evening at Saint Rose. So, without further ado, here's the selected plan.
Diagrams
The process for picking the recommended plan narrowed the range of choices from five design options to two. If you'd like to compare designs for the two final options, they're above in large format -- click or scroll all the way up.
The selected plan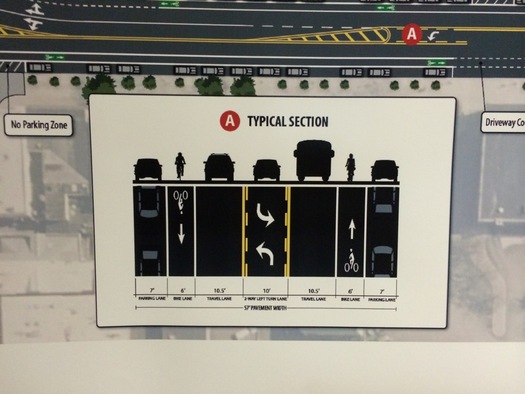 The city has selected the option that includes:
+ One vehicle travel lane in each direction, plus a center turn lane.
+ Parking along the curb.
+ Conventional bike lanes that run between the vehicle travel lanes and the parked cars.
So, the plan does not include protected bike lanes.
Representatives of Creighton Manning, an engineering firm that has been working with the city on the road diet, told the crowd Wednesday night the range of options had been narrowed to two candidates based on earlier public input and study of the corridor and the experiences of other cities: the conventional bike lane version selected and a second option that included protected bike lanes that would have run on both sides of Madison between the curb and parked cars.
The Creighton Manning reps presented a series of projected impacts for both options -- on parking, maintenance costs, and bike ridership, and travel time along the corridor:
Capital cost
Conventional bike lane option: $1.3 million
Protected bike lane option: $1.6 million
The extra cost for the protected lanes included items such as bollards for separating the lanes from the parked cars.
Maintenance cost
Conventional: $61,000 per year
Protected: $91,000 per year + an upfront cost of $210,000 for machinery to sweep the lanes and clear them of snow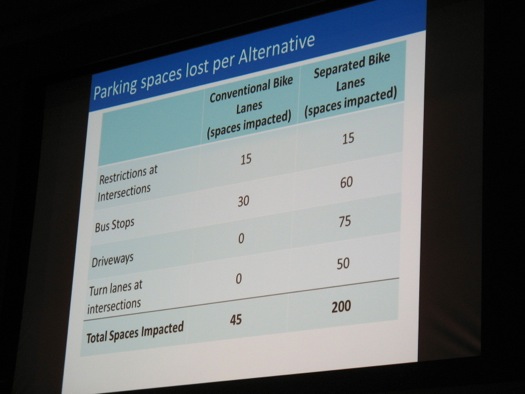 Number of parking spaces affected
Conventional: 45
Protected: 200
Creighton Manning's Mark Sargent said the protected bike lane plan eats up a lot more spaces for two reasons: 1) the zones for the bus stops needed to be longer so buses could make their way to the curb and 2) guidance on protected lanes indicated each driveway would require a 20-foot buffer on each side.
Estimates of bike ridership
Current: 26 per hour
Conventional: 41 per hour
Protected: 49 per hour
Corridor travel time effects
Sargent said it was difficult to quantify the difference in potential effect on travel times for each bike lane option. But both options probably would increase travel times in the 30-45 second range. There would also be noticeable delays at the intersections with South Allen Street and New Scotland Ave during peak traffic periods.
Overall
Sargent showed a matrix comparing the various effects of each plan (it was also display in the back of the forum -- that display is below).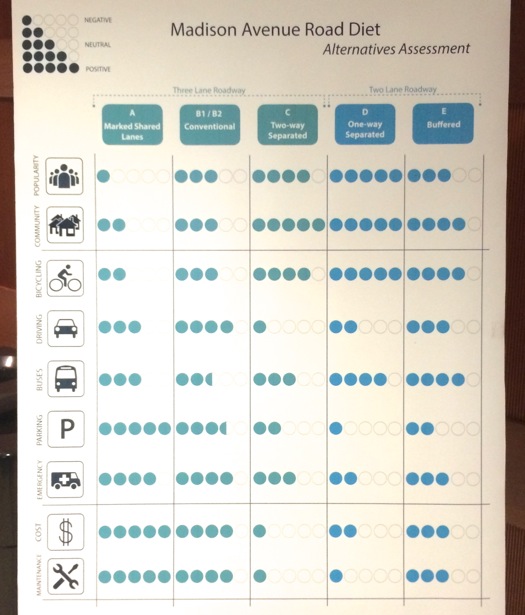 He said of the tradeoffs: "They're very real. They're quantifiable." And he pointed out that cyclists represent a very small slice of all the users of the corridor: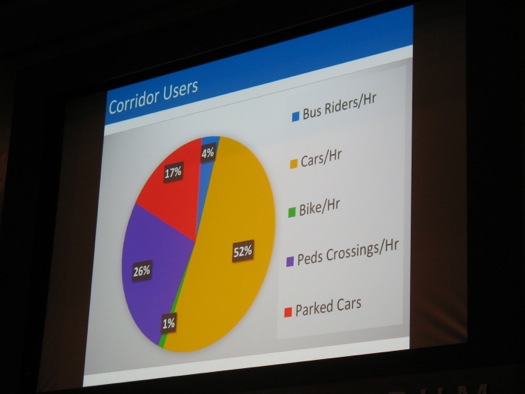 Jeff Pangburn, also of Creighton Manning, told the crowd he's a biker and wouldn't choose to bike on Madison Ave as it's currently configured. But with the conventional bike lane option -- and the overall road diet: "It's a dramatic improvement over what's out there."
And Sargent later said during the public comment period that a study had concluded there were 471 accidents in this corridor over a 3-year period. He said they're projecting the road diet plan will reduce that number by 25 percent.
Kathy Sheehan
After the public presentation, mayor Kathy Sheehan said she was taking ownership of the decision to select the conventional bike lane option, and pointed to it being cost effective while still including increased accommodations for bikes. She also touched on the contentious nature of the whole road diet topic:
"Looking at the parking impact, and whether the parking impact exists, we need to insure that the strong businesses that we have in the corridor -- and people who live in the corridor -- that their needs are being met. We have people living along Madison Ave who don't want us to do this project at all. I was just stopped by a couple of who want this put to a vote, they feel that strongly against doing anything. And so I think this is a good start. We have to prove to the community that this is going to work. That is what we have to move forward on, to stop talking and actually get it implemented."
We asked the mayor about the people who might be disappointed by the decision to not go with the protected bike lane option, and a possible sense among some of them that bypassing the option is evidence the city isn't up for trying new ideas. Her response:
"We have to think about all users of this road. This is not just for bikes. And I know there are adamant bicyclists who think, 'Hey, just go for it and we'll prove to you because so many more people will just come out and patronize these businesses.'"
"We have to get emergency vehicles up and down this street. We have to make sure that we have lanes that are open for emergency vehicles to get to hospitals. When you start to look at the restrictions in the flow of traffic caused by having the protected bike lanes, you're really restricting that access. When we have that first snowstorm and we have people parking against not the curb to measure from, but bollards which we know in the winter are difficult to see and get knocked down. Again, I listen to the experts. And the experts who looked at this project -- and who are big bike advocates across the country -- who said that for this road the conventional bike lanes is the right treatment. Because if you go with protected bike lanes -- and all those of issues that I just talked about -- that will be the end of this discussion. You heard from the skeptics in this audience -- who, again, don't want any bike lanes, they don't want us to do anything at all -- and so we need to make sure we listen to everyone in our community, that we take all of those people into consideration, and take the best choice. Again, these were two really great choices. [And] pick the best choice for this road."
"That doesn't mean protected bike lanes are dead in the city of Albany. Far from it."
Sheehan said the city is currently looking at doing bike-specific projects -- as opposed to bike amenities within a larger road safety project -- on other corridors in the city, specifically Broadway in the Warehouse District and Clinton Avenue on the city's northern side.
"There's absolutely opportunity when looking at the widths [of those streets] and the way that traffic flows that those would be candidates that we should be looking hard at for protected bike lane treatment," she said. "I'd love to see us connect the rail trail as it comes into the city to a network that at least provides for conventional and/or protected bike lanes all the way to the Warehouse District."
Reaction from protected bike lane advocates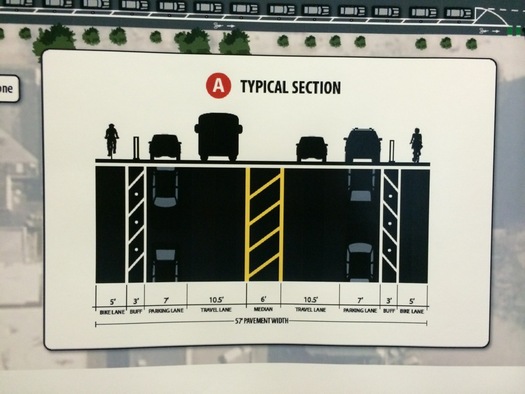 The final option that included protected bike lanes.
Jason D'Cruz has been one of the representatives of the Albany Protected Bike Lane Coalition:
"I worry that this is the sort of compromise that's going to make no one fully satisfied. ... This was really a rare opportunity for Albany to get its first protected bike lane. And Madison is the only avenue -- an east-west connector road that is wide enough to accommodate a protected bike lane. So this was a huge opportunity for us, and we feel like it's something of a missed opportunity. We're happy about the traffic calming. We're happy about a safer street. But for cyclists who are not pros, experts, really dedicated transportational cyclists, the whole diverse range of people who bike around this area and in the park who don't feel like they'll be safe riding on a bicycle lane between parked cars and moving cars, that puts cyclists in a pretty precarious situation... so, yeah, disappointment in the decision."
(The coalition also announced after Wednesday's meeting that it's changing its name to Capital Region Complete Streets, with a focus "to advocate for safe transit for all people regardless of their age, socioeconomic status, ability, or mode of transport.")
Virginia Hammer is president of the Pine Hills Neighborhood Association -- she's been an advocate for the road diet idea for more than a decade, and recently has also been a proponent for protected bike lanes. She said it would have been "fabulous" to get protected bike lanes, but she noted the political realities of the situation, including some vocal opposition along the corridor:
"I believe that the road diet, with some accommodations for bicyclists, though not perfect, is a good solution. And the city administration and the consultants have come a really long way in understanding what protected bike lanes are and what they mean. And what the possibilities are for putting them on other streets, which might be deemed to be more appropriate for the first time. ... We put protected bike lanes on the front of the burner for a lot planners and things. And I think we can look forward to having protected bike lanes in some parts of Albany."
What's next?
The plan for the road diet is to implement it in three segments: Allen to Partridge, then Partridge to South Lake, then South Lake to Lark. Creighton Manning's Jeff Pangburn said the goal is to have the first segment reconfigured by the end of this summer. If the funding for the second segment comes through -- much of this project is being funded by the state -- that could be completed late this year. And the ultimate goal is to have all three segments finished by end of 2017.
Earlier
+ A new pitch for protected bike lanes in Albany
+ Options for the Madison Ave Road Diet
+ Three thoughts about the push for protected bike lanes in Albany
Say Something!
We'd really like you to take part in the conversation here at All Over Albany. But we do have a few rules here. Don't worry, they're easy. The first: be kind. The second: treat everyone else with the same respect you'd like to see in return. Cool? Great, post away. Comments are moderated so it might take a little while for your comment to show up. Thanks for being patient.