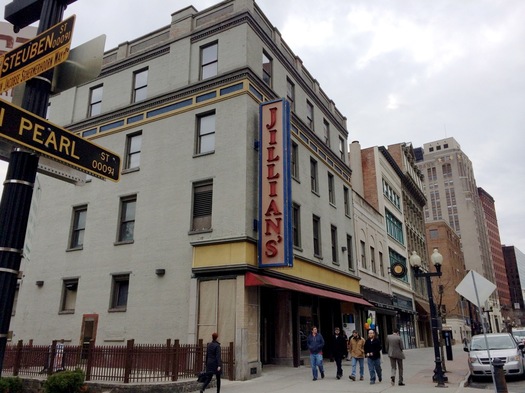 The former Jillian's building on Pearl Street is one of downtown Albany's biggest and most prominent venues. So as the neighborhood has evolved through a series of residential conversion projects and picked up momentum over the past few years, the site has been conspicuous for its lack of activity.
That's now changing. The building has new owners, and they're working to turn it into a spot for a range of different uses. Here's the plan.
Who
Chris Pratt and Alessio Depoli -- who own the Pearl Street Pub, Steuben Street Market, The Capital American Eatery and Lounge, Public House 42, and Barrel Saloon -- closed on the property about a month ago. The purchase price: $855,000.
What
Standing on the sidewalk Wednesday, Pratt explained the plan for the 36,000-square-foot building:
+ Three boutique-style retail spaces on the building's ground floor, which formerly housed the Jillian's game room. That floor is open to Steuben Street. Pratt said they've alread gotten interest about space, and potential tenants should contact him directly with inquiries.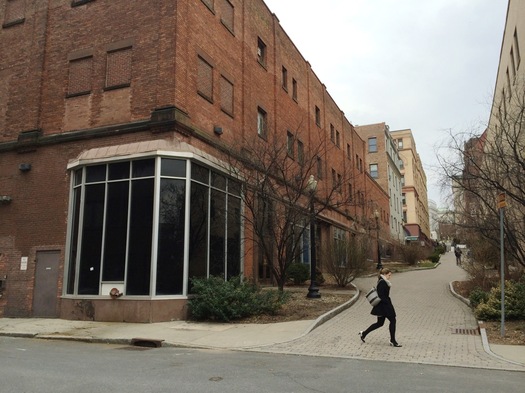 Steuben Street, looking up toward Pearl Street.
+ A pub/restaurant on the Pearl Street level. Pratt says they'll be making an announcement about that soon.
+ An event space on the next floor up, which will host live music and comedy. Pratt said they figure the space could potentially hold 300-400 people, and they're aiming for a feel similar to Helsinki Hudson. The event space will have an entrance separate from the pub/restaurant on Pearl Street, and they'll have different names, but they'll be connected and served by the same kitchen.
+ The top floor will have two apartments. (There's an apartment up there already.)
They also plan to rename the building as the "Albany Annex." The Jillian's sign will be coming down. "It's gotta go," Pratt said. "It's time."
When
Pratt said they expect to have these projects together within the next 12 months. He said funding is in place, and they're working on getting the necessary approvals from the city (including a cabaret license).
Why
Pratt and Depoli have been pursuing an event venue of some sort for years -- looking at spaces in the Warehouse District and another spot on Pearl Street. But those places didn't work out. So why keep at it? "There's a lot of music out there that can support [crowds of] 300-500 people. And that's the type of venue we want to do. And my business partner and I really love live music, so it's more of a passion."
There's also the changing character of downtown, in a direction of something more like a residential neighborhood. Pratt said Steuben Street Market has been doing well since opening earlier this year, and people are very enthusiastic about what's happeing.
"They're seeing there's a lot going on down here and now with the retail down here it will be more of an attraction."
About cultivating retail in downtown Albany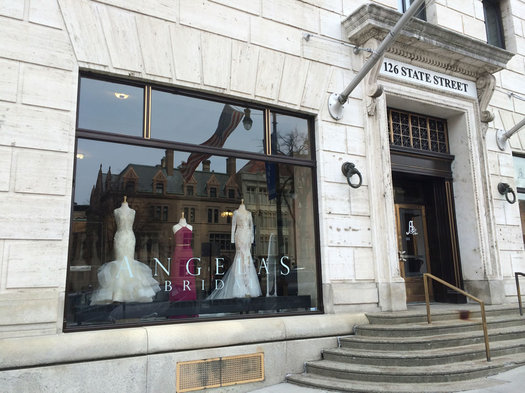 Getting retail development to take root has been a challenge, not just in downtown Albany, but in the Capital Region's other urban cores as well. And that's not surprising -- downtown retail development represents a shift from the now decades-long pattern toward surburban shopping outlet. But the growing residential market in downtown Albany has people thinking retail has a chance.
The former Jillian's building was open Wednesday for the announcement of two new incentive programs -- backed by $400,000 from the the city of Albany's Capital Resource Corporation -- aimed at helping to spur activity and retail development. One will aid new downtown businesses looking for help fixing up facades and fitting up space, the other will provide grants for new events in the city's commercial districts.
"It's early in the market," Capitalize Albany president Sarah Reginelli said in reference to retail development in downtown Albany. "It's always riskier at the start. We need those first pioneers to get in the ground and start to thrive, to show that downtown is really open for retail business."
Reginelli said the hope is the Downtown Albany Retail Grant Program -- which is offering grants of up to $100,000 to new retail projects -- will hope encourage business owners to take that step. But the goal is for them to not do it alone. "[The grant program] is a signal that we are developing a cohort of new owners and new businesses to all come in at the same time and establish the scene at the same time so they're not the only pioneer out there."
Downtown Albany has already seen some new retail in the past few years. And Reginelli said retail development is about where residential development was a few years ago. "We know there's a market there. We can feel that there's potential. We feel people moving down here. We see a place like Angela's Bridal increase sales by 15 percent by being in downtown Albany. So we know that that potential is there. What it is really going to take is early incentives and us to open the gate to let it happen."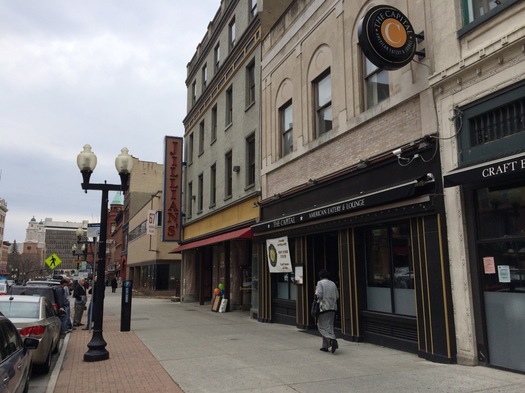 And now the former Jillian's building is set for a transformation. Georgette Steffens, the executive director of the Downtown Albany Business Improvement District, said Wednesday the building is a symbol of sorts for the neighborhood. Its opening as an entertainment spot in 1999 marked the revitalization of downtown Albany. And the new plan represents the shift toward a more residential neighborhood.
"The re-opening of this, and the re-imagining of the space -- Chris is really looking at what the residents are looking for, and looking at the current trends for creating that experience ... so that it's not just a Saturday night place."
Another sign mentioned by Steffens that downtown Albany is becoming a place that's open all the time, not just during the workday: there are now six places offering brunch on weekends.
Earlier on AOA
+ About retail in downtown Albany, and other local downtowns
Say Something!
We'd really like you to take part in the conversation here at All Over Albany. But we do have a few rules here. Don't worry, they're easy. The first: be kind. The second: treat everyone else with the same respect you'd like to see in return. Cool? Great, post away. Comments are moderated so it might take a little while for your comment to show up. Thanks for being patient.