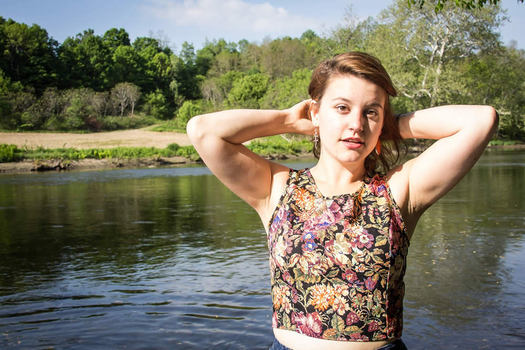 Rolling along with schedules for concert series this summer... Here's the lineup for the 2016 Upbeat on the Roof series of Friday evening shows at Skidmore's Tang Museum. As usual, it includes local acts across a range of genres -- from folk to jazz to gospel.
The concerts are all on the roof of the Tang (thus the name). And they're free.
Concerts start at 7 pm. Blurbage via the Tang.
July 1: Olivia Quillio
Troy-based singer-songwriter Olivia Quillio creates songs that feel at once raw and luminous. Taking influence from folk, jazz, and soul, Quillio has been praised for her "commendable lyrical guile," "refreshingly honest" music, and passionate live performances.
July 8: Dust Bowl Faeries
Dust Bowl Faeries is an ethereal electro-acoustic gothic folk ensemble led by artist and musician Ryder Cooley. Accordion, lap steel, saw, ukulele, keys, and percussion combine to create their unique, otherworldly sound. Additional faeries include Karen Cole, Jen DuBois and JoAnn Stevelos. Hazel, a taxidermy sheep, joins the Dust Bowl Fairies as spirit animal go-go dancer.
July 15: Decoda: Skidmore Chamber Music Institute
Decoda is a New York City-based chamber ensemble comprised of virtuoso musicians, entrepreneurs, and passionate advocates of the arts. The ensemble's summer intensive at Skidmore College, now in its third year, offers young musicians multiple performance opportunities and occasions for meaningful community engagement.
July 22: Terry Gordon Quintet
Terry Gordon Quintet is a jazz group based in upstate New York creating adventurous original music. Formed in 1992, the group performs regularly in concert settings and jazz clubs throughout the Northeast, has been the recipient of a New York State arts grant for composition, and has released four albums.
July 29: Swamp Baby
Over the past ten years, Albany-based psych-folk band Swamp Baby has gained notice both near and far for their particular form of ethereal chamber pop. The four-piece group creates lush, layered sounds and delicately intimate songs.
August 5: Red Haired Strangers
Founding members Ryan Dunham and John Rice have been playing music together for over twenty years, creating the Red Haired Strangers' unique sound that pulls from country, blues, and bluegrass influences. Beginning as a guitar and harmonica duo, their sound has been enriched with the addition of new musicians on fiddle, drums, bass, dobro, and pedal steel guitar.
August 12: Hot Club of Saratoga
Gypsy jazz ensemble the Hot Club of Saratoga carries on the spirit and style of music created in the 1930s by Django Reinhardt and Stephane Grappelli in the Quintet of the Hot Club of France. The Hot Club of Saratoga's full quintet features solo and rhythm guitars, string bass, violin, and clarinet/sax. Together the group explores the genre and covers a range of its sounds from sweet, soulful balladry and hard driving swing to fiery, upbeat tempos.
August 19: The Heavenly Echoes
The Heavenly Echoes are a Southern soul-style gospel group, founded more than fifty years ago by the late Deacon James Edmonds of the Sweet Pilgrim Missionary Baptist Church in Albany. They perform as a nine-member group backed by guitar, bass, and drums. The Heavenly Echoes regularly bring their authentic, heartfelt style of gospel music to churches throughout the Capital Region, as well as to festivals and cultural events across the state.
August 26: Random 33
Random 33 is a trio that began in 1998 as a small club band doing covers, instrumental, and improvised music. The group features Carl Landa on piano and synthesizer, Scott Morehouse on drums, and Sam Morrison on saxophone. Landa, a musician and composer, is the Music Director of the Dance Department. He plays piano, synthesizer, percussion, and hammered dulcimer, and has composed scores for dance, video, film, and television. Morehouse is a New York City-based drummer for session, live, and dance accompanist since 1999. In 2016 he will be recording with the duo Tanky Bell and accompanying the Alvin Ailey Dance Company. Morrison is a tenor saxophonist, flutist, and composer who lived and played in New York City for years and now resides in the Catskills. He is most well known for being a member of the last Miles Davis Group, and has played with many additional bands and artists.
____
Earlier on AOA:
+ Freedom Park 2016 concert series lineup
+ Music Haven 2016 lineup
+ Troy Rockin' on the River 2016
+ Alive at Five 2016 lineup
photo: Kskvs Photography