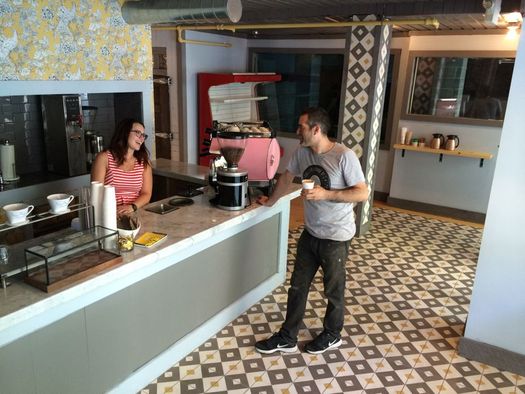 The latest addition to the collection of downtown Troy businesses created by Heather LaVine and Vic Christopher -- Little Pecks -- is set to start serving coffee this Friday. And a soft opening with a menu of food items is lined up for the end of next week.
The concept: A cafe open morning through the evening that serves drinks, pastries, lunch-type dishes, and grab-and-go items.
Here's a quick look around the space, along with a few bits about what's planned, and a few bonus tracks...
Photos
There a handful of photos above in large format -- click or scroll all the way up.
A little bit about what's in store at Little Peck's
Little Peck's is in the same building at 217 Broadway that houses Peck's Arcade -- the two spaces are separated by just a few feet -- and it occupies a renovated space that formerly housed The Grocery. The cafe space also backs onto the shared retractable-roof patio that's between 217 Broadway and The Confectionery building around the corner.
The menu is shaping up to include breakfast pastries and lighter lunch fare such as tartine-style open-face sandwiches and grain bowls. Nick Ruscitto, the executive chef for Peck's Arcade, says the goal is to provide people with some healthy options that are also a little different: "We like to take something everyone's doing and say, 'OK, we're not going to do that.' Like, at Peck's Arcade we were like we're not going to do steak ever. So we've been a year and half open and we're busy every night, but no steak. Just trying to change the way people around here eat and give them different options."
Vic Christopher said there were a few different motivations for choosing Little Pecks as their next venture. One of them was to make more use of that covered patio space shared with The Confectionery, which they often use to host events but usually doesn't get a lot of use during the day.
"So, to me, this has been our most underutilized asset," Christopher said to us as we stood in the patio area, the warm midday sun streaming in through the roof.
The cafe also expands the the hours of operation for their cluster of businesses -- the plan is to be open from 6 am to 9 pm.
"I feel deflated when nothing's happening here, when it's not busy ... I want people and life and activity. And if Little Pecks is well received, this place should be very busy in a couple of weeks."
"I feel deflated when nothing's happening here, when it's not busy." Christopher said. "I want people and life and activity. And if Little Peck's is well received, this place should be very busy in a couple of weeks."
Another major motivation for opening the cafe: It provides room for their staff to grow and try new things. Christopher said Greg Kern, the ace pastry chef for Peck's Arcade, will be the lead on Little Pecks and they're happy the new challenge allows them to hold on to him.
"So, for us, it's about the people around us and our team. And that's now become the top priority for our organization: retaining talent and acquiring new talent. And that's more important than anything."
Bonus tracks
Whenever we interview Vic Christopher he always has a lot to say about a lot of different things. So here are some "bonus tracks" from this week -- they're audio snippets from the interview.
On the process of opening a new place
On fostering and retaining talented people
On their management style
On downtown Troy right now and the opportunity in small cities
Earlier and elsewhere
+ Eater: Vic Christopher and Heather LaVine: Bringing Community Back to Troy
+ AOA: A look inside Peck's Arcade (2015)
+ AOA: Checking out The Grocery in Troy (2013)
+ AOA: The Confectionery (2012)
Find It
Little Pecks
211 Broadway
Troy, NY 12180
Hi there. Comments have been closed for this item. Still have something to say? Contact us.