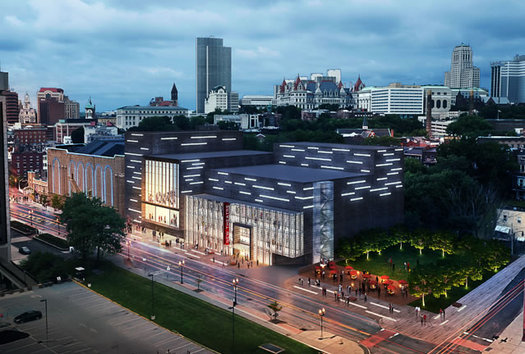 The Palace Theatre has announced plans for a major expansion that would both significantly add to the venue's capabilities and change the block on which it sits in downtown Albany.
Press release blurbage for the expansion, which is projected to cost $65 million:
The project, which will build out the Palace Theatre's current footprint along North Pearl Street, will consist of multiple elements, including the addition of a new 600-seat theatre, community and educational space, and a video post-production center. Renovations will also occur within the main theatre to expand and enhance the current stage, as well as the lobby, box office and backstage areas.
That the Palace had some sort of expansion in mind isn't too surprising after word got out earlier this year that it had acquired a string of properties north of the theater on Pearl Street. But the scale of the proposed expansion is remarkable.
Here are a few more details, large-format renderings, and few other things.
Look up for renderings
They're above in large format -- click or scroll all the way up.
Additional details
The construction period for the project is expected to take three years. As to when it might start hasn't been determined, yet. That will depend in part on funding -- Wednesday's announcement didn't include specifics about that. But the Palace will be aiming to put together a mix of government funding, historic preservation tax credits, and private fundraising.
Another important bit: The plan calls for the city of Albany to transfer ownership of the Palace to the Palace Performing Arts Center non-profit, a move that will require approval by the Common Council.
More details from the press release:
+ Addition of a new 600-seat theatre: Located on Pearl Street adjacent to the Palace Theatre, the new space will host small shows for which the main theatre is too large and will more than triple the number of performances hosted by the Palace Performing Arts Center. Additional programming will include programs with partner organizations Park Playhouse and Albany Symphony, as well as dance and family-friendly events.
[For some venue context: The Palace's auditorium sits 2,844. The Egg's Hart Theater sits 982, and its Swyer Theater sits 450.]
+ Addition of a new video post-production center: As the only facility of its kind between New York City, Toronto and Montreal, the post-production center will serve as a professional-quality suite for digital video production companies to mix sound, edit video and create video effects. The space will also include large and small green screen studios with freight elevator access, as well as dedicated dressing rooms and wardrobe support, which will enable shooting video in a variety of techniques as well as audio recording.
+ Expanded Palace Theatre stagehouse: The project will allow for the expansion of the original Palace Theatre stage and backstage, which will create a deeper and wider stagehouse capable of hosting an increased variety of shows and events and reducing loading and set-up time, while improving safety and reducing energy costs. New backstage support spaces will feature a much larger loading dock that meets current and future industry standards and modernized dressing rooms. New technology will also be installed throughout the stagehouse.
+ Expanded Palace Theatre lobby and box office: The new lobby will provide a larger and more accessible space with increased amenities for patrons. The lobby will feature new concessions, dining and breakout areas, as well as restrooms, and will connect directly to a completely refurbished box office. Additionally, an elevator and new circulation paths will provide accessible wheelchair seating locations near the stage, at the orchestra level, and in the mezzanine.
+ Performing arts education development: In partnership with Park Playhouse, the Palace Performing Arts Center will design, build and launch a multi-faceted arts program designed to be available, accessible and affordable to broad and diverse populations of the community, including underserved neighborhoods in and around the City of Albany.
The Palace is projecting that the expansion will allow it to draw 500,000 visits a year to downtown Albany, up from the 175,000 it figures it currently draws.
A few things
The Palace is on the upswing
Four years ago The Palace had a budget deficit and was running only about 30-40 shows a year. But since current executive director Holly Brown took over, the venue has had four years of budget surpluses and it now has more than a hundred shows a year. [TU 2012] [Biz Review 2015]
It's also been expanding its sphere of influence through a partnership with the Park Playhouse and its recent deal to manage the Cohoes Music Hall. [TWCN]
Palace : Albany :: Proctors : Schenectady?
The multiple venues, the partnerships with other orgs, the production capacity -- it all sounds a bit like what Proctors has been doing. So it will be interesting to see how the two arts orgs work alongside each other in the region.
The in-between neighborhood
One of the interesting threads of the ongoing story of new development in downtown Albany and the Warehouse District has been that stretch of Broadway and North Pearl between the two neighborhoods. Developers clearly see potential there. The long-planned residential conversion of 733 Broadway was completed last fall. And plans have been presented for new residential construction at 760 Broadway (there's a parking lot there now) and the almost-adjacent 191 North Pearl (a project called The Wilson, with 18 units).
The Palace expansion would be another new piece in that in-between neighborhood that sits between downtown, Arbor Hill, and the Warehouse District.
Hi there. Comments have been closed for this item. Still have something to say? Contact us.