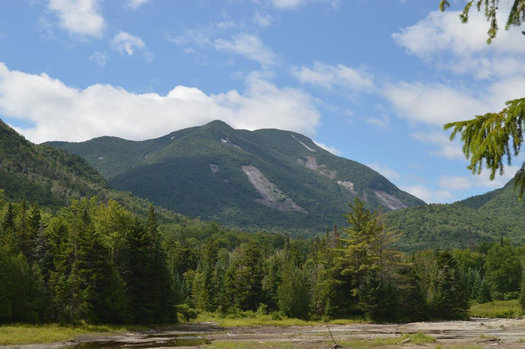 By Cristin Steding
Once you start looking, you begin to see them everywhere. On Subarus and Honda SUVs, small and understated, the small, round sticker is easy to miss. The bubbly, hand-drawn font reads simply: 46er.
For the uninitiated, here's the short version: There are 46 "high peaks" in the Adirondacks, giant, looming mountains over 4,000 feet in elevation. Those brave or crazy souls who choose to hike all 46 of them form an exclusive club, called The 46ers.
For many of us, especially those without a lot of experience hiking, becoming a 46er seems completely unattainable. Like only the Bear Grylls type would be able to do it. But in reality, lots of regular people complete the 46.
And here's how to get started...
A little more about officially becoming a 46er
There's an official list of 46ers. And there's an application process for membership:
+ You need to climb the High Peaks. (While newer survey data shows a couple on the list fall short of 4,000 ft., the club uses the traditional list of 46.)
+ Then you fill out an application, detailing when each peak was climbed, and pay membership dues. The org used to require journal entries for each mountain submitted, but in recent years there have been so many applicants, they couldn't keep up with the volume.
The 46er sticker is a calling card of sorts, telling others who are in the know they're in the club. Anything with the official 46er logo can only be purchased by people who have completed all 46 peaks. So when you see that sticker -- or patch, or mug or t-shirt -- you can be sure the owner earned it.
Of course, that all comes after the mountains. Let's jump back to the beginning: Hiking the High Peaks takes some preparation, gear, and know-how. But with determination, grit, and lots of time in the mountains, you'll be well on your way to joining the club.
No clue where to start? I asked five 46ers what their advice is for newbies. Here's what they had to say.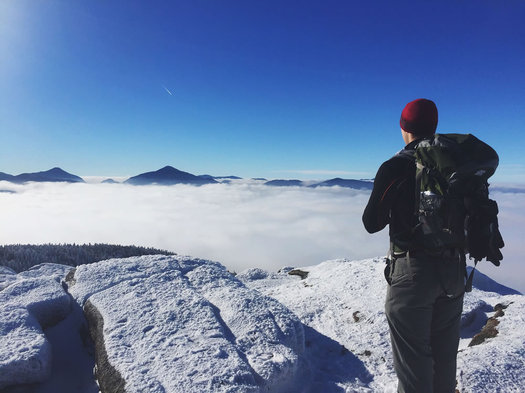 On the peak of Cascade.
Why hike the High Peaks?
Kathleen Stutzman, a 46er originally from Albany but now living in Vermont: "Not all the hikes are fun or have spectacular views, but they will take you to places you'd never go otherwise. And there is a sense of camaraderie in knowing many have toiled there before you and will after. In hiking, we often think that the payout for our sweat is the view from the summit of a peak or the accomplishment of making it there and back again. Hiking trail-less peaks in the middle of nowhere with no view is meaningful not because you cross another peak off your list, but because you come to appreciate the journey."
46er Dave Goetzmann: "The camaraderie of the 46 group is amazing -- I love being a part of it. Everyone should do it for experiencing all parts of the Adirondack high peak region, just awesome perspectives of everything. I get a great sense of accomplishment after continuing to hike the high peaks with people, and coaching/mentoring others on their quest."
Glenna Roach, an almost 46-er (she's at 38): "It's a wonderful feeling of accomplishment to climb such rugged and demanding mountains and to be a part of a long lineage of explorers of one of the most beautiful parks in the country."
Jona Favreau, a 46er from Troy: "Personally, I just can't leave a list un-checked! Which I think is why I completed my first round so quickly (15 months). I initially started on my journey to becoming a 46er after a minor heart surgery and just really wanted to move. But after repeated trips north, I couldn't get enough of those mountains; I fell in love with not only how strong and accomplished I felt at the end of the day, but everything about being in the woods."
Emily Pritchard, a recent 46er who just finished with her mother and boyfriend, and who is currently hiking the Appalachian Trail (What else are you going to do once you finish the High Peaks?): "For us, it was an awesome way to see more of our home and to spend time together. Plus, we made memories that we'll remember the rest of our lives."
Gearing up
"Get the '10 essentials' gear, try on all the boots at LL Bean, read up on the peaks," says Glenna, "I didn't crack open the High Peaks Trail Guidebook until I was about halfway through and realized that there is a wealth of detail on specific trails in there! Like mile by mile on the marked trails."
Kathleen suggests getting "a great pair of boots, good hiking clothes (which can found just as easily at a Goodwill as a Patagonia store), a water filter, a headlamp, and a good map that you know how to read." And for newbies, "If you are just getting started hiking, it is very important to have a buddy."
Jona adds: "Be prepared for anything! Take the time to pack your gear and learn how to use a compass with your maps. The weather changes fast in the mountains and yes, it can snow in June."
Emily reiterated the importance of a good map: "And of course -- get a map. Being aware of where you are in relevance to other mountains and trails makes you much more aware of your surroundings. We love our NatGeo one, plus, it's waterproof!"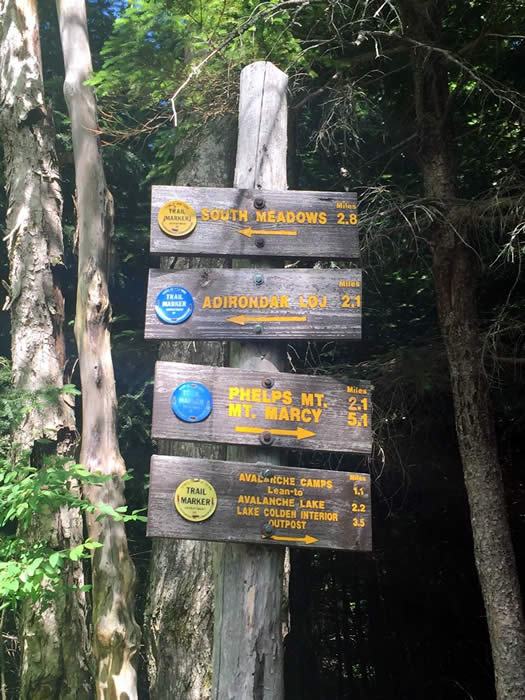 Learning about the High Peaks
Many of the 46ers mentioned the Adirondack Mountain Club as a resource for beginners. "I actually signed up for hikes through the ADK. That way you are out with an experienced group and can learn and meet other people who share your passion and that you might want to hike with again," said Kathleen.
Jona also mentioned "The ADK AMC offers great courses for all experience levels and there are discounts for members -- which you should all be. Discounted parking at the Loj [trailhead], hello!"
Emily added: "One thing I wish I had done when I was starting out is to look into the ADK Mountain Club chapter outings. There are group hikes all throughout the week, all throughout the year on all sorts of mountains, not just high peaks. These outings are a great way to not only start hiking when you may not know where to go/what to do, but they are also an opportunity to meet other people who may be looking for someone to hike with too."
Emily also suggested reading trip reports online. "Something I did when I was starting out was read different blogs and trip reports online. There are a couple of really good ones that have not only trail information, but pictures as well. You just have to be mindful of changes to trails and the difference in trip times, as things can obviously vary between hikes."
On the trail
Jona brought up a great point about trail etiquette: "If you carry it in, carry it out! This means banana peels, apple cores and toilet paper. I sound like a mom right now, but someone has to volunteer to clean up after others, and with the increased foot traffic, this has become a serious problem. Please help keep the mountains clean."
Dave advises to start small: "I would start with a few of the smaller surrounding mountains to get a feel for conditioning one needs for the larger, and longer mountain trails."
Above all, don't forget to enjoy the journey. Jona said, "No matter how many photographs I take, it just doesn't capture how I feel when on the trail. You've just got to be there and put in the work yourself, hiking each of the 46 will show you something new."
"In the High Peaks," said Kathleen, "it's wild land as far as the eye can see. And that is spectacular and so necessary. It is necessary for ecosystem services and wildlife habitat, but I think it is also necessary for the good of the human soul."
Are you ready to get out there and start climbing yet? In Part II we tackle the fun part -- the mountains!
Cristin Steding is a freelance writer and founder of Upstate Club, a guide to outdoor living in upstate New York. You can find her on Twitter and Instagram.
Earlier on AOA:
+ How to hike the High Peaks and not be That Guy
+ The Winter 46ers
+ Hiking in the footsteps of Teddy Roosevelt
Hi there. Comments have been closed for this item. Still have something to say? Contact us.