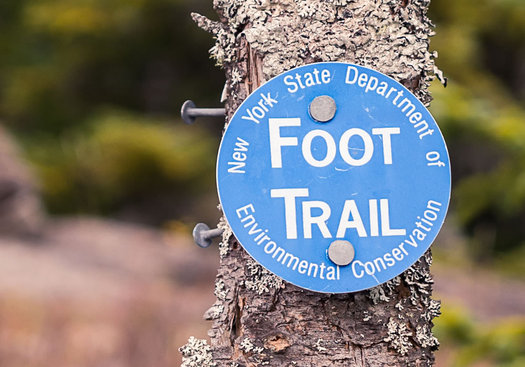 By Cristin Steding
Now that you're all fired up about becoming a 46er, let's get down to business -- the actual hiking.
No matter how prepared you are, how many trip reports you've read and how many flights of stairs you've climbed in practice, nothing prepares you for tackling big mountains quite like getting out there and hiking.
Here are a few places to start...
But first, a couple reminders before you hit the trail
+ Check the weather before you head north. Conditions can be extreme in the high peaks. It could be 75 and sunny in Albany, 45 and cloudy in Keene and 25 and snowing at the top of a mountain. Also check out the state Department of Environmental Conservation's trail advisories.
+ Always sign in at the trail register and tell someone where you are. Safety first -- and going into the woods without telling anyone where you're going is a recipe for disaster.
+ Bring plenty of water and a filtration method. This is part of "the 10 essentials" mentioned in Part I, but it's so important it bears repeating. No one can climb a high peak with a single 16 oz water bottle.
+ Start early in the morning and bring a headlamp or flashlight. Six miles might not seem far, but nine hours later limping back to the car it certainly does. Give yourself as much daylight as possible.
+ Practice leave no trace. That means everything you carried in must be carried out (yes, including toilet paper).
+ Trail etiquette dictates uphill hikers have the right-of-way. That means if you're hiking down, step to the side to let people going up pass. And say hello!
+ Always stay on the trail. Not just for your own safety, but for the integrity of the environment. Alpine vegetation can be destroyed by hikers going off-path, and it also can cause erosion.
Starting with not-high peaks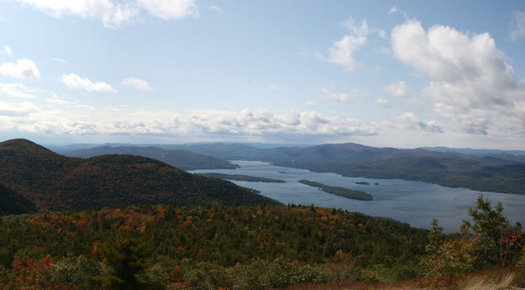 The view of Lake George from Buck Mountain. / photo: Flickr user heipei (CC BY-SA 2.0 cropped from a panorama)
If you're inexperienced or out of shape, it's a bad idea to jump into a High Peak as a first hike. Instead, take some practice trips out on some shorter trails. It's a great opportunity to test your gear (and make sure your boots don't cause blisters), get a sense of your hiking pace and gain experience in the wilderness. There are literally dozens of beginner and moderate options in the Adirondacks and Catskills (check AllTrails for ideas), but here are a couple favorites to get you started. It can be intimidating to begin hiking, but the best way is to start small and have fun!
Buck Mountain
Outside Lake George, Buck Mountain is a popular local hike. Besides offering rewarding panoramic views, Buck has a respectable elevation gain of 1,985 feet over 3.3 miles, which will give you a taste of the High Peaks. The trailhead is busy, especially on summer weekends, and the trail is well marked. The hike is moderate difficulty and doesn't have any extremely steep parts. If you feel like Buck was a big challenge, you should do some more training hikes before going for the big guns. There are tons of other great hikes in the Lake George area, too, like Sleeping Beauty, Black Mountain and Shelving Rock.
Mount Jo
Nestled right among the bigger mountains in the Adirondacks, Mount Jo is an easy hike for beginners that gives a feel for the terrain in the high peaks area. It's only 600' elevation gain, which is much less than most 46ers, but the trailhead starts at the Adirondack Loj, where many of the trails to the high peaks start. The hike can be done as a loop, and the view of the surrounding peaks will be sure to inspire you to keep training.
On to the High Peaks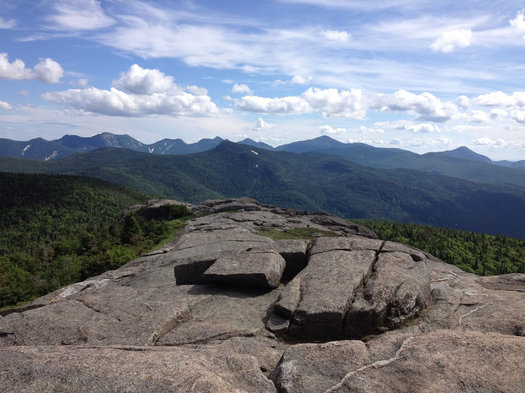 The summit of Cascade. / photo: Flickr user Laurie Tewksbury (CC BY 2.0)
You've got the gear, tried a few smaller hikes, have read up on the mountains -- you're ready to get started on the quest for 46.
When planning trips to the High Peaks, keep in mind most mountains have multiple routes to the top and it's strongly recommended you get your hands on a good guide book. Another thing to be aware of is that many High Peaks are trail-less, so save those for later on your journey and consider going with a guided group through the ADK Mountain Club.
Cascade and Porter
Most people aiming to climb all 46 high peaks start here, and with good reason. Cascade is a moderately difficult, well-marked trail that pays off with some of the most spectacular views in the Adirondacks. Don't let its reputation as a starter mountain fool you, though. Standing at 4,098 feet (1,940 ft elevation gain), and a 4.8 mile roundtrip trail, it's a tough day for beginners. Be warned that on summer and fall weekends, the trail can get very crowded -- not exactly a serene experience. Get there early to avoid crowds or better yet, go on a weekday.
Most people going for the 46 pair Cascade with Porter, a 1.4 mile round trip detour off the main trail. Porter's summit is less impressive than Cascade's, but is almost definitely less crowded.
Big Slide
Once you get past Cascade and Porter, the decision of what to do next is a matter of personal opinion. Amongst the 46er I talked with, however, Big Slide was the clear winner as a second or third peak.
Said Glenna Roach: "Big Slide has one of the most beautiful views with lots of exposure over the Three Brothers and is one of the 'shorter' climbs." What she's referring to is the main route up Big Slide which follows a ridge trail over three "shoulder" mountains, resulting in awe-inspiring views for much of the trail.
Kathleen Stutzman agreed: "I most often take people up Big Slide. It is longer all-around mileage, but the amount of time/miles spent gaining real elevation is pretty small. The view of the Great Range is spectacular and a good motivator."

The view of the Great Range from Big Slide. / photo: Wikipedia user Mwanner (CC BY-SA 3.0)
The Big Slide trail via the Brothers begins in the Garden parking lot ($7 to park April-October), which fills up quickly on weekends and in good weather, so be sure to get there early. The trail is eight miles roundtrip and 2,800 feet of elevation gain. And as anyone who's been up Big Slide before can attest, that last quarter mile is a doozy.
Phelps
Another of the "easier" peaks is Phelps. Emily Pritchard mentioned that Phelps, like Big Slide, has, "Good views, [is a] shorter day, and the trailhead [is] not directly off the road," in comparison to some of the other peaks.
The trail to Phelps begins at the Adirondack Loj ($10 to park for non-members) and continues toward Mount Marcy on a shared trail for roughly three easy miles, before branching off to the Phelps trail. From here, it's a steep one-mile trek to the top of Phelps. Your efforts will be rewarded with a fantastic front row view of Mount Marcy and other high peaks.
The trail to Phelps is eight miles roundtrip, with an elevation gain of 2,010 feet.
Giant
If you're up for a challenge, Giant is ready and waiting for you. It often gets lumped in with "easier" mountains because the trail is only six miles roundtrip, but don't let the distance fool you. Unlike the other mountains mentioned here, Giant is a difficult climb nearly the entire way up, with hardly any reprieve. The most common route to the summit begins at Chapel Pond and begins a grueling, steep climb almost immediately, not stopping until the summit. Along the way you'll also get to pass Giant's Washbowl, a solitary pond partway up the mountain.
The reward for your efforts is well worth it. Like Big Slide, there are views for much of the climb, distracting from the strenuous hike. Once you reach the top, there are gorgeous views of the surrounding mountains, including the Great Range. The overall elevation gain is 3,050 feet and if you make it, you'll be able to say you've climbed the 12th highest peak in New York.
Once you work your way through this list, you'll be well on your way to becoming a 46er. Of course, there's still a long way to go (41, to be exact), but by now you'll likely have caught the hiking bug, and will be more excited than ever to tackle the rest of the 46.
This article is no substitute for a map or guidebook, and is not all-inclusive. For updated information, check out these resources:
+ ADK Mountain Club Hiking Information
+ DEC Adirondack Backcountry Information
+ Hiking safety
+ Suggested trails
+ Lake Placid hiking trails
Cristin Steding is a freelance writer and founder of Upstate Club, a guide to outdoor living in upstate New York. You can find her on Twitter and Instagram.
Earlier on AOA:
+ How to get started hiking the High Peaks
+ How to hike the High Peaks and not be That Guy
+ The Winter 46ers
+ Hiking in the footsteps of Teddy Roosevelt
Hi there. Comments have been closed for this item. Still have something to say? Contact us.