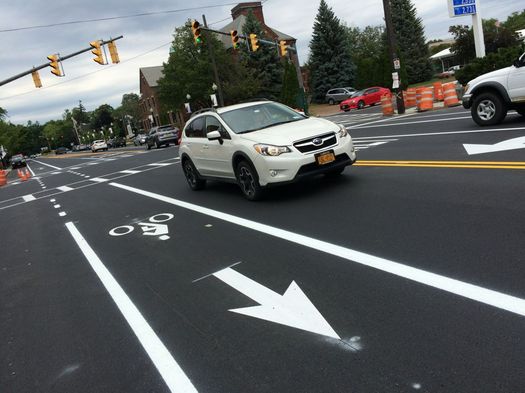 Some follow-up on the roll out of the Madison Ave Road Diet in Albany...
Since the new striping has gone down on the section of Madison Ave starting at Allen Street this week, we've heard a lot of comments from people hailing the traffic calming project for slowing vehicle speeds and providing bike lanes.
We've also seen a few complaints that traffic has become very slow during the late afternoon. For example: one person said it took her 25 minutes to get from New Scotland Ave to Allen Street on Wednesday, a distance of 1.3 miles. (Though maybe there was an unusual circumstance contributing to the backup.)
So at the city of Albany's official unveiling of the project's first phase Thursday afternoon, we talked with city officials about these complaints.
They urged patience as construction continues and they work out the snags. But they also called for people to adapt.
Synchronizing signals
One of the most important aspects of the Madison Ave Road Diet project is something that will be mostly invisible to many people: How the traffic signals from Allen Street to (eventually) Lark Street are synchronized.
Why so important? Well, during the planning process for the road diet, engineers did projections about how various road configurations would affect travel times. Here's the table from the road diet feasibility study conducted by the engineering firm Creighton Manning, which consulted on the planning of the project for the city: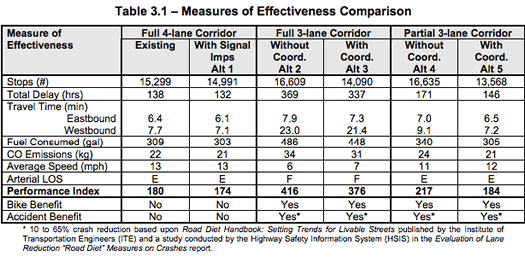 You can ignore the middle two columns, because those were based on a different situation that didn't end up coming to pass. The columns to focus on are the first and last -- the first one shows the performance of the street's existing four-lane design without signal synchronization, and the last column shows the three-lane configuration (like what ended up being implemented) with signal sync. The report projects an increase in delays (and travel time in one direction), but it's relatively small.
On Thursday Albany city traffic engineer Bill Trudeau said the first phase of the road diet -- the section of Madison Ave from Allen to Partridge -- has gotten some temporary synchronization work, and "more reliable timings" will be in place by the end of this year.
How's it all supposed to work when it's in place? Here's a clip of Trudeau explaining to us:
Trudeau said the city will "absolutely" be monitoring traffic flow and will make adjustments based on what it finds.
"This shouldn't be a speedway in and out of the city"
We mentioned the complaints about backups to mayor Kathy Sheehan. And she pointed to the construction that's in progress and the work on synchronizing signals. But she also said drivers will have to adjust.
"There are people who might say 'my commute was shorter' because they were going 40, 45 miles an hour flying down this road. This is a road that is for everyone. This is a road that includes a place for cyclists, a place for pedestrians, an ability for people to cross this road more safely because of the turning lane. So the purpose of this is to get people to recognize this isn't a raceway ... it's a 30 mile per hour city residential street."
Here's a clip with with the mayor about the goal of slowing traffic:
"We live in a city. People can't say I'm going to make it somewhere in 10 minutes. They have to take other things into account."
Police chief Brendan Cox was a little more blunt in his assessment of the situation so far: "People need to calm themselves down a little bit."
Cox said the APD will be focusing on education related to the road diet project, because in his view, people will do what's expected of them -- if they know what's expected.
"We need to do some education on this. Because certainly people are going to come into this who have never been on a stretch of road that has the bicycle lanes, so people need to know what's expected of both the driver and bicyclist -- what they should see, how they should act and maneuver. And then, behind that, if we need to do some enforcement, then we do that. But I think we do best when we do things through education."
But he also said people need to adjust their expectations for how long it takes to drive through the city. Here's a clip about that:
Cox said his department -- which includes traffic engineering -- is open to feedback. So if people have complaints or ideas, he wants to hear them.
"So, it's going to take some time. And I know people will be a little frustrated. But I just ask for a little patience."
What's next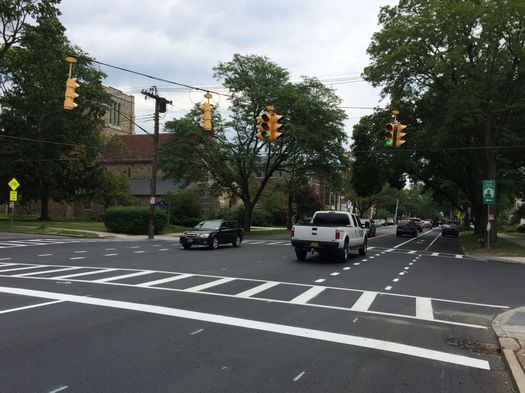 The city has gotten $1.4 million from the state for the second phase of the Madison Ave Road Diet, from Partridge to Lark. Bill Trudeau -- the city traffic engineer -- said the hope is to have that second phase finished by the end of next year. He said the state money will cover the signal upgrades and striping -- the city's just waiting on sorting out the funding for repaving that section.
Hi there. Comments have been closed for this item. Still have something to say? Contact us.