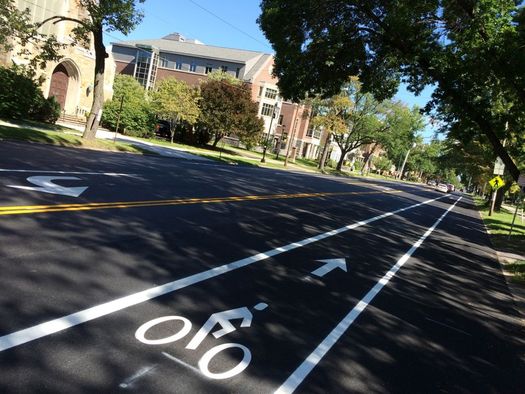 As mentioned, the city of Albany has started re-striping Madison Ave has part of the road diet in the works for the corridor between Allen Street and, eventually, Lark Street. So we took a a few minutes Tuesday to stop by the western-most section to see how it's looking.
That's a pic above, and there are more after the jump if you're curious.
The Madison Ave Road Diet is changing the street from two travel lanes in each direction to one travel lane each way with a center turn lane and bike lanes running along both sides.
The goal behind changing the road design is to "calm" traffic -- getting cars to move slower and making the corridor more friendly to pedestrians and cyclists -- with an eye toward making the street safer. A representative of Creighton Manning, the firm that's overseeing the road diet project, said at a public meeting earlier this year they're projecting a 25 percent decrease in accidents because of the redesign.
The idea of squeezing four lanes down to two (with a turn lane) might sound like a recipe for creating jams. But at the series of public meetings leading up to the announcement of the final plan, engineers involved with the project explained that even though vehicle speeds would probably be reduced, they predict overall travel time along the corridor would be extended by less than a minute because of new traffic signal coordination. And the turn lane should also help vehicles moving in the travel lanes.
So now that the new configuration is partially in place, it'll be interesting to see how things turn out. One way to think of the Madison Ave Road Diet is as a test of concept (a test that's been years in the planning). If it achieves the goals of making the street safer and friendlier to all users -- while keeping traffic moving -- it's not hard to see the idea possibly being extended to other corridors. (In fact, consultants for Rezone Albany just recently floated the idea of a road diet for Washington Ave near the downtown UAlbany campus.)
The current re-striping project is for the section of Madison Ave from Allen Street to Partridge Street. And the Cuomo admin announced earlier this year that funding for the second part, from Patridge to Lark, is on its way.
Photos -- look up
The photos are above in large format -- click or scroll all the way up.

Hi there. Comments have been closed for this item. Still have something to say? Contact us.