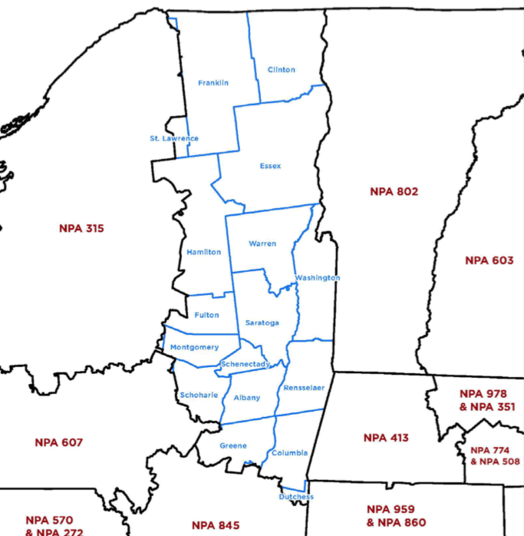 The new area code for this area will be: 838.
The state Public Service Commission announced the designation Tuesday, and said the new area code will be in effect by the third quarter of 2017.
The 838 area code will be an "overlay" to the 518 area code. That is, they'll share the same geographic area. At some point in the near future -- probably sometime next year -- new phone numbers distributed in this area will just get 838 instead of 518. Then whenever you (or your phone or phone system) dials a local phone number, you'll have to include the area code with the seven-digit number. (Here's some background on how this situation came about.)
Here's a bit more about how this is all planned to shake out...
From a NYS PSC press release:
The implementation schedule of the approved overlay will consist of a network preparation period, a permissive dialing period that allows both 7-digit and 10-digit (area code plus 7-digit number) dialing to work, and then a mandatory dialing period when 10-digit dialing will be required (any misdialed calls will not be connected and will trigger a message directing the caller to dial 10 digits). ...
Once the new code is activated, sometime before the end of the third of quarter of 2017, new telephone numbers could be assigned to either the 518 or the new 838 area code, depending on when the 518 numbers run out in each of the 140 rate centers, or geographic areas that determine the boundaries for local calling, billing and assigning phone numbers, in the 518 area code region. For instance, less populous rate centers could find 518 numbers lasting longer than in larger, more populated rate centers. All portions of the 518 area will be subject to the milestones' due dates as a means to mitigate the expense and inconvenience of the conversion process to consumers and providers.
The new area code is projected to supply 49 years-worth of new telephone numbers for this region.
Bonus map
There's a map of New York State's area codes -- as of July 2015 -- above in large format, click or scroll all the way up.
Hi there. Comments have been closed for this item. Still have something to say? Contact us.