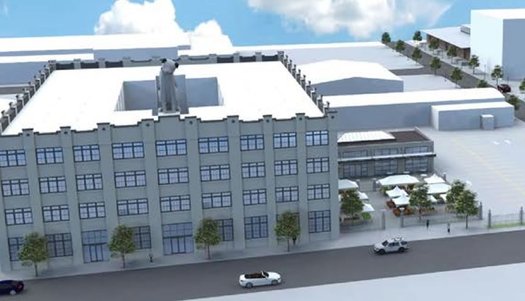 The Capital Region Economic Development Council recently released it latest batch of proposed priority projects. These are the projects the council will be suggesting get state funding in the next round of the Cuomo administration's Regional Economic Development Council initiative. Those awards are usually announced in December.
Last time out in the economic development competition/game show the Capital Region scored $98 million in grants. (It missed out on one of the three $500 million grants.)
These reports usually include some interesting bits and sometimes surface notable projects that are in the works.
So, let's have a look at a handful of proposed projects that caught our eye. They include craft beverage projects, a movie theater project for Troy, and the proposed Palace Theatre expansion...
<3>Project list
We pulled together an easy-scan listing of the CREDC's list of proposed priority projects that included details -- it's above in large format, click or scroll all the way up.
Projects that caught our eye
It's important to note that these projects -- and others listed in the the CREDC's report -- might not get funded. And if they do get funded by the state, they might not get funded at the requested level. And even if these some of these projects do get awarded funding, they still might not happen. And others that don't get funding might end up happening.
Albany County Civic Center Renovations | Albany County
project cost: $19,685,300 | grant request: $3,937,060
Description clip: "This proposed renovation will enhance the experience of patrons attending events and the general public, and will strengthen the marketability of the Times Union Center as a premier venue preferred by artists and patrons alike by reconfiguring and renovating the front atrium and south facade of the center, enclosing the walkway and northeast patio, upgrading the aesthetics and functionality of these areas, and improving technology, signage, and other functions." (Earlier: The TU Center atrium renovation project has (officially) started)
Also: Albany County is looking for $200,000 (project cost $1 million) to create a second exit for the TU Center parking garage.
Craft Brewery-Sustainable Development and Job Growth Project | Brown's Brewing
project cost: $8,119,501 | grant request: $630,948
Description clip: "Funding will enable Brown's Brewing Company to create a state-of-the-art, sustainable craft brewing and agricultural destination at its Hoosick Falls brewery. Brown's Brewing Company is a community-oriented, sustainable craft brewer with locations in both Hoosick Falls and Troy. This project will create 26 new jobs and renovate a 6,000-square-foot portion of the historic 19th-century Hoosick Falls facility into a full canning and packaging line, build out to increase cold storage capacity and expanded laboratory space. The funding also will enable Brown's to increase barrel production to 15,000 barrels from the current 5,000 annually, ensure quality control of its products with additional laboratory space, and widen production capabilities with a full canning and packaging line."
(Five of the 26 priority projects this time around involve craft beverages in some way.)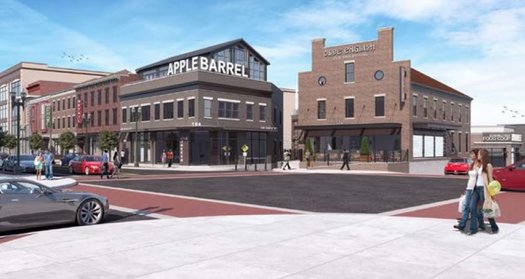 A rendering for The Mill project.
The Mill | Schenectady County Metroplex Development Authority
project cost: $14,100,000 | grant request: $2,820,000
Description clip: "The funding will enable the creation of The Mill Artisan District, an innovative project that will create jobs in the local food, craft brew, and specialty brand sector within walking distance of the designated Schenectady Opportunity Zone neighborhoods. The district will revitalize a condensed, blighted area of downtown Schenectady and leverage public and private investments to transform three long-neglected streets into a unique downtown artisan hub including apartments, restaurant, and retail space."
American Theater | Dauchy River Triangle LLC
project cost: $3,047,450 | grant request: $610,000
Description clip: "The project funding will allow the rehabilitation and re-opening of the American Theater in Troy, a building that opened in the early 1920s. The project seeks to utilize the framework of a beautiful historic theater while bringing all of the functional components up to modern standards to create a destination in the center or Troy that supplements the growth of restaurants and bars to provide another destination for residents and visitors." (This is a Bonacio Construction project. And Bow Tie is lined up to be the theater operator.)
Downtown Albany Arts Entertainment District | Palace Performing Arts Center Inc.
project cost: $29,690,800 | grant request: $4,240,000
Description clip: "The establishment of the Downtown Albany Arts & Entertainment District around the Palace Theatre will complement other transformational projects already underway by tripling the Palace's capacity for performance offerings. The project will establish Albany as a center for post-production video business, adding job opportunities for disadvantaged residents of neighboring communities, launching an innovative and inclusive arts education program accessible to residents of the North End and Arbor Hill neighborhoods, and breathing new life into one of Albany's most visible historic landmarks, which is home to the Albany Symphony Orchestra and Park Playhouse." (Earlier: The Palace is planning a major expansion)
LASNNY Legal Services Center | Legal Aid Society Northeastern New York
project cost: $1,769,636 | grant request: $353,927
Description clip: "This project focuses on creating opportunities and improving outcomes for residents of Albany's most distressed communities: West Hill, Arbor Hill, and the South End. The Legal Aid Society of Northeastern New York, Inc. will acquire and renovate a building at 95 Central Ave., Albany, where it can offer critical legal services to its diverse clients in a respectful, professional and welcoming space."
155 River Street AD 1888 | River King Development
project cost: $5,643,600 | grant request: $1,008,720
Description clip: "This project will revitalize a long dormant manufacturing building at 155 River Street, Troy, creating a significant mixed-use anchor property in Troy's Business District and enlivening commercial activity on an important underdeveloped block. Plans call for a mixed-use redevelopment with two restaurants, Class A office space, three residential apartments, a boutique hotel with an exercise room and open terrace, and a two-story parking garage with rooftop restaurant terrace."
Nipper Apartments 991 Broadway | Nipper Apartments, LLC
project cost: $16,000,000 | grant request: $3,000,000
Description clip: "This project involves the redevelopment by Nipper Apartments, LLC, of a vacant four-story building into apartments and a restaurant. Located at 991 Broadway, Albany, in the city's Warehouse District, the renovation of this building, topped by the iconic "Nipper," will be transformational for the neighborhood." (Earlier: A few more bits about the Nipper Building conversion, and other residential conversions)
Also: The Good Market -- which won a $260,000 grant last year through this process -- is slated to occupy the first floor of the building. The REDC's progress report included some details about the market (pdf p 56):
Since being awarded a capital grant through the CFA process in 2015, Good Market has secured a location for the project in the iconic Nipper Building on Broadway in north Albany and is now actively recruiting food merchants and will be instrumental in revitalizing the Warehouse District. Good Market will host approximately 20 food merchants who will collectively create approximately 80 new jobs. Its location on Broadway means Good Market will be readily accessible via public transportation, allowing people access to get to these newly created positions. Good Market will provide access to fresh healthy food in an area of the city that is effectively a "food desert." The excitement around Good Market's launch has also sparked a wave of new potential investment in the emerging neighborhood.
images via Capital Region Economic Development Council progress report 2016
Hi there. Comments have been closed for this item. Still have something to say? Contact us.