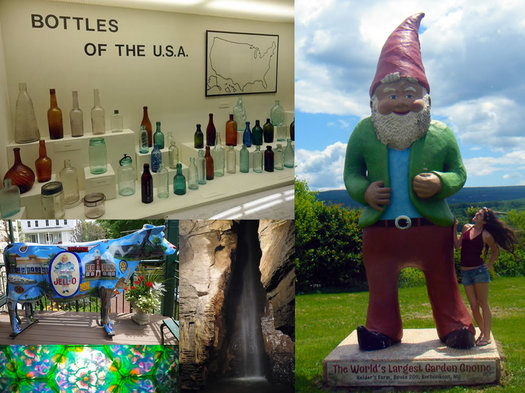 By Julie Madsen
With pleasant foliage all around us, this time of year is perfect for heading out in any direction in search of something unexpected.
And there are all sorts of weird museums and strange roadside attractions across this region, you never know what you may find when you hit the road!
Here are handful of them...
To the north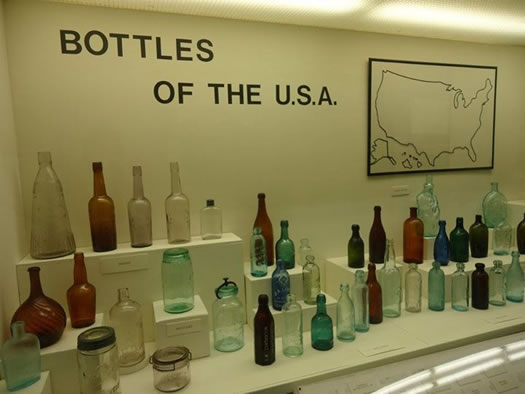 National Bottle Museum
This was my starting point, the very first museum I visited that was a bit... odd. Not an aquarium, not an art or history museum, nor a historical home -- it's focused on one very specific subject. The theme here is the nation's first major industry: bottle making! At the The National Bottle Museum, tucked into a storefront in Ballston Spa, you can learn about the difficulties of the process of bottle making and marvel at all of the different shapes, colors, and uses of these vessels. If you are inspired by the bottles around you - the museum is also a hot-glass teaching facility, where you can take classes in flameworking. 76 Milton Ave, Ballston Spa, NY 12020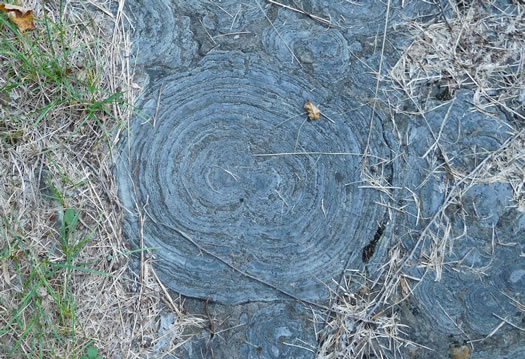 Stromatolites
On a suburban side road just outside Saratoga Springs you can find relics of ancient history -- 490 million years to be specific -- sitting quietly, seemingly forgotten in time. Once covered in shallow seawater the algae that was there is now fossilized on the bedrock. The swirling designs -- called stromatolites -- are stunning. And if you look closely you may find fossils of other marine animals in the crevices. This site was donated to the State Museum as "scientific reservation" in 1919. Use the panels to learn more about of these layered rocks. Lester Park, Lester Park Rd, Greenfield Center, NY 12833
Geyser Creek Trail
Strange tasting mineral water isn't the only surprise you'll find walking around Saratoga Spa State Park. Hop on the Geyser Trail to discover the Geyser Island Spouter, which shoots as high as 15 feet! Keep going to see an otherworldly tufa formation, which is a carbonate mineral build up, feel free to touch the remarkable texture. Geyser Picnic Area, Saratoga Spa State Park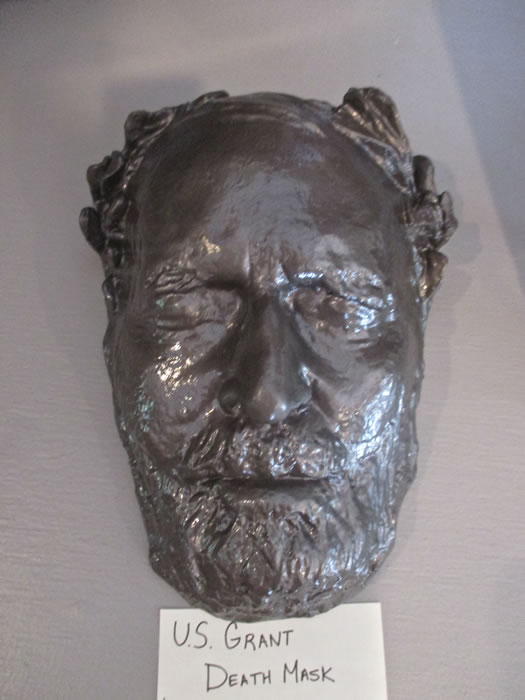 Grant's Death Mask
Visiting the Wilton cottage of former president Ulysses S. Grant might seem like a typically innocent and educational stop. You can take a tour of the home and learn some additional information in the visitor's center. However, while perusing the panels and artifacts you may be shocked and spooked to see his death mask -- made from a plaster cast the deceased president's face. Note: Tours run Memorial day through Labor day and are $5, the visitor's center is free. 1000 Mt McGregor Rd, Gansevoort, NY 12831
While Grant is buried in NYC, we do have some nearby presidential graves including Chester A. Arthur in the Albany Rural Cemetery in Menands, Martin Van Buren in a cemetery on Albany Ave in Kinderhook, and Franklin Roosevelt in Hyde Park.
To the east
The Frog Circus
You can't take pictures in here -- and they wouldn't even do this place justice. Located inside Wistariahurst, a historic museum house, is The Frog Circus, a collection of taxidermied frogs. What first came into my head was... why? But really, why not taxidermy frogs into kooky scenarios, such as a circus? Burlington Schurr created the scene in the 1920s. A Chatham, New york native and a naturalist, Schurr was dedicated to teaching the public about wildlife and nature and used such specimens to do so. (This is not an isolated phenomenon. When I was in Croatia there was an entire museum called Froggyland with over 500 frogs!) Wistariahurst, 238 Cabot Street Holyoke, MA 01040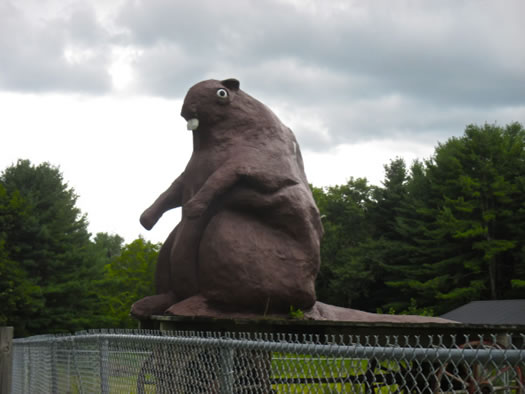 Big Beaver
I've mentioned the beaver before. And if you're already in the Berkshires make the quick stop to check out this noble creature on the side of the road! 1455 Cape St., Lee, MA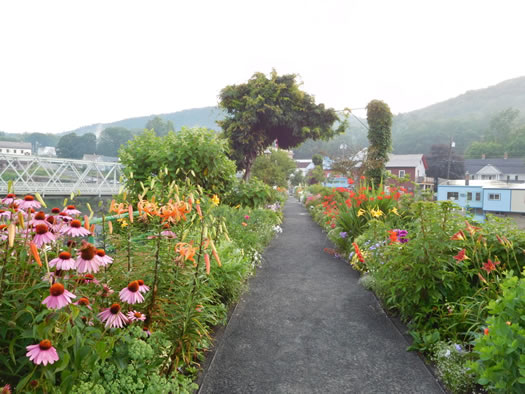 Bridge of Flowers
Too expensive to blow up and too much of an eyesore to keep around as it was. What to do? Well, in 1928 the helburne Falls Women's Club had a brilliant idea: They planted flowers and thus the old wreck was transformed into a bridge of beauty! A strange, yet stunning solution. Admire the flowers, the birds that come by, and the wonderful village. Visit through October 30. Also in Shelburne Falls: Glacial potholes and candlepin bowling. Bridge St, Shelburne Falls, MA 01370
To the south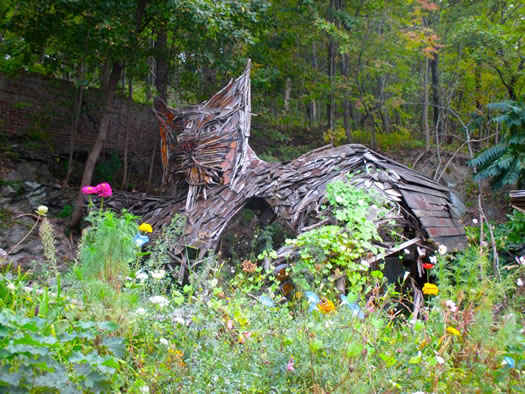 Catamount People's Museum
There are so many funky oddities in the Catskills, but have you ever taken time to drive through the town of the same name? The Catamount People's Museum is a purrfect, larger-than-life wooden mascot to behold. Notes, quotes, artifacts, and bobcat pictures adorn the inside of the cat, if you are feeling curious. 21 W Bridge St, Catskill, NY 12414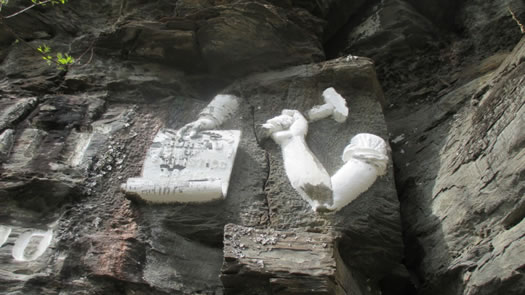 Pratt's Rock
If you don't have the time to travel out to South Dakota to see Mount Rushmore, New York has its very own historical mountainous rock carvings: Pratt's Rock. Take a short and slightly strenuous half-mile trail to view the bizarre motifs Zadock Pratt immortalized on the side of a cliff. Read up on the interesting history and enjoy the gorgeous landscape. Route 23, 1 mi east of Prattsville center, Prattsville, NY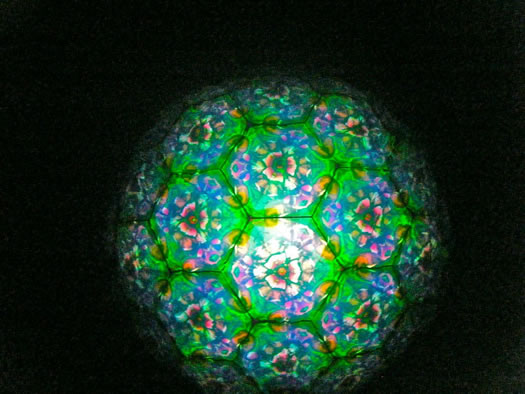 World's Largest Kaleidoscope
Another spot I've mention before - but worth mentioning again for those interested in the obscure. Who isn't mesmerized by the ever changing colors of a kaleidoscope? Visit the most magnificent of them all - so large, it's housed in a silo. There is a great gift shop with some incredible, yet smaller, kaleidoscopes for purchase. Open daily from 10 am-5 pm, $5 to enter / kids under 11 are free. In the Emerson Resort, 5340 Route 28, Mount Tremper, NY, 12457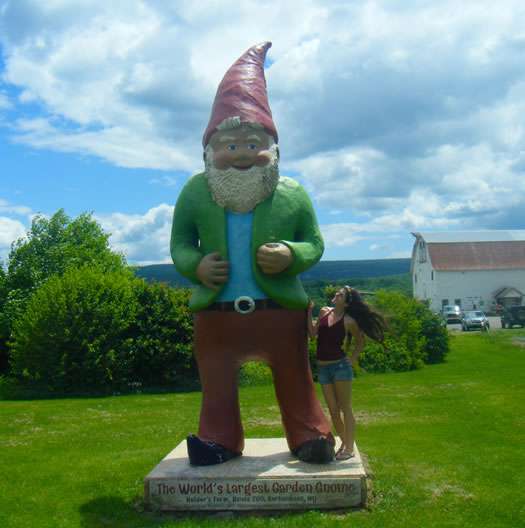 World's Largest Garden Gnome
Farther to the south: In almost any town you can find a gnome hiding in a garden, some trollish folk find fun in misplacing them, some people even fear them. If you happen to be fascinated by gnomes in any regard, the granddaddy of them all -- Gnome Chomsky -- isn't too far outside the city of New Paltz. Plus, there are other fun things to do at the farm like visit the animals, play mini golf, or navigate the corn maze. Kelders Farm, 5755 Rt 209 Kerhonkson, NY 12446
To the west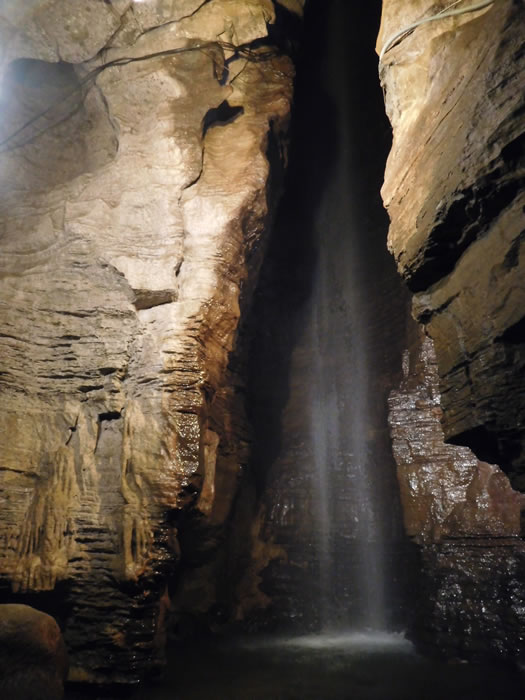 Secret Caverns
Many of us have visited the popular Howe Caverns, but have you ever visited its quirkier cousin, Secret Caverns? For years I thought, well I've seen one I must have seen them all -- especially because tours of the caves are a bit pricey. But those eccentric signs would get me every time I drove out west. One day I broke down and finally decided to go for it. The tour was great, lighthearted, and the cave formations were absolutely stunning. It was much different from Howe, and to be honest, I liked it even better! Best part? The glorious waterfall at the end of the road. After your tour be sure to visit the ice cave and walk around the trails which are filled with wildlife. Tickets are $18, there is a $2 off coupon online. 671 Caverns Rd, Howes Cave, NY 12092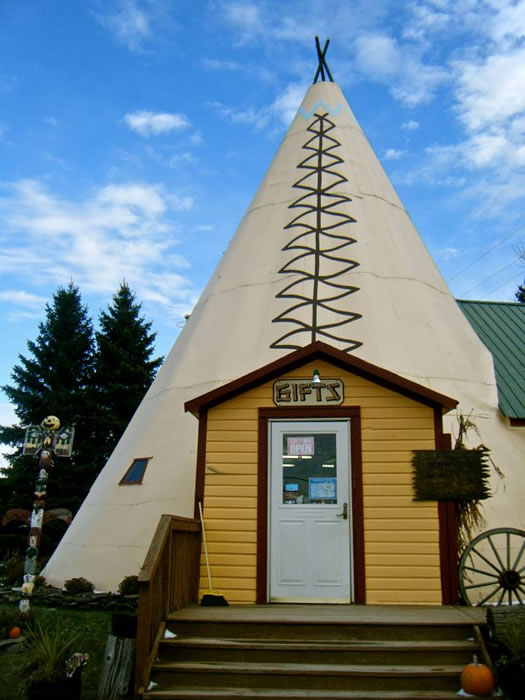 The Teepee
A retro roadside attraction on Historic Route 20, The Teepe houses a gift shop filled with many local and Native American-made items. Stop to see, to shop, and to grab a bite to eat at Tepee Pete's Chow Wagon (chili, buffalo burgers, elk burgers, and other items.) 7632 US Hwy 20 Cherry Valley, NY 13320
Beardslee Castle
You wouldn't think to find a charming castle nestled in this neck of the woods, but the architecture of Beardslee Castle is indeed exquisite and there is more than meets the eye inside. Grab a drink, a bite to eat, and play some pool down in the basement, known as the dungeon. For a real treat, make reservations to test your wit at a murder mystery dinner. 123 Old State Rd, Little Falls, NY 13365
Even farther to west
All Things Oz Museum
If you follow the yellow brick road to where it all began, you will find out that the story behind the classic American film was written in New York. At the All Things Oz Museum you can learn all about the author of the tale, L. Frank Baum, along with the various related movies and plays. Enthusiastic volunteers will be happy to answer any questions about their hometown hero and point out particularly interesting artifacts. Tickets are $5 a person. 219 Genesee St, Chittenango, NY, 13037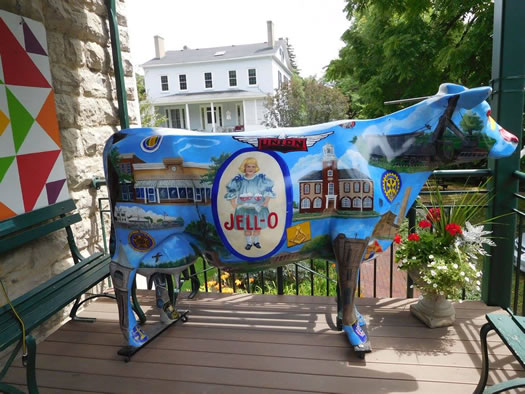 Jell-O Gallery Museum
Did you know that Jell-O was created right here in New York? At the The Jell-O Gallery Museum you can learn about the history of the iconic food item, browse the various related artifacts and kitschy advertisements, and immerse yourself in the delightful trivia housed within the museum. Tickets are $4.50 per person. 23 E Main St, Le Roy, NY 14482
Julie has got the travel-bug. Whether it's day trips, weekend getaways, or wandering around the world -- she's always up to something. Read more about her adventures at juliejourneys.com.
Hi there. Comments have been closed for this item. Still have something to say? Contact us.