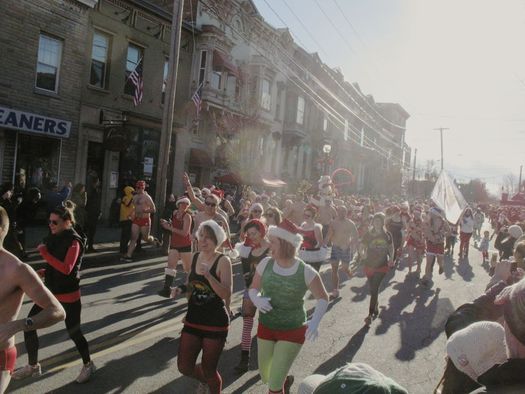 It is the season of being incredibly busy. But make time if you can. This weekend's collection of stuff to do is larger than the Santa's election year coal drop.
Skating, music, theater, markets, festivals, and of course... Santas in Speedos.
So carve out a little time, find some friends, and go do something fun. Planning something you don't see here? It's the season for sharing, so tell us about it in the comment section. And whatever you're up to, have a fantastic weekend!



Santa Speedo Sprint
Saturday: The annual Santa Speedo Sprint returns to Lark Street in Albany. Scantily-clad Santas, snowmen, gingerbread people, and other characters will race up and down Lark Street. The annual event, hosted by the Albany Society for the Advancement of Philanthropy and the Albany All Stars Roller Derby, is a fundraiser for the Albany Damien Center and Albany Medical Center's HIV/AIDS programs. (You don't have to wear a speedo to spring.) Saturday registration begins at 11 am, race starts at 2 pm -- minimum of $25 to sprint, free for spectators
Holiday events
Downtown Schenectady's City Hall-iday
Saturday: Schenectady celebrates the season with City Hall-iday, an afternoon for music, crafts, demonstrations, performances and more, both in and around Schenectady City Hall. Saturday noon to 4pm -- free admission
Altamont Victorian Holiday Celebration & Winter Market
Sunday: The village of Altamont hosts its annual Victorian Holiday Celebration and Winter Market. There's a holiday house tour by trolley, crafts, a festival of trees, lunch with Santa, a Victorian beard and mustache contest, a pig roast, a petting zoo, a bonfire and more. Sunday noon to 5pm -- free admission, house tour tickets $10 for adults (free for kids under 10)
Holiday House Tour
Sunday: Historic Albany Foundation's annual self-guided Holiday House Tour showcases 10-15 historic buildings. Sunday noon-4 pm -- $30 / $20 students
Schenectady Festival of Trees
Saturday-Sunday: The Schenectady County Historical Society hosts the Schenectady Festival of Trees. Saturday and Sunday, 10 am-4 pm -- $5, $2 for kids, under 5 free
MiSci Trains
Friday-Sunday: miSci's annual Holiday Train Show continues with a 19x27-foot display of running Lionel model trains. Friday-Sunday -- free with museum admission
Capital Holiday Lights
Friday-Sunday: The Capital Holiday Lights display continues in Albany's Washington Park. Friday-Sunday starting at 5:30 pm -- $20 per car / $25 for 10-18 passenger vehicle
Santa's Play Land
Friday-Saturday: The annual Quick Response Santa's Play Land holiday festival is open. There's a holiday light display, visits with Santa, refreshments, train and carriage rides, and more. Friday and Saturday 5:30-9 pm -- free admission
Santa's Magical Express
Friday-Sunday: Santa's Magical Express returns to Yankee Trails. It's the annual holiday experience in which kids help Santa and Mrs. Claus save Christmas. Friday-Sunday -- various times and prices
The Polar Express
Friday-Saturday: The Saratoga & North Creek Railway runs its annual Polar Express experience from the Saratoga rail station. Friday and Saturday various times and prices.
Holiday-themed shows
Santaland Diaries
Friday-Saturday: Confetti Stage presents The Santaland Diaries at The Linda. It's an adaptation of the David Sedaris classic about a man working a holiday gig as an elf at Macy's. Friday and Saturday 7:30 pm -- $15 (four for $50)
Miracle on 34th Street, the musical
Saturday: Proctors presents a new, musical stage adaptation of the classic holiday film Miracle on 34th Street. Saturday 2 pm and 8 pm -- $20 and up
Twas the Land of the Night Before at Proctors
Friday-Sunday: Proctors presents 'Twas the Land of the Night Before, a new family holiday musical about an enchanted village where everyone perpetually prepares for a Christmas that never arrives. Friday 7:30 pm, Saturday 2 pm and 7:30 pm, Sunday 2 pm -- $20 / $18 for seniors and age 12 and under
Holiday Cabaret
Saturday: Brandon Jones, Brittany Leigh Glenn, and Jordan Five host a holiday cabaret with the youth company at Schenectady Light Opera. Holiday music, games, prizes and snacks. It's a fundraiser for SLOC. Saturday 7:30 pm -- suggested donation $10 person / $20 per family
A Christmas Carol
Saturday: Collar City Players host a staged reading of the Dickens classic A Christmas Carol at Finnbar's Pub in Troy. Saturday at noon -- $10 (cash only)
A Charlie Brown Christmas
Friday-Sunday: Home Made Theater presents the stage version of A Charlie Brown Christmas. Friday 7:30 pm, Saturday and Sunday 1 pm -- $18, $12 for kids 12 and under
Naughty and Nice Christmas Party
Sunday: The Low Beat hosts the Bing Bamboo Room Burlesque holiday show, Naughty and Nice Christmas Party. Sunday 8 pm -- $15
Holiday Markets
Babes in Troyland!
Saturday-Sunday: Takk House hosts the annual Babes in Troyland holiday market. "There will be over 30 vendors ranging from vintage pyrex to vinyl, homemade candles to gluten free goodies, clothes, prints, dog collars, essential oils and more." Been and food from The Ruck, taro readings, chair massages, entertainment. Saturday 1-7 pm and Sunday 11 am-4 pm -- $5
MistleToga - A Holiday Pop Up Shop
Saturday: Universal Preservation Hall in Saratoga Springs hosts MistleToga -- a Holiday Pop Up Shop. Goods from 17 local small businesses for holiday shopping. Saturday 1-5 pm -- free admission
St. Kateri Fair Trade Market
Saturday-Sunday: St. Kateri Fair Trade Market is market connected with the Delmar Fair Trade Market. Saturday 9 am-4 pm and Sunday 9 am-2 pm -- free admission
Shaker Christmas Craft Fair
Friday-Saturday: The Shaker Christmas Fair continues through December 17. "Over 75 local and regional artisans are represented, offering thousands of items for your perusal. Jewelry, apparel, ornaments, household goods, toys and gourmet jams are among the most popular items." Friday-Saturday 10 am-4 pm -- free admission
Ice skating
The ice rink at the Empire State Plaza is open for the season. The rink is open daily from 11 am to 8 pm (closed from 3-4 pm). It's free to skate. Skate rental is $4 for adults / $3 for kids 12 and under / and free on Fridays.
Stage
Alice in Wonderland
Friday-Sunday: The Theater Institute at Sage presents a musical adaptation of Alice in Wonderland. "Lewis Carroll's unflappable young heroine takes a tumble down an enchanted rabbit hole to an off-kilter world of mock turtles, dancing flora, punctual rabbits, and mad tea parties." Friday and Saturday 7:30 pm, Sunday 2 pm -- $15
Camelot
Friday-Sunday: Capital Rep continues its production of Camelot. It runs through December 24. Friday-Sunday various times -- $25 and up
Out of Order
Friday-Sunday: Curtain Call Theater presents the regional premiere of Ray Cooney's holiday comedy Out of Order .Friday and Saturday 8 pm, Sunday 3 pm -- $24
Star Quality
Friday-Sunday: Schenectady Civic Playhouse presents Star Quality, the Noel Coward comedy that takes place behind the scenes at a West End theater, with an innocent young playwright caught up in a backstage world of treachery. Friday and Saturday 8 pm, Sunday 2 pm -- $20
Willy Wonka
Friday-Sunday: Steamer 10 presents the stage version of Roald Dahl's Willie Wonka Friday at 7:30pm, Saturday and Sunday at 3pm -- $15/$10 for students and seniors
Comedy
Storytime Time
Friday: Ethan Ullman's comedic Storytime Time series is back. Storytime Time is an evening of curated, comedic true stories told by local people. This edition will be held at the new MopCo Theater on Jay Street in Schenectady, and features story tellers Chris Coppola, Ryan Shea, Kevin Kaszubowski and Katherine Stephens. Friday 8 pm -- $10 / $6 for students and seniors
MopCo Improv
Saturday: An Evening with The Mop and Bucket Company The Capital Regions premiere improv company hosts an evening of improv songs, scenes and games. fSaturday 8 pm -- $15 / $6 for students and seniors
Mike Malone
Friday-Sunday: Actor/comedian Mike Malone headlines at The Funny Bone this weekend. Friday-Sunday various times and prices
Ray Harrington & Guests
Friday-Saturday: Los Angeles Comedy Festival winner Ray Harrington headlines this weekend at The Comedy Works. Friday-Saturday various times and prices
Music
Friday: Jack DeJohnette Trio, Indo Pak Coalition at The Egg
Jazz. 7:30 pm -- $36
Friday: Kate Soper "Ipsa Dixit" at EMPAC
"Ipsa Dixit is an evening-length work of theatrical chamber music by American composer Kate Soper. Exploring the intersection of music, language, and meaning, the piece blends elements of monodrama, Greek theater, and screwball comedy to skewer the treachery of language and the questionable authenticity of artistic expression." 8 pm -- $18
Friday: Steve Wilson, George Cables, Ira Coleman at Massry Center
Chamber jazz. 7:30 pm -- $20 / $10 students
Friday: Gin Wigmore at The Hollow
Pop singer/songwriter from New Zealand. 7 pm -- $15 ahead / $17 day of
Friday: Rydvall/Mjelva at Old Songs
"Virtuosic Scandinavian folk musicians on Hardanger fiddle and Nyckelharpa." 7:30 pm -- $23 / $5 kids 12 and under
Friday: Dust Bowl Faeries at The Low Beat
Gothic folk. With: Luis Mojica. 8 pm
Saturday: Dinosaur Jr. at MASS MoCA
Grunge pioneers. With: Luluc. 8 pm -- $28 ahead / $36 day of
Saturday: Del McCoury and David Grisman at EMPAC
Celebrating their first gig together, at RPI in 1966. 8 pm -- $36 and up
Saturday: Joan Osborne at The Egg
Performing as part of an acoustic trio. (She's playing at Helsinki Hudson Friday, too.) 8 pm -- $36
Saturday: "Saratoga, Sing Us Home!" for Caffe Lena
Benefit for Caffe Lena as it prepares to move back to its renovated home. 7 pm
Sunday Albany Pro Musica The Many Moods of Christmas at Troy Music Hall
"This year's program features Gustav Holst's beautiful "choral fantasy on old carols" and Robert Shaw's exhilarating collection, "The Many Moods of Christmas." Sing along with the voices of Albany Pro Musica in festive arrangements of favorite carols -- accompanied by the Orchestra Pro Musica. Featuring one of the most sought-after tenors of his generation, Rafael Davila." 3 pm - $25 and up
Sunday: Albany Gay Men's Chorus: "The Most Wonderful Time of the Year"Annual chorus concert of holiday music at the First Congregational Church in Albany (on Quail near New Scotland). 4 pm -- $12 / $9 students
Film
Ironweed
Friday:The NYS Writers Institute classic film series is hosting a 30th Anniversary Screening of Ironweed at Page Hall on the UAlbany Downtown campus. Prior to the screening, Marion Roach will host a Q&A with William Kennedy. Friday 6:30pm -- free admission
War Horse
Sunday: The Spectrum is screening the National Theater Live production of War Horse. "The unforgettable theatrical event takes audiences on an extraordinary journey from the fields of rural Devon to the trenches of First World War France. At its heart are astonishing life-sized puppets by South Africa's Handspring Puppet Company, who bring breathing, galloping, charging horses to life on the stage." Saturday 11 am -- $15
Fish stories
This weekend at The Madison Theater films about fish and the people who search for them. In celebration of the 100th birthday of Kirk Douglas, The Madison is screening 20,000 Leagues Under The Sea. Also on tap this weekend, screenings of Jacques Cousteau's Voyage to the Edge of the World and The Secret of Roan Inish. various times -- $5
UFC
Friday: The UFC will be at the TU Center for the first time. The heavyweight main event is Derrick Lewis and Shamil Abdurakhimov. Friday 5:30 pm -- $33 and up
Hockey
Saturday: The Albany Devils take on the Providence Bruins at the Times Union Center. Saturday 5 pm -- $15 and up
Alexander Hamilton, Albany and the First Church in Albany
Saturday: The First Church in Albany is hosting Alexander Hamilton-themed tours and discussions. "First Church historians will lead tours with special viewings of Elizabeth Schuyler's baptismal record, Alexander and Elizabeth's marriage entry and baptismal bowl that was used for their son. Be 'in the room' where it happened with discussions on Hamilton's eulogy by Rev. Eliphalet Nott, one of the most influential funeral sermons ever." Saturday 10:30 am, 11:30 am, 12:30 pm -- free admission
Albany New York Antique Postcard Show
Saturday: The Polish Community Center hosts the 6th annual Albany Antique Postcard Show. More than a million vintage postcards on display and available for sale. Saturday 9 am-3 pm -- $3 admission
Museums/galleries
Rock & Roll Icons
The Albany Institute recently opened an exhibit of 1970s and 1980s rock and roll act photography by Capital Region resident Patrick Harbron. "The exhibition features many photographs that have never been published or exhibited. Harbron photographed artists such as Blondie, Rush, Stevie Ray Vaughan, The Police, Bruce Springsteen, Madonna and Elvis Costello early in their careers." (On display through February 12.)
Also at the Albany Institute: The Art of Seating. (On display through December 31.)
Artists of the Mohawk-Hudson Region
The 80th annual Artists of the Mohawk-Hudson Region recently opened at The Hyde Collection. The show is open to artists living within 100 miles of Albany, and rotates among The Hyde, Albany Institute of History and Art, and the University Art Museum at UAlbany. This year's exhibit was curated by artist Michael Oatman and includes 126 works by 106 artists. (On display through December 31.)
Nick Cave Until
MASS MoCA recently opened Until, a new immersive installation by artist Nick Cave. Blurbage: "Through exuberant, politically charged materials, Cave probes issues relating to gun violence, race, and gender inequality. Wrapped in bright glitter, the work is sharp and also painfully beautiful."
The People's Art
The State Museum recently opened The People's Art: Selections from the Empire State Plaza Art Collection, which includes works by artists such as Mark Rothko, Jackson Pollock, Helen Frankenthaler, Franz Kline, David Smith, and Alexander Calder. (On display through September 3, 2017.)
Also at the State Museum: Hudson Valley Ruins. (On display through the end of 2017.)
A More Perfect Union
The Tang presents A More Perfect Union -- a new exhibit featuring Mel Ziegler's Multi-Year Project Flag Exchange. The installation includes 50 American flags collected by Ziegler, who traveled the country trading new flags for tattered ones flying at homes and public locations. (Runs through January.) free admission (suggested donations of $2-$5)
Gravity & Light: Caroline Ramersdorfer
The Opalka Gallery at The Sage Colleges hosts Gravity & Light: Caroline Ramersorfer. " Caroline Ramersdorfer is influenced by a sense of place. Starting with huge blocks of marble, granite and other stone, Ramersdorfer carves intricate interiors as if from the inside out, harnessing light and the material's innate properties. She works in contrasts-smooth and rough, architectural and organic-to create sculptures that simultaneously appear grounded and weightless." (Runs through March 5.)
Day trips
Explore New Paltz, head for The Berkshires, the Catskills, or Columbia County.
Craft beverages
Nine Pin production floor tour
Saturday: Nine Pin Cider Works is offering a tour of their production facility with owner/cider maker Alejandro del Peral. Saturday, 1pm to 2pm -- $20 includes a cider in a souvenir glass
Capital Craft Beverage Trail
Sunday: The Giddy Up bus is offering a tour of the Capital Craft Beverage Trail. Among the stops on the tour are Nine Pin Cider, S&S Farm Brewery in Nassau, Brown's Brewing Company and Albany Distilling Company. Tours, a light lunch and samples. Pick up and drop off for the bus will be in the City of Albany parking lot in Quackenbush Square. The bus leaves from Quackenbush Square. Sunday 11:30 am-5 pm -- $25
Farmers' markets
Farmers markets are indoors:
+ Troy Waterfront Farmers Market moves to the Atrium for the season. Saturday 9 am-2 pm
+ The Saratoga Farmers' Market moves to the Lincoln Baths in Spa Park. Saturday from 9 am-1 pm
+ The Delmar Farmers Market is at Bethlehem Central Middle School. Saturday 9 am-1 pm
+ The Schenectady Greenmarket is back indoors at Proctors. Sunday from 10 am-2 pm.
+ The Spa City Farmers' Market moves indoors at the Lincoln Baths. Sunday from 10 am-3 pm
Nine Pin Cider Works, The Madison, The Theater Institute, The Mop & Bucket Company, Troy Music Hall, The Spectrum, and NYS OGS advertise on AOA. And AOA is a media sponsor for the Santa Speedo Sprint
Say Something!
We'd really like you to take part in the conversation here at All Over Albany. But we do have a few rules here. Don't worry, they're easy. The first: be kind. The second: treat everyone else with the same respect you'd like to see in return. Cool? Great, post away. Comments are moderated so it might take a little while for your comment to show up. Thanks for being patient.