By Deanna Fox
Eating at the mall used to mean Sbarro pizza or chicken from a Chinese food kiosk. (You know you always bought it out of guilt because of the free sample.) Maybe you opted for giant hot pretzels with neon "cheese" sauce, Orange Julius, or the week's worth of calories with a Cinnabon.
But malls are no longer just a place for power-walkers, angsty teenage meet-ups, or chain shopping; malls are becoming destinations for everything from underwear purchases to rock concerts.
The dining is changing to keep pace. Take Rascals -- a business-in-the-front, party-in-the-back space -- in Crossgates that allows for fine steakhouse dining in one space, a sports bar with several large TVs in another, and a performance space with its own bar and dining options in the rear.
The menu is designed to accommodate the varied patronage, but Rascals' take on chicken wings is a sure bet in any of the restaurant's environs.
With an impressive menu that spans from fried calamari to a $58 Porterhouse steak, the culinary team at Rascals -- including head chef Nick Armstrong, formerly of The Merry Monk and Siro's -- seems well-equipped and prepared to cater towards the diverse customer base.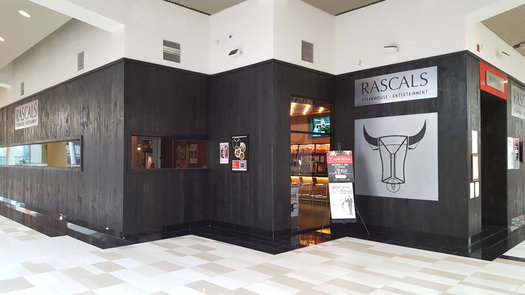 Instead of relying on the crowd-pleasing nature of chicken wings, Rascals braises duck "drumettes" (the meaty wing of hen ducks) before deep-frying to crisp perfection. Duck is known and beloved for its generous fat layer under the skin, resulting in tender flesh with crackling-like crust. Dipped in a pimenton glaze -- pimenton is a more vibrant, slightly spicy version of paprika from Spain, it's mixed with thinned honey in the glaze -- a 6-piece order is $14.
On its own, the drumettes stand in just fine for tried-and-true Buffalo wings, but Armstrong creates an accompanying edible tinsel with strips of pickled squash, roasted red peppers, and candied lemon peel. The lemon is mild and offers only a minor hit of acidity to balance the dish, but in no way is that a deterrent from the overall experience. Commonplace sriracha aioli (AKA, spicy sauce mixed into mayo) is zig-zagged across the top and is a bit lackluster.
The duck is the real star here, anyway, and the way the skin shatters on first bite to reveal dark, tender meat is the real reason for the dish. The menu offers bleu cheese dressing on the side but it has not accompanied the dish when I've ordered it.
Not everything on the Rascals menu is a hit -- I've also had steak and scallops there with former Eat This writer Daniel B. and both left me underwhelmed.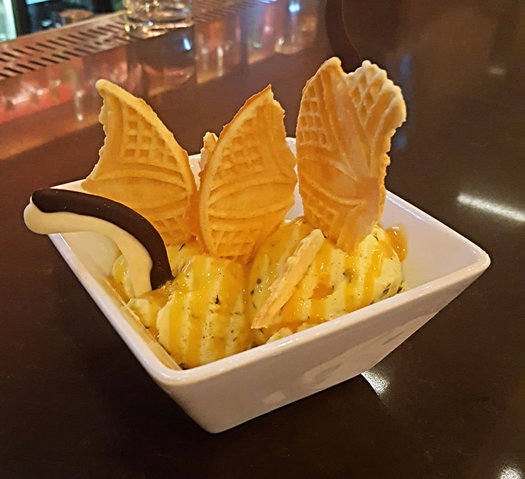 But be sure to save room for the mint julep carbonated ice cream ($8). Others have wrongly pontificated that the ice cream, based on description alone, is fizzy and therefore unworthy of their spoon or stomach, but they couldn't be more wrong.
Carbonated ice cream is a mad-scientist version of classic mint ice cream that relies on a mint-infused liquid ice cream base that gets blitzed in a blender with what is essentially dry ice (which vaporizes out) to instantly freeze the cream. That means lush, smooth ice cream made to order. (Eliminating the danger of big-batch freezer burn.) The process also gelatinizes the small pieces of mint leaves in the cream resulting in chewy pieces of mint candy speckled throughout. Crispy pizelles, swirls of hardened chocolate, and a caramel drizzle top off the dessert.
Knowing that dessert is available makes the dreaded trip to the mall that much more tolerable.
As far as mall dining goes, you can't do much better than Rascals' duck drumettes and mint ice cream. You might have a hit-and-miss experience with other dishes here, but these two dishes make the trip pay back in spades.
Deanna Fox writes about many things, mostly about food. More can be found on her website, Twitter, or Instagram.
More Eat This:
+ Breakfast sandwich at Gibby's Diner
+ French toast at Baking You Crazy
+ Dominican icey at Coco Mango's
Find It
Rascals
1 Crossgates Mall Rd
Albany, NY 12203
Rascals is on the second level of the mall, near the middle, on the Western Ave side.
Hi there. Comments have been closed for this item. Still have something to say? Contact us.