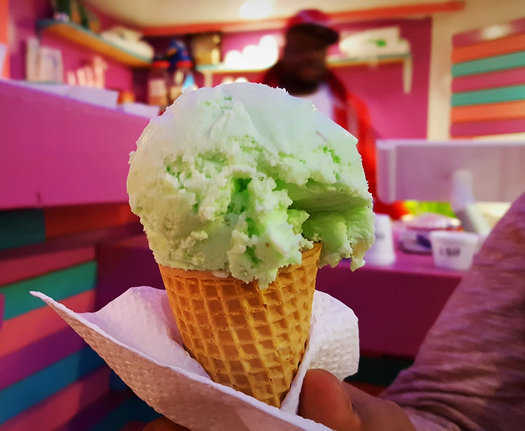 By Deanna Fox
My winter jacket has been moved from the attic closet to the main coat rack in my entryway. It's here, friends. Or at least it's on its way.
I'm talking about winter, of course. While my attire choices change, my eating habits often revert to different times. All summer long I crave slow-simmered stews and rich desserts. In winter, I lust after garden-fresh Caprese salads and cooling treats.
Lucky for me, Coco Mango's is finally up and running in Troy, and I can indulge in chilly Dominican icey that keep my insides the same temperature as my outsides to beat winter at its own game. (C'mon, I'm not crazy! It's all using science Parabolic partial differentials! Heat diffusion!)
Known as piragua de crema in the Latin world, Dominican icey is a mash-up of ice cream and shaved ice. Not quite as smooth as ice cream -- but not as crunchy and jagged as shaved ice or a Sno-Cone -- Dominican icey is a refreshing treat that isn't cloying, but isn't watery either.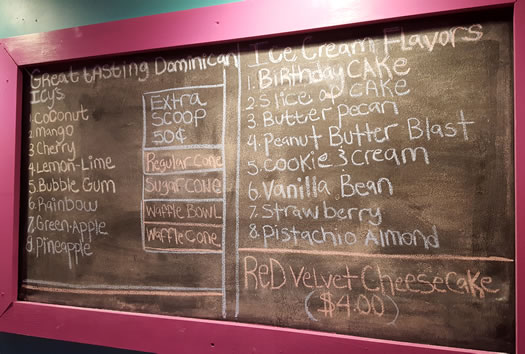 Coco Mango's serves it in flavors like coconut, mango, and pineapple, but traditional flavors include tamarind, genipap (a Caribbean version of a quince), and cocofresca (coconut and strawberry mash-up). Whatever flavor you choose, it is pre-mixed into the icey, not drizzled over the top like Hawaiian shaved ice.
In that way, Dominican icey is in a frozen treat category all to itself. It can be compared to many things -- but it isn't exactly like anything else. The texture is reminiscent of sorbet, but the way it melts in your mouth is akin to Italian ice: Rich, fruity flavors cloak tiny frozen crystals, binding them together, for a silken swallow down your throat. It is scooped into a dish or cone using a paddle and pressed together firmly to create a compact orb -- like gelato.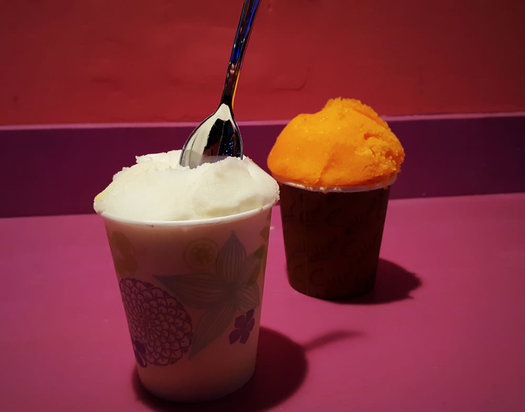 Part of the treat's texture comes from the condensed milk that is used to make Dominican icey. Condensed milk is a pantry staple in the Caribbean, a remnant of when refrigeration wasn't necessarily widely available and keeping raw milk was problematic. Turning that milk into ice cream was a treat reserved for the elite, whereas Dominican icey is an authentic everyperson's pleasure commonly sold from street carts.
The owners of Coco Mango's procure their iceys from New York City and also serve ice cream in interesting flavors like pistachio almond. A medium-sized bowl of the stuff will run you $3, but a Dixie Cup-sized small serving is only $1. Get it on a cone, if you'd like, but I recommend a cup.
If you go, try the mango flavor, which is pungent and perfectly sweetened, almost like eating slices of frozen mango topped with honey.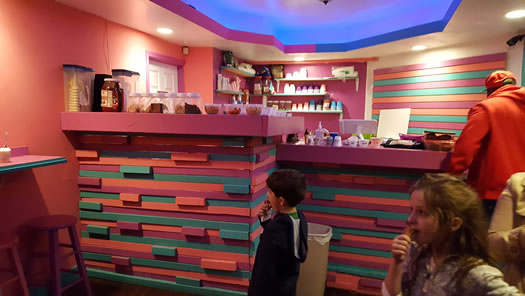 Coco Mango's location -- on Congress Street in Troy -- is interesting in its own way. As downtown Troy continues its revitalization, it welcomes in ethnic eats that help build the multicultural diversity that has long been part of Troy's history. Sunhee's Farm and Kitchen is just around the block on Ferry Street, and a Halal-focused bodega is just across the street. Too bad other Caribbean-focused cuisine is across town (on Fulton Street is First Choice Caribbean; meanwhile, on 6th Street and Glen Avenue is Hot Spot Jamaican) and Troy can't have it's own Latin/Caribbean food neighborhood.
Deanna Fox writes about many things, mostly about food. More can be found on her website, Twitter, or Instagram.
More Eat This:
+ Tuna sandwich at Little Pecks
+ Bullet latte at Kru Coffee
+ Cider donuts at Indian Ladder Farms
+ Toast menu at Superior Merchandise Co.
+ Lunch buffet at First Choice Caribbean (2014)
Find It
Coco Mango's
72 Congress Street
Troy, NY 12180
Hi there. Comments have been closed for this item. Still have something to say? Contact us.