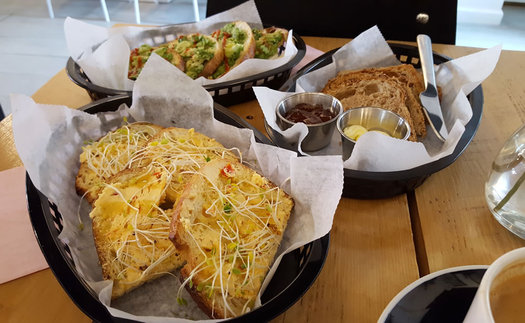 By Deanna Fox
The first time I heard of a "toast menu" in a restaurant, my eyes rolled so hard I'm pretty sure I sprained something in my head. (My brain?) It was in an issue of Bon Appetit magazine in 2014, regarding a restaurant in San Francisco that did toast so well, it could rightly charge $4 a slice.
'Tis a fad, I thought, but then BA kept on publishing about toast. Later that year, "Toast is still happening. Get on the train." Months later, "27 ideas for toast." And my favorite, published this year, "Life before avocado toast: The 16 ways dining has changed since 2000."
Should it come as a surprise that "specialty toast" has made its way to the Capital Region? Scoff if you want to, but toast isn't going anywhere, so we might as well play with it. That's what Superior Merchandise Company, in Troy, is doing.
But don't take it as child's play. This toast is serious business.
Currently, there are three varieties of toast available at Superior Merch, all of which come on bread from Bread Alone (various locations throughout the Hudson Valley): Butter and jam ($4), spicy chevre ($5), and avocado ($6).
Each version of the toast starts with a solid foundation of hearty whole-grain bread, akin to a farmer's loaf. The toast itself is a subtle balance in texture, retaining a tender chew while offering enough of a charred exterior to not become soggy under the various toppings.
The perfectly soft butter and Shady Acres jam are an elevated version of the classic morning meal. Choose from three varieties of jam, including a jalapeno-raspberry, ginger-rhubarb, and black currant. I'm betting those varieties are bound to change with the seasons, so keep an eye out for future offerings. My pint-sized dining companions -- my children -- were most enthusiastic about this version of toast, meaning that even though it's "fancy" toast, it can still appeal to the fundamentalists among us.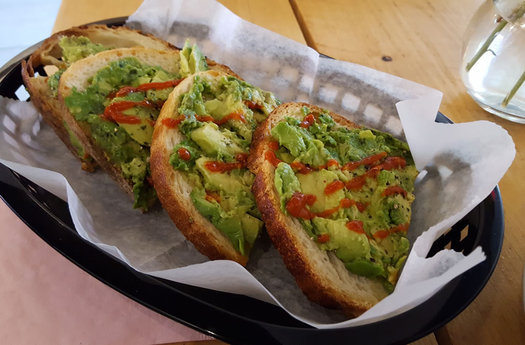 The avocado toast is little more than a smashed-up avocado sprinkled with a few grains of salt and drizzled with sriracha. Simple, humble, uncomplicated. As I once wrote, "Avocado toast is the new quinoa." But even quinoa on its own is a bit unimpressive. In theory, I liked the toast and the health-conscious principles is encompasses: You can't really do better at breakfast than avocado toast. But I think this version could have benefitted from an additional element of flavor, perhaps a squeeze of lime or a more potent finishing salt, like a coarse grain fleur de sel or even salish.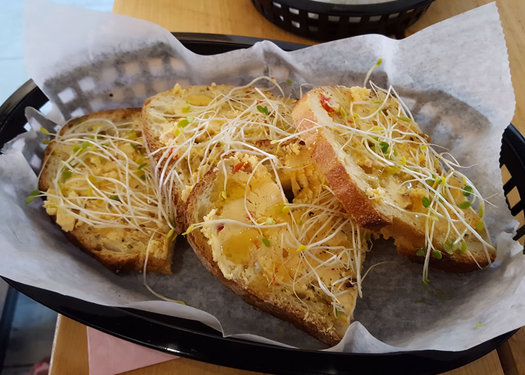 The real star on this menu is the chevre option. The R&G Cheesemakers spicy chevre (goats milk cheese) is generously slathered on the toast and drizzled with honey, garnished with microgreens. The burnished-orange cheese is deceptively spicy (it made my eyes water) but is tempered with the floral sweetness of the honey. The microgreens offer a delicate vegetal quality that cuts the heaviness of bread, cheese, and sugar. The toast eats more like an open-faced grilled cheese and is a hearty option for a morning start, midday nosh, or after-hours snack.
After toast so rich and savory, I was craving a sweeter option. I'll keep my fingers crossed that Superior Merch takes a cue from Rubi's in Great Barrington and considered offering something like the chocolate sandwich. Bread slathered with dark chocolate (or hell, a little Nutella) would have been a perfect solution.
It's easy to be skeptical of a toast program. Toast -- one of the first things most of us learn to make in the kitchen -- is kids' stuff, but done right, it can be more of a trencher than just a piece of Wonderbread slathered in Smuckers.
Yo, toast is happening. Still. So get on the train. Superior Merch will show you how.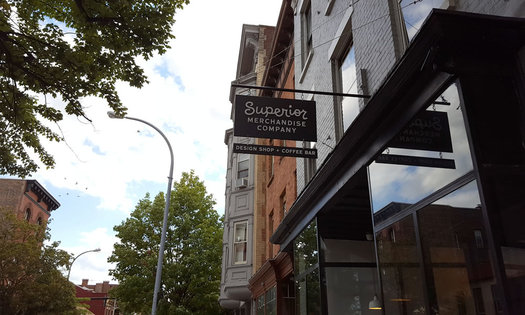 SMCo. anniversary: Superior Merchandise is celebrating its one-year anniversary this Saturday, September 10. It'll have coffees from a variety of roasters, collaboration beers with with Rare Form Brewing Company and Brown's Brewing, food from local vendors, live music, and custom-painted mugs by artist Michael Conlin.
This post was updated to include the correct price for each individual variety of toast.
Deanna Fox writes about many things, mostly about food. More can be found on her website, Twitter, or Instagram.
More Eat This:
+ Tacos at Oaxaquena Triqui
+ Chicken spiedies at Excelsior Pub
+ Blackened Fish Po'Boy at Hooked Seafood Co.
+ Burgers at Crave
Earlier on AOA: Superior Merchandise Co.
Find It
Superior Merchandise Co.
147 Fourth Street
Troy, NY 12180
Hi there. Comments have been closed for this item. Still have something to say? Contact us.