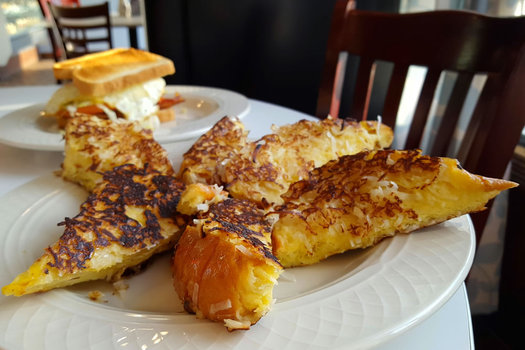 By Deanna Fox
Considering French toast is little more than eggs, milk, and bread, it can be surprisingly easy to screw up. The KISS notion (keep it simple, stupid) is one that evades most of modern society. Bigger is still better, more is still more, and pairing it down to the basics seems like a weakness or cop-out, not an ability to be admired.
Simple doesn't mean thoughtless, though: The opposite is true. Because there is less fluff to mask errors and subpar additions, all ingredients need to be of a particular quality and incorporated with consideration.
Baking You Crazy, the bakery and cafe that replaced a small Italian restaurant at the foot of the Albany-Rensselaer train station on Broadway, employs these ideas across its entire menu.
But let's focus on the French toast ($7).
Baking You Crazy starts with thick, spongy brioche that is sliced on the bias. That allows for more surface area to soak-up liquids and penetrate every pocket of air and dough with delicious flavors. From there, the French toast follows basic protocol, with the subtle substitution of coconut milk in lieu of the usual dairy. Eggs, a little salt for balance, and warm flavors of vanilla, cinnamon, and nutmeg complement the slightly tropical notes of the coconut.
Just before hitting the griddle, each slice is tossed in barely-sweetened shredded coconut. The result is French toast that isn't soggy but neither too-dry and stiff. It retains the chewy nature of the brioche but doesn't stick to your teeth like forgotten stuffing stuck to the bottom of a baking pan at Thanksgiving. The shredded coconut adds just enough sweetness to make syrup unnecessary and creates a crisp crust that counters the inherent softness of French toast.
It would be fair to say it was easily the best French toast I've ever had.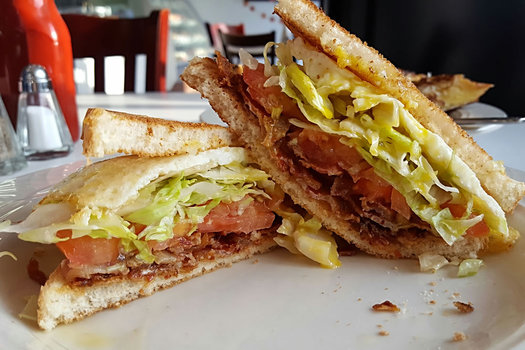 The same attention to detail can be found throughout the rest of the menu. I also tried the BLT with fried egg ($6), which was a stellar example of what a BLT (egg or not) should be.
Perfectly toasted, not-too-thick white bread slathered with just a bit of mayonnaise, thick tomato (even if it was out of season (sad face)), bacon that was crisp but not brittle, and shredded lettuce, which is the key to any exemplary sandwich. The egg was cooked well with just the limpest jiggle in the yolk. The bits of loose yolk dripping into the lettuce and tomato made for a winning dressing with rich umami flavor.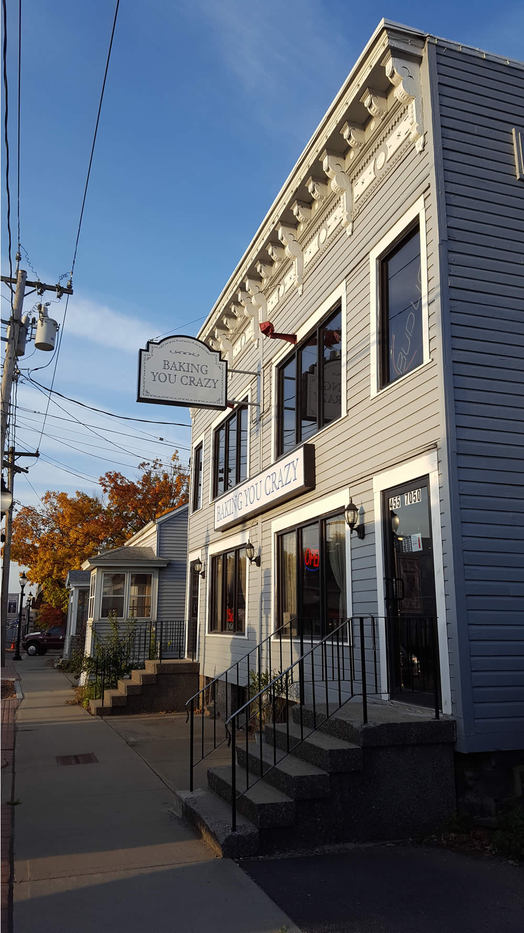 The Baking You Crazy space itself it thoughtful and clean. And it's worth a pre-train station stop on your your next trip for a coffee ($2) and scone, or perhaps for a quick sandwich and cookie. The attentive staff delivers it up quick. But don't just make this a go-between. Make it your destination (there is a lunch/dinner menu, as well).
Little gems like Baking You Crazy are a welcome addition to Rensselaer, which is a town that feels primed for revitalization. Hopefully the success of Baking You Crazy will emphasize the prospects Rensselaer contains and will encourage growth and redevelopment for this dusty jewel.
Deanna Fox writes about many things, mostly about food. More can be found on her website, Twitter, or Instagram.
More Eat This:
+ Dominican icey at Coco Mango's
+ Tuna sandwich at Little Pecks
+ Bullet latte at Kru Coffee
+ Cider donuts at Indian Ladder Farms
Find It
Baking You Crazy
487 Broadway
Rensselaer, NY 12144
Hi there. Comments have been closed for this item. Still have something to say? Contact us.