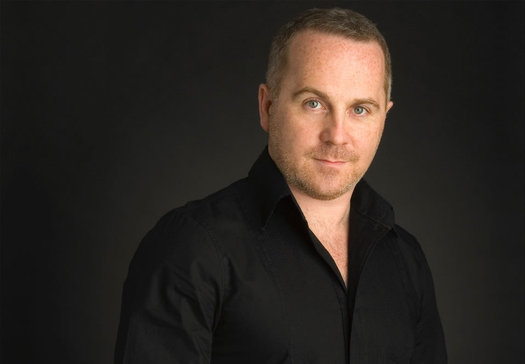 Gifts and giving are on most everyone's mind this month. So we're asking people to share some thoughts on presents, past and present, charities, and wishes for the next year.
Next up: Paul Curran is a Glasgow, Scotland transplant living in Albany. And he's an internationally-renowned, award-winning opera director -- he's directed Rossini's La Donna del Lago at The Met the past two seasons.
What gifts would you like to get this year?
Time! More time. As I've got older I've become less and less interested in actual physical gifts. What I'd really love is time -- time to be able to spend with my partner or family... or even just with myself. Time when I can turn off all the constant "noise" such as Facebook, etc. So my ideal gift is to be able to have a drink, dinner, coffee, whatever with friends and family.
Makes me a very happy chappie! I'm a "people person." You need time for that.
What gifts would you like to give this year?
I like giving things that surprise people. I never ask anyone, "What would you like?" I love a gift being my idea of what another person might find fun or intriguing. Somebody gave me a fantastic French cheese once! It was a seriously great gift.
Sometimes it can go spectacularly wrong, though. OK, I get it that not everybody is into a 70s disco CD.
I always do gifts at the last minute -- let inspiration guide me, not Macy's sale.
What charity would you like to support?
Some years I've given no gifts at all. I'll often send messages to people with a donation in their name to charities such as Paws for Thought, an animal rescue charity, or a shelter or organization for homeless LGBT youth -- my parents threw me out of my home at age 16.
I've only once had someone tell me they thought it wasn't very nice of me not to give gifts. That person is no longer on the gifts list!
It used to make me sad -- still does -- to see drawers or closets full of Christmas gifts I'd never used or even looked at. So I take those things to Goodwill or similar. I'd prefer friends and family put the money to better use in supporting something where I feel it makes a big difference -- and that makes me smile like nothing on earth.
What is your most memorable gift?
Two things: My partner, Mike, got me a DNA kit to let me find out where I came from. I thought I'd be 50 percent split Scottish/Irish... turns out I'm a lot Mediterranean. It was an intriguing and fun gift.
Secondly, in London I had a difficult year some time ago and felt very sorry for myself. On Christmas Eve I got off my butt, filled bags and boxes with food and took it downtown to give out to homeless people who would be spending Christmas on the streets. Best gift ever was seeing those guys smile and get the chance to just chat to someone... something I'd never thought about and just took for granted.
What is your wish for the New Year?
Wow, this is a biggie. Truly, I wish people would just be kinder. Put away the tweets, Facebook, and Instagram and just listen to people without an outraged reaction. We seemed to survive a long time before without it.
I'd also wish for a direct flight to JFK or LGA... jussayin!
____
Compiled by Deanna Fox
More holiday gifts 2016
+ Jamel Mosely
+ Nicki Brown