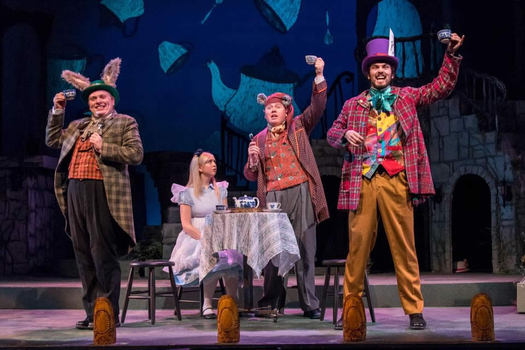 Only three weekends left in 2016.
After the jump, a list of stuff to to this weekend that will help you fill your fun quota for the year.
Planning something you don't see on our list? Share it with the rest of us in the comment section.
And whatever you're up to, have a fantastic weekend!



Holiday events
Schenectady Festival of Trees
Saturday-Sunday: The Schenectady County Historical Society hosts the Schenectady Festival of Trees. Saturday and Sunday, 10 am-4 pm -- $5, $2 for kids, under 5 free
MiSci Trains
Friday-Sunday: miSci's annual Holiday Train Show continues with a 19x27-foot display of running Lionel model trains. Friday-Sunday -- free with museum admission
Capital Holiday Lights
Friday-Sunday: The Capital Holiday Lights display continues in Albany's Washington Park. Friday-Sunday starting at 5:30 pm -- $20 per car / $25 for 10-18 passenger vehicle
Santa's Magical Express
Friday-Sunday: Santa's Magical Express returns to Yankee Trails. It's the annual holiday experience in which kids help Santa and Mrs. Claus save Christmas. Friday-Sunday -- various times and prices
The Polar Express
Friday-Saturday: The Saratoga & North Creek Railway runs its annual Polar Express experience from the Saratoga rail station. Friday and Saturday various times and prices.
Holiday-themed shows
Melodies of Christmas
Friday-Sunday: The Melodies of Christmas show returns to Proctors. It's an annual holiday concert featuring the Empire State Youth Orchestra and Youth Chorale. various times -- $15 and up
Mountain Snow Orchestra
Friday: Mountain Snow Orchestra at The Egg
"For 24 years the support band for Bridget Ball and Chris Shaw's long running hit Christmas show 'Mountain Snow Mistletoe', Kevin McKrell, Brian Melick and John Kirk keep the tradition alive with a down home evening of holiday music, merriment and mischief." 8 pm -- $25
Mendelssohn Club
Friday:Mendelssohn Club Holiday Concert at The Egg
"The Mendelssohn Club of Albany, now in its 108th season, presents its annual Holiday Concert, "Christmases Old and New" with a mix of traditional carols, classical and popular songs." 7:30 pm - $20
A Charlie Brown Christmas
+ Friday-Sunday: Home Made Theater presents the stage version of A Charlie Brown Christmas. Friday 7:30 pm, Saturday at 1pm, Sunday 1 pm and 4:30pm -- $18, $12 for kids 12 and under
+ Saturday-Sunday:Production of A Charlie Brown Christmas at The Palace. "The classic animated television special, A Charlie Brown Christmas comes to life in this faithful stage adaptation in which Snoopy, Charlie Brown and the rest of the Peanuts Gang discover the true meaning of Christmas." Presented by the Park Playhouse. various times -- $20 / free for kids 12 and under
A Christmas Carol
Friday-Sunday: The Cohoes Music Hall has a production of A Christmas Carol performed by Staging Youths' Future. Friday-Sunday various times -- $15
Twas the Land of the Night Before at Proctors
Friday-Sunday: Proctors presents 'Twas the Land of the Night Before, a new family holiday musical about an enchanted village where everyone perpetually prepares for a Christmas that never arrives. Friday 7:30 pm, Saturday 2 pm and 7:30 pm, Sunday 2 pm -- $20 / $18 for seniors and age 12 and under
Disney On Ice: Dare to Dream
Friday-Sunday: The Times Union Center hosts Disney on Ice: Dare to Dream, an ice show starring Disney Princesses. Friday-Sunday, various times and prices
West Point Benny Havens Band
Saturday: West Point Benny Havens Band at The Linda. Annual big band holiday concert. 7 pm - free (reservation required, and it's filled up in years past)
The Nutcracker
Saturday: Albany Berkshire Ballet performance of The Nutcracker at The Egg. 40th anniversary show. 1:30 pm / 5:30 pm -- $25 and up
Holiday concert at Mabee Farm
Saturday: The Mabee Farm Historic Site is hosting a holiday concert with Ensemble Companio chamber choir. 6 pm -- $10 / $5 students and seniors
Caffe Lena Holiday Folks Show at Saratoga Arts
Saturday-Sunday: Holiday Folk Show at Caffe Lena at Saratoga Arts. "The time when festive folks across the region come to Caffe Lena to enjoy a 'Candlemas-Hanukkah-Ramadan-Solstice-Christmas-Kwanzaa-New Year-Boxing Day-Epiphany Event.'" There's December 17 8 pm / December 18 3 pm - $20 / $10 kids and students
A Christmas Carol
Saturday: Collar City Players host a staged reading of the Dickens classic A Christmas Carol at Finnbar's Pub in Troy. Saturday at noon -- $10 (cash only)
Eighth Step Solstice Show with Kim & Reggie Harris
Sunday:Magpie and Kim & Reggie Harris: Sing Solstice at Proctors. "Come sing, laugh, light a taper at our warm and wonderful musical celebration of the Season of Light!" 7 pm -- $26 and up
Stage
Alice in Wonderland
Friday-Sunday: The Theater Institute at Sage presents a musical adaptation of Alice in Wonderland. "Lewis Carroll's unflappable young heroine takes a tumble down an enchanted rabbit hole to an off-kilter world of mock turtles, dancing flora, punctual rabbits, and mad tea parties." Friday and Saturday 7:30 pm, Sunday 2 pm -- $15
Camelot
Friday-Sunday: Capital Rep continues its production of Camelot. It runs through December 24. Friday-Sunday various times -- $25 and up
Out of Order
Friday-Sunday: Curtain Call Theater presents the regional premiere of Ray Cooney's holiday comedy Out of Order .Friday and Saturday 8 pm, Sunday 3 pm -- $24
Roxxi Tart's 1920's Burlesque Revue
Saturday: Roxxi Tart and company present an evening of speakeasy-themed burlesque at the Hudson Harbor House. Saturday 8 pm -- $20
Comedy
Cast of Impractical Jokers
Friday: The Palace Theater hosts the New York-based comedy troupe The Tenderloins -- the creators and stars of the truTV's series, Impractical Jokers. Friday 8 pm -- $50 and up
Comedy's Best Kept Secret Tour
Friday: The Comedy's Best Kept Secret Tour comes to the Lark Tavern with a lineup of new national touring stand-up comics. Friday 8 pm and 10 pm -- $10 ahead / $12 at door
Electric City Puppet Improv/Alf Pacino
Friday: MopCo's Fringe Friday series continues with a double bill of Electric City Puppet Improv and MopCo's long form improv group Alf Pacino. Friday 8 pm -- $10 / $6 for students and seniors
Spontaneous Broadway
Saturday: The Mop and Bucket Company opens a new season of Spontaneous Broadway. In act one improvisors make up songs based on audience suggestions. The audience votes on their favorite song and in act II the company builds a whole Saturday 8 pm -- $15 / $6 for students and seniors
Corey Holcomb
Friday-Saturday: The Funny Bone hosts Corey Holcomb. Holcomb has been doing stand-up since the 90s and has been seen on the Tonight Show, Just For Laughs Festival in Montreal, and the Chicago Comedy Festival. Friday-Saturday various times -- $25
Matt Bergman
Sunday: The Funny Bone presents Matt Bergman. Bergman has opened for Mike Birbiglia and has been part of the Comedy Central Live Tour as well as the Nobodies of Comedy Tour. Sunday 7 pm -- $12
Ray Harrington & Guests
Friday-Saturday: Los Angeles Comedy Festival winner Ray Harrington headlines this weekend at The Comedy Works. Friday-Saturday various times and prices
Skating
The ice skating rink at the ESP recently opened, and if you're looking for some midweek fun, you might think about stopping by for an evening skate (or day skate, depending on your schedule). The rink is open Monday-Sunday 11 am-8 pm (closed 3-4 pm for maintenance). It's free to skate. Skate rentals are $4 / $3 for kids / free on Fridays.
Swinburne: The city of Albany's Swinburne Skating Rink is also open for the season. see the link for hours -- $1 admission / under 18 is .50 / skate rental $3
Film
Found Footage Festival
Friday: The Found Footage Festival tour returns to Proctors, featuring "videos that were found at garage sales and thrift stores and in warehouses and dumpsters across the country.Curators Joe Pickett and Nick Prueher take audiences on a guided tour of their latest and greatest VHS finds, providing live commentary and where-are-they-now updates on the people in these videotaped obscurities." Friday 7:30 pm -- $15 / $10 for students and seniors
Holiday films at The Madison
Friday-Sunday: This weekend's holiday movie fest at The Madison Theater includes screenings of Gremlins, A Christmas Story, Elf, and Rare Exports: A Christmas Tale.
The Rocky Horror Christmas Show
Saturday: The Madison is hosting two holiday screenings of The Rocky Horror Picture Show with live performance by the Kids of Albany shadow cast. It's Rocky horror with a holiday twist. Saturday 8 pm and midnight -- $10 admission / prop kits $4
Music
Friday: Lapalux at EMPAC
"Considered 'one of the finest producers of the moment,' London-based artist Lapalux (AKA Stuart Howard) is a rising star of electronic music." 8 pm -- $18
Friday: The Figgs at The Low Beat
Annual show around the holidays. 8 pm -- $10
Friday: Cannon The Brave at The Madison
EP release show for the indie pop duo. With: Jasper. 8 pm -- $10
Friday: Madaila at Putnam Den
Pysch pop. 9:30 pm -- $10
Saturday: The Ballroom Thieves at Helsinki Hudson
Folk/roots. 9 pm -- $12 ahead / $15 day of
Saturday: Annie In The Water + Black Mountain Symphony at The Hollow
Annual Guthrie/Bell Christmas party show. 8 pm -- $12

Hoops
UAlbany
Saturday: The UAlbany men's basketball team takes on the St. Francis at SEFCU Arena. Saturday 7 pm -- $10 and up
Siena
Saturday: The Siena men's basketball team takes on Bucknell in a home game -- but it's at the Glens Falls Civic Center. Saturday at noon -- $8 and up
Museums/galleries
Rock & Roll Icons
The Albany Institute recently opened an exhibit of 1970s and 1980s rock and roll act photography by Capital Region resident Patrick Harbron. "The exhibition features many photographs that have never been published or exhibited. Harbron photographed artists such as Blondie, Rush, Stevie Ray Vaughan, The Police, Bruce Springsteen, Madonna and Elvis Costello early in their careers." (On display through February 12.)
Also at the Albany Institute: The Art of Seating. (On display through December 31.)
Artists of the Mohawk-Hudson Region
The 80th annual Artists of the Mohawk-Hudson Region recently opened at The Hyde Collection. The show is open to artists living within 100 miles of Albany, and rotates among The Hyde, Albany Institute of History and Art, and the University Art Museum at UAlbany. This year's exhibit was curated by artist Michael Oatman and includes 126 works by 106 artists. (On display through December 31.)
Nick Cave Until
MASS MoCA recently opened Until, a new immersive installation by artist Nick Cave. Blurbage: "Through exuberant, politically charged materials, Cave probes issues relating to gun violence, race, and gender inequality. Wrapped in bright glitter, the work is sharp and also painfully beautiful."
The People's Art
The State Museum recently opened The People's Art: Selections from the Empire State Plaza Art Collection, which includes works by artists such as Mark Rothko, Jackson Pollock, Helen Frankenthaler, Franz Kline, David Smith, and Alexander Calder. (On display through September 3, 2017.)
Also at the State Museum: Hudson Valley Ruins. (On display through the end of 2017.)
A More Perfect Union
The Tang presents A More Perfect Union -- a new exhibit featuring Mel Ziegler's Multi-Year Project Flag Exchange. The installation includes 50 American flags collected by Ziegler, who traveled the country trading new flags for tattered ones flying at homes and public locations. (Runs through January.) free admission (suggested donations of $2-$5)
Gravity & Light: Caroline Ramersdorfer
The Opalka Gallery at The Sage Colleges hosts Gravity & Light: Caroline Ramersorfer. " Caroline Ramersdorfer is influenced by a sense of place. Starting with huge blocks of marble, granite and other stone, Ramersdorfer carves intricate interiors as if from the inside out, harnessing light and the material's innate properties. She works in contrasts-smooth and rough, architectural and organic-to create sculptures that simultaneously appear grounded and weightless." (Runs through March 5.)
Day trips
Explore New Paltz, head for The Berkshires, the Catskills, or Columbia County.
Food/Drink
Albany Distilling Co. Holiday Party
Saturday: Albany Distilling is hosting a holiday party with cocktails, music, food and complementary tastings. Saturday 8-11 pm -- free admission, cash bar
Art and cheese
Saturday: Changing Spaces Gallery and The Cheese Traveler present "Art, Poetry, and Cheese", with artwork by Danny Williams, poetry by Alifair Skebe and others, music and, of course, cheese. Saturday 6-9 pm -- free admission
Farmers' markets
Farmers markets are indoors:
+ Troy Waterfront Farmers Market moves to the Atrium for the season. Saturday 9 am-2 pm
+ The Saratoga Farmers' Market moves to the Lincoln Baths in Spa Park. Saturday from 9 am-1 pm
+ The Delmar Farmers Market is at Bethlehem Central Middle School. Saturday 9 am-1 pm
+ The Schenectady Greenmarket is back indoors at Proctors. Sunday from 10 am-2 pm.
+ The Spa City Farmers' Market moves indoors at the Lincoln Baths. Sunday from 10 am-3 pm
The Madison, The Theater Institute, The Mop & Bucket Company, Troy Music Hall and NYS OGS advertise on AOA.
Say Something!
We'd really like you to take part in the conversation here at All Over Albany. But we do have a few rules here. Don't worry, they're easy. The first: be kind. The second: treat everyone else with the same respect you'd like to see in return. Cool? Great, post away. Comments are moderated so it might take a little while for your comment to show up. Thanks for being patient.