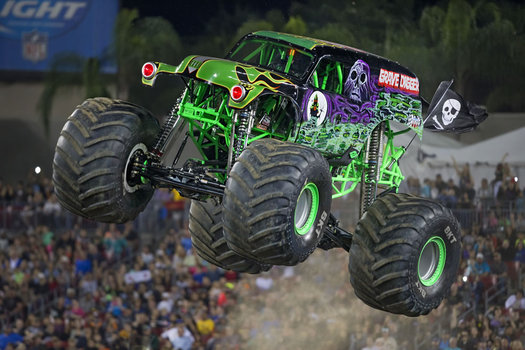 We do solemnly swear that we will faithfully execute the task of finding you stuff to do this weekend, and will, to the best of our ability, preserve, protect and defend your right to an interesting weekend.
Hey, we take this job seriously.
So, after the jump, a list of Capital Region happenings we thought might interest you, from monster trucks and comedy to music and theater, to markets and museums.
Planning something you don't see here? Drop it in the comment section so we can all see.
And whatever you're up to, hang in there, and have a fantastic weekend.



Monster Jam
Saturday-Sunday: Monster Jam returns to the Times Union Center. A hundred truckloads of dirt and giant monster trucks. Saturday 7 pm (pre-show pit party at 4:30), Sunday 1 pm -- $18 and up
Stage
Urinetown
Friday-Sunday:Urinetown opens on Friday at Schenectady Light Opera. The still-relevant satire of the legal system and government corruption tells the story of a water shortage that has forced a ban on public toilets, making it "a privilege to pee." Friday and Saturday 8 pm, Sunday 2 pm -- $22-$28
Spontaneous Broadway
Saturday: The Mop and Bucket Company opens a new season of Spontaneous Broadway. In act one improvisors make up songs based on audience suggestions. The audience votes on its favorite song and in act two the company builds a whole musical. Saturday 8 pm -- $15 / $6 for students and seniors
Dial M for Murder
Friday-Sunday: Curtain Call Theater opens the mystery classic Dial M for Murder, Friday and Saturday at 8 pm, Sunday at 3 pm -- $24
Pop Culture Provocateurs Presents: A Burlesque Revue
Friday: C. Amanda Boutahorse and the company at Pop Culture Provocateurs present "A Burlesque Review" at The Fuze Box. Friday 9 pm -- $12
Bing Bamboo Room
Sunday: Evil Dan hosts the Bing Bamboo Burlesque's Winter Carnival show at The Low Beat. (Age 18 and up.) Sunday 7 pm -- $15
Comedy
DeRay Davis
Friday-Saturday: DeRay Davis comes to tDeRay Davis will be at the Albany Funny Bone. Davis has been seen on Entourage and Reno 911 and performed comedy skits on Kanye West LPs. Friday and Saturday -- various times and prices
Mitch Fatel
Friday-Saturday: Mitch Fatel headlines at The Comedy Works this weekend. Fatel has appeared on the Tonight Show, and the Late Show, and had a popular half hour stand-up special on Comedy Central. Friday and Saturday -- various times and prices
MopCo Fringe Friday: Dollars to Donuts/Alf Pacino
Friday: MopCo's Fringe Friday series presents a double bill with improve troupe Dollars to Donuts and MopCo house team Alf Pacino in an evening of short- and long-form improv comedy inspired by audience suggestions. Friday 8 pm -- $10 / $6 for students and seniors
Music
Friday: The Mallett Brothers Band at The Hollow
Americana. With: Becca Frame and the Tall Boys. 8 pm -- $12
Friday: Beaucoup Blue at Caffe Lena
"This smooth, deep Philadelphia duo blends folk, R&B, jazz and country blues together in songs that might be classics, or might just sound like it." 8 pm -- $18
Friday: Stockade Kids at Proctors GE Theater
"Join Stockade Kids for a one-night-only concert experience combining their original music with popular songs for a live-mashup concert never before heard or seen." 7:30 pm -- $15
Saturday: Gaelic Storm at The Egg
"[O]ne of the world's foremost Celtic fusion bands." 8 pm -- $34
Saturday: Tinsley Ellis at The Linda
Blues rock. With: 2 Blue with Amy Ryan and Richard Green. 8 pm -- $15
Saturday: Amy Helm at Cohoes Music Hall
Singer/songwriter, daughter of Levon. 8 pm -- $25 and up
Saturday: The Heart of Saturday Night: Songs of Tom Waits at Caffe Lena
Local artists performing the work of Tom Waits, headlined by Sean Rowe. 8 pm -- $20
Saturday: Elvis Birthday Bash at Helsinki Hudson
Featuring Mark Gamsjager and The Lustre Kings. 9 pm -- $20
Saturday: Old Songs Sampler Concert
A benefit for this year's Old Songs Festival. 7:30 pm -- $23
Sunday: Nellie McKay at Helsinki Hudson
Performing the musical biography "A Girl Named Bill: The Life and Times of Billy Tipton." 8 pm -- $25
Sunday: High School Choral Festival at Troy Music Hall
Local high school choirs with Albany Pro Musica. 5 pm -- $15
Sunday: Ramblin' Jug Stompers at Caffe Lena
" New York States premier jug band fuses the ragtime sounds of the 1920s with the bluegrass edge of the '40s; mines the manic energy of '60s folk revival acts; and adds a contemporary comic sensibility all its own." 7 pm -- $18
Film
The Madison
It's 60s Rebel weekend at the Madison with screenings of Apocalypse Now, Bonnie and Clyde, and the Wes Anderson film Moonrise Kingdom. Friday-Sunday various times and prices
Hoops
Great Danes
Sunday: The UAlbany men's basketball team takes on Maine at SEFCU Arena. Sunday 2 pm -- $12 and up
Harlem Wizards
Sunday: The Harlem Wizards -- a touring "show" basketball team (kind of like the Gloebtrotters) -- take on the the ACCA Tigers -- a team of local teachers, principals and community leaders -- at Cohoes High School. Sunday 3 pm -- $12 / kids and students $8
Skating
Empire State Plaza
The ice skating rink at the ESP is open this weekend (weather permitting). Friday-Sunday 11 am-8 pm (closed 3-4 pm for maintenance). It's free to skate. Skate rentals are $4 / $3 for kids / free on Fridays.
Swinburne: The city of Albany's Swinburne Skating Rink is also open for the season. see the link for hours -- $1 admission / under 18 is .50 / skate rental $3
Museums/galleries
Together Until the End: Schenectady in the First World War
The Schenectady County Historical Society opens Together Until the End: Schenectady in the First World War, an exhibit on Schenectady during WWI. (It's at 32 Washington Ave in Schenectady.) opening reception Saturday 2 pm -- $5
State Museum
The State Museum recently opened a new exhibit about ice ages in New York. And the The People's Art: Selections from the Empire State Plaza Art Collection continues with works by artists such as Mark Rothko, Jackson Pollock, Helen Frankenthaler, Franz Kline, David Smith, and Alexander Calder. (On display through September 3, 2017.)
Also at the State Museum: Hudson Valley Ruins. (On display through the end of 2017.)
Rock & Roll Icons
The Albany Institute has an exhibit of 1970s and 1980s rock and roll act photography by Capital Region resident Patrick Harbron. "The exhibition features many photographs that have never been published or exhibited. Harbron photographed artists such as Blondie, Rush, Stevie Ray Vaughan, The Police, Bruce Springsteen, Madonna and Elvis Costello early in their careers." (On display through February 12.)
Nick Cave Until
MASS MoCA is exhibiting Until, a new immersive installation by artist Nick Cave. Blurbage: "Through exuberant, politically charged materials, Cave probes issues relating to gun violence, race, and gender inequality. Wrapped in bright glitter, the work is sharp and also painfully beautiful." (On display through August 2017.)
The Clark
In addition to its permanent collection, The Clark also has the exhibits Japanese Impressions: Color Woodblock Prints from the Rodbell Family Collection (on display through April 2) and Photography and Discovery (on display through February 5).
Norman Rockwell Museum
The Norman Rockwell Museum in Stockbridge has an exhibit of Rockwell's holiday cover illustrations for the Saturday Evening Post (on display through January 29), along with Hanna-Barbera: The Architects of Saturday Morning. (On display through May 29.)
Gravity and Light
The Opalka Gallery has Gravity and Light: Caroline Ramersdorfer Sculpture, 1985-2016. "Starting with huge blocks of marble, granite and other stone, Ramersdorfer carves intricate interiors as if from the inside out, harnessing light and the material's innate properties." (On display through March 5.)
Patterns
The Tang has Sixfold Symmetry: Pattern in Art and Science. "Patterns, systems, and networks are all around us, and in this digital age we are increasingly aware of their influence on our lived experience. This exhibition explores some of the ways in which human beings create and manipulate patterns, and why we are intrinsically driven to do so." (On display through March 12.)
Soup Sabbath
Friday: Members of Schenectady Clergy Against Hate will host a Soup Sabbath fund raiser for the Schenectady Inner City Mission, followed by a talk on discrimination, bigotry, hatred in our community. Friday 6 pm -- suggested donation is what you would pay to go out to eat
Sultry Sugars
Saturday: The Albany Barn is hosting a Black Kettle Soap class about how to make your own sugar scrubs and perfumes. Saturday noon to 2 pm -- $45
Markets
Troy Makers Market
Saturday: Local craft vendors will display and sell wares at the Troy Makers Market in conjunction with the Troy Waterfront Farmers Market at the Troy Atrium. Saturday 9 am to noon
Farmers' markets
+ Troy Waterfront Farmers Market is in the Atrium for the season. Saturday 9 am-2 pm
+ The Saratoga Farmers' Market is in the the Lincoln Baths in Spa Park. Saturday from 9 am-1 pm
+ The Schenectady Greenmarket is indoors at Proctors. Sunday from 10 am-2 pm.
+ The Spa City Farmers' Market is indoors at the Lincoln Baths. Sunday from 10 am-3 pm
Day trips
Explore New Paltz, head for The Berkshires, the Catskills, or Columbia County.
The Madison, The Mop & Bucket Company, The Albany Institute of History and Art, and NYS OGS advertise on AOA.
photo: Feld Motor Sports
Say Something!
We'd really like you to take part in the conversation here at All Over Albany. But we do have a few rules here. Don't worry, they're easy. The first: be kind. The second: treat everyone else with the same respect you'd like to see in return. Cool? Great, post away. Comments are moderated so it might take a little while for your comment to show up. Thanks for being patient.