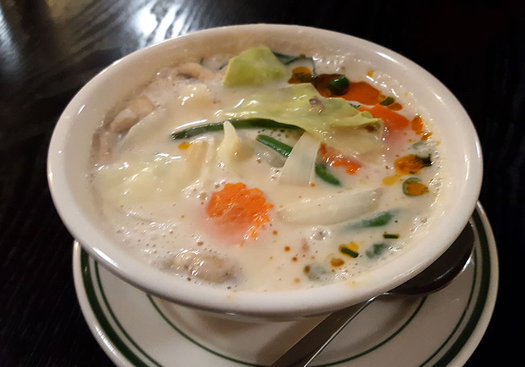 By Deanna Fox
Exit 6 off the Northway is a surprising culinary destination in the Capital Region.
Not hip by any means, nor safely walkable, there are unexpected bright spots of good food that makes one reconsider the notion that the suburbs are inherently void of worthwhile restaurants. Heading west off the exit, find Euro Deli and Ayalada. East, you'll come upon Tipsy Moose and A La Shanghai.
Just across the street is Celadon Thai, a family-run jewel that serves up generous portions of pad thai and fiery curries that glimpse authentic cuisine. Chief among those offerings is tom kha, a classic soup that alone could make Exit 6 a food destination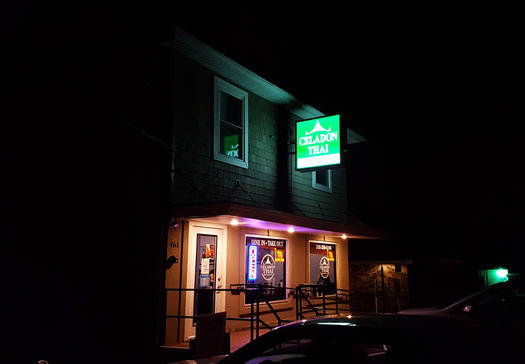 Tom kha is a base coconut broth that becomes tom kha thale (with seafood), tom kha het (mushrooms) or tom kha mu (pork) when variants are added to it.
I ordered mine with just vegetables ($5), which included slender, blanched green beans, ornate carrot coins, torn cabbage leaves, and plenty of mushrooms. The produce was toothsome and offered crunch to an otherwise silky soup that was tinged with flavors of lime and lemongrass. To balance the subtle sweetness of the coconut, droplets of chili oil shimmered on the tom kha's surface and provided bright heat and deep, rich flavor.
The milky white soup is divergent from many other broth-based Asian dishes that feature crystalline stocks, brown in color, like ramen or pho. Despite the close proximity of these soups' country of origin, the difference in each is blaring. Tom kha on its own is enough to provide an acute remedy to limited knowledge on Thai cuisine, especially in the ways opposing flavors dance gracefully in each bite. There is clearly a play towards balance between the cooling nature of the soup with the prickly heat of the chili oil; the defined texture of the vegetables with the nebulous silken broth. That concept is imbued throughout the menu at Celadon Thai.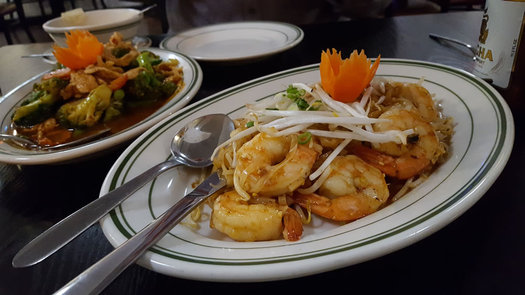 King's curry with chicken ($12, ordered at heat level 3 on the color-coded spice scale and was enough to make my nose drip) and shrimp pad thai ($15) rounded out the meal, which included two bottles of Singha brand beer to wash the heat down with.
The second-coming of urban epicenters leads to exciting times for food. New ideas, creative menus, and holistic approaches to the local foodshed are sure to follow and spur on the revitalization of our core cities, but those places in-between, the byways that let us traverse the region, should not be ignored. Celadon Thai is proof of that.
Deanna Fox writes about many things, mostly about food. More can be found on her website, Twitter, or Instagram.
More Eat This:
+ Pizza dinner at Mia Lucci's
+ Duck drumettes at Rascals
+ Breakfast sandwich at Gibby's Diner
Find It
Celadon Thai
461 Troy Schenectady Road
Latham, NY 12110
Hi there. Comments have been closed for this item. Still have something to say? Contact us.