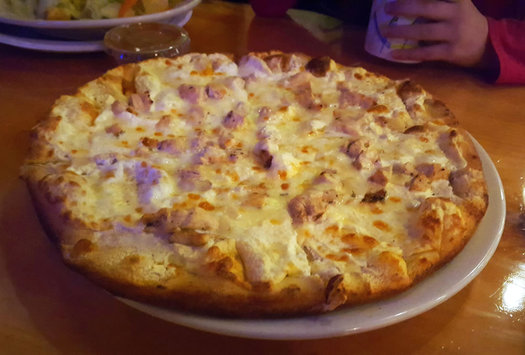 By Deanna Fox
As a lifelong pizza eater, I've come to learn there really isn't such a thing as "bad" pizza. Sure, there's pizza that doesn't quite hit the mark of great -- or even good -- pizza, but even subpar pizza is better than no pizza.
That fact became abundantly clear during the last few rounds of the Tournament of Pizza that I helped to judge. (RIP, TOP **kisses hand, points to God**.) A few slices were questionable, in the kindest terms, but I didn't flat-out refuse to scoff down any of them.
Those slices are few and far between, however: As a whole, I'd put Capital Region pizza up against pizzas from any corner of the world. We've got an amazing array of styles and varieties here. The doughy Sovrana's slices. The interesting crusts and no-Parm rule at DeFazio's. The pan-baked pub-style pizza at Kay's. The giant foldable slices from I Love NY and Paesan's. Farm-fresh sourdough pizza from 9 Miles East. (Tell me when to stop...)
If you're going to break into the pizza game 'round here, you better be darn confident in what you are offering. Sometimes that comes via the actual pizza. Other times, it's an experiential thing. Mia Lucci's in Colonie gives us a little of both.
Mia Lucci's Woodfired Pizza, on Central Avenue, takes the incorporation of "wood" to a whole new level.
If you've ever wondered what a pizzeria in the northern latitudes of Scandinavia might look like, you found it. Mia Lucci's used to be Truman's restaurant, a brick-clad building with classic striped awnings and a neon sign. Now, the building resembles a log cabin replete with a wood-carved bear next to a gas fireplace and timber decor and beams.
Huge televisions line the walls and play cable news shows, but considering the pizzeria has become a family-friendly quick-dinner option, there is little doubt that one of those TVs could switch to Nickelodeon with a gentle request.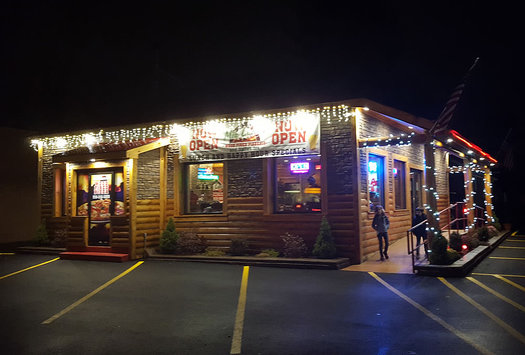 But about the pizza...
It's good! I don't think it will win any best-of pizza lists (even though the sign says otherwise), but it's hard to beat drinks, salad, wings, and pizza (with a generous tip) for a family of four under $40.
Mia Lucci's has woodfired in the name, but it appears the oven is a hybrid that use both wood and gas, as most "woodfired" ovens in the area are. (Exceptions include Anna's or Restaurant Navona.) The crust is blistered where it ought to be, and doughy in the other places. Big bubbles of hot air and delicious, unctuous grease lay just below the surface and make for fun arguments between anxious children waiting to pop them.
Chicken spiedie pizza -- our chosen pie ($12.99 for 10") -- gives a vinegary kick that cuts through copious layers of molten cheese and classic white sauce. Buffalo wings (10 for $8.99) are standard fare, but a great example of what sticking to the basics can lead to. Roasted until tender and fried until crisp, these wings will satisfy even the most discerning Buffalo aficionado. A green salad ($6.99) is served with creamy balsamic dressing, long tendrils of shaved carrot, and extra-crunchy pre-made croutons is enough to balance out the rich meal.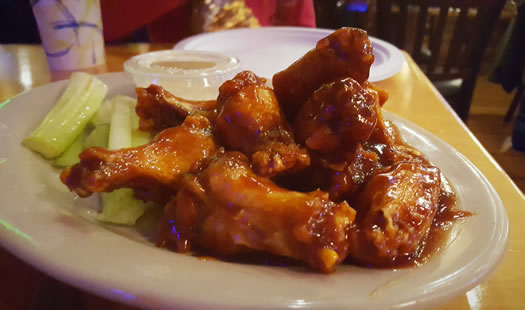 The open kitchen and large take-out counter gives the dining-in customer a bit of confusion. Do we seat ourselves, pour our own drinks (a soda fountain stands on the cusp of kitchen and dining room), order at the register? Seat yourselves and a boisterous greeter will come to take your order, but don't expect him to come back too often to check in on you. Once you're there and have your food, you're on your own. Pay at the register.
Impeccable, accommodating service is not really what you are here for anyway. You are here for quick "it does the job" pizza that satisfies hectic family schedules, picky eaters, and the post-holiday calorie blow-out that you are sacrificing your diet for. Mia Lucci's likely won't become your favorite pizza joint, but I have no doubt it will be a reliable stand-by in your dinnertime rolodex.
Deanna Fox writes about many things, mostly about food. More can be found on her website, Twitter, or Instagram.
More Eat This:
+ Duck drumettes at Rascals
+ Breakfast sandwich at Gibby's Diner
+ French toast at Baking You Crazy
Find It
Mia Lucci's
1647 Central Avenue
Colonie, NY 12205
Hi there. Comments have been closed for this item. Still have something to say? Contact us.