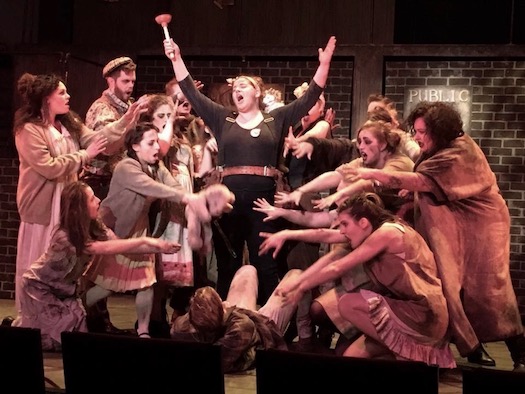 Annnnnd it's Friday. And not a moment too soon.
After the jump, our list of things we thought you'd like to try.
Planning something you don't see here? Drop it in the comments so we can all see.
And whatever you're up to, have a fantastic weekend!


Troy Night Out
Friday: It'sTroy Night Out. There are tours of Troy Music Hall, game demos at 1st Playable, staged readings at The Arts Center of the Capital Region, and chef Ric Orlando will do a pop-up event at Rare Form Brewing. Friday 5-9 pm -- free admission
Food
Schenectady Soup Stroll
Saturday: Downtown Schenectady hosts its annual Soup Stroll. Walk between participating downtown restaurants and sample soups, then vote on your favorite. Saturday noon-5 pm -- $1 per soup sample
Chili Bowl Fundraiser
Saturday: The Saratoga Clay Arts Center hosts its annual Chili Bowl Fundraiser. Area clay artists have made 1000 bowls -- make a donation, pick a bowl and fill it with chili, then keep the bowl. (There are one-hour time slots.) Saturday 11 am to 4pm -- starting at $15
Dan Savage
Friday: Author/sex advice columnist/podcaster Dan Savage will be at EMPAC for a talk and audience Q&A. Savage is, of course, famous for his syndicated "Savage Love" column and his popular podcast. He was also one of the founders of the It Gets Better Project aimed at helping LGBT youth. Friday 6 pm, EMPAC concert hall -- free and open to the public
Stage
Urinetown
Friday-Sunday:Urinetown continues at Schenectady Light Opera. The incredibly relevant satire of the legal system and government corruption tells the story of a water shortage that has forced a ban on public toilets, making it "a privilege to pee." From sets and costumes to performances, the production is outstanding, and timely. Friday and Saturday 8 pm, Sunday 2 pm -- $22-$28
Wait Until Dark
Friday-Sunday: Schenectady Civic Players open a production of the thriller Wait Until Dark. Friday and Saturday 8 pm, Sunday 2:30 pm -- $20
Assisted Loving
Friday-Sunday: Capital Rep's new production, Assisted Loving, is in previews this weekend. It's the story of a man whose 80-year-old father drags him into his search for a new romance after 50 years of marriage. Friday 8 pm, Saturday 3 pm and 8 pm, Sunday 2 pm -- $20 and up
One Man Star Wars Trilogy
Saturday: Actor and geek Charles Ross returns to Proctors with his One Man Star Wars Trilogy. Saturday 3:30 pm and 7:30 pm -- $30
Spontaneous Broadway
Saturday: The Mop and Bucket Company opens a new season of Spontaneous Broadway. In act one improvisors make up songs based on audience suggestions. The audience votes on its favorite song and in act two the company builds a whole musical. Saturday 8 pm -- $15 / $6 for students and seniors
Dial M for Murder
Friday-Sunday: Curtain Call Theater opens the mystery classic Dial M for Murder, Friday and Saturday at 8 pm, Sunday at 3 pm -- $24
Comedy
Gilbert Gottfried & Guests
Friday: Gilbert Godfried is playing two sets at The Comedy Works in Saratoga. Friday at 7:30 and 9:30 -- $30
Rory Albanese
Saturday: Former Daily Show producer Rory Albanese is appearing at The Comedy Works in Saratoga this weekend. Saturday 7:30 pm and 9:30 pm -- $15 ahead / $20 day of
MopCo Fringe Friday: Micetro
Friday: MopCo's Fringe Friday series presents "Maestro" -- a competition between improvisors of all levels with scenes, songs and games based on audience suggestions. Friday 8 pm -- $10 / $6 for students and seniors
Music
Friday: Fabulous + Jadakiss at Proctors
Veteran hip hop stars. With: Young M.A., Dave East, Phresher. 8 pm -- $49 and up
Friday: 1964: The Tribute at Troy Music Hall
Beatles tribute act. 7:30 pm -- $29 and up
Friday: 90s Grunge Revival at Proctors
Four 90s tribute acts playing the music of Pearl Jam, Nirvana, Stone Temple Pilots, and Foo Fighters. 7:30 pm -- $27.50
Friday: Joan Shelley at The Linda
Folk singer/songwriter. 8 pm -- $15
Friday: Driftwood at Parish Public House
"[L]eaning alternately into folk, old-time, country, punk, and rock, depending on their personal moods and their songs' needs." 8 pm -- $12 ahead / $15 day of
Friday: Overcoats at Helsinki Hudson
"Their sound captivates, combining electronic backdrops with soaring, harmonic intimacy - a sort of Chet Faker-meets-Simon & Garfunkel." 9 pm -- $15
Friday: Night of Music and Dance with Ellen Sinopoli Dance Company at Massry Center
"The Ellen Sinopoli Dance Company and Saint Rose, working together, have fashioned a performance featuring dances choreographed to original works of music by student and faculty composers and performers. All of the music for this unique event will be performed live on stage with the dancers." 7:30 pm -- $20 / $10 students
Saturday: Umphrey's McGee + Jonathan Redman at The Palace
Jam band + jazz saxophonist. With: Spafford. 7:30 pm -- $25 and up
Saturday: Livingston Taylor + Tom Chapin + EVA at Cohoes Music Hall
Folk collaboration. 7:30 pm -- $37.50 and up
Saturday: Zeppelin Complete at The Egg
Led Zeppelin tribute act. 8 pm -- $29.50 and up
Sunday: Los Lobos at The Egg
Roots rock. 7:30 pm -- $34.50 and up
Sunday: Old Salt Union + Twisted Pine at Caffe Lena
Jazz/blues/bluegrass + string band. 7 pm -- $18
Film
The Nance
Saturday: The Voorheesville Library is screening the Lincoln Center performance of The Nance starring Nathan Lane. It's a chapter of burlesque and gay history -- Lane plays a gay man who is a 1930s burlesque comedian as the decency police were trying to shut down burlesque and arrest homosexuals. Saturday 2 pm -- free
Do do do do doooooo
This weekend The Madison is screening Close Encounters of the Third Kind.Friday- Sunday -- $5 / .35 matinee.
Also at The Madison this weekend, the 1979 film The Warriors and Rock and Roll High School, the 1979 musical comedy starring The Ramones. Friday-Sunday -- various times and prices
Local tales
Saturday: Maeve McEneny and Paul Nooney host an evening of local tales and legends at the Olde English Tavern with Jessica Bloustein Marshall and Patrick Garrett of WAMC's Listen With The Lights On. You can listen to people's stories and share your own. Saturday 3-7 pm -- free admission
Hoops
Friday: The Siena men's basketball team takes on Iona at the TU Center. Friday 7 pm -- $15 and up
Hockey
Albany Devils
Saturday: The Albany Devils take on the Rochester Americans at the TU Center. Saturday 5pm -- $12 to $26
Skating
Empire State Plaza
The ice skating rink at the ESP is open this weekend (weather permitting). Friday-Sunday 11 am-8 pm (closed 3-4 pm for maintenance). It's free to skate. Skate rentals are $4 / $3 for kids / free on Fridays.
Swinburne: The city of Albany's Swinburne Skating Rink is also open for the season. see the link for hours -- $1 admission / under 18 is .50 / skate rental $3
Museums/galleries
Captured Momemnts
Friday: The Albany Institute opens Captured Moments, its new exhibit of photos from its large photography collection. There's a reception Friday from 5:30-7:30 pm -- it's $10 for non-members. The exhibit will be on display through May 21.
The institute also continues Rock and Roll Icons, an exhibit of 1970s and 1980s rock and roll act photography by Capital Region resident Patrick Harbron. (On display through February 12.)
Together Until the End: Schenectady in the First World War
The Schenectady County Historical Society recently openedTogether Until the End: Schenectady in the First World War, an exhibit on Schenectady during WWI. (It's at 32 Washington Ave in Schenectady.)
State Museum
The State Museum recently opened a new exhibit about ice ages in New York. And the The People's Art: Selections from the Empire State Plaza Art Collection continues with works by artists such as Mark Rothko, Jackson Pollock, Helen Frankenthaler, Franz Kline, David Smith, and Alexander Calder. (On display through September 3, 2017.)
Also at the State Museum: Hudson Valley Ruins. (On display through the end of 2017.)
Nick Cave Until
MASS MoCA is exhibiting Until, a new immersive installation by artist Nick Cave. Blurbage: "Through exuberant, politically charged materials, Cave probes issues relating to gun violence, race, and gender inequality. Wrapped in bright glitter, the work is sharp and also painfully beautiful." (On display through August 2017.)
The Clark
In addition to its permanent collection, The Clark also has the exhibits Japanese Impressions: Color Woodblock Prints from the Rodbell Family Collection (on display through April 2) and Photography and Discovery (on display through February 5).
Norman Rockwell Museum
The Norman Rockwell Museum in Stockbridge has an exhibit of Rockwell's holiday cover illustrations for the Saturday Evening Post (on display through January 29), along with Hanna-Barbera: The Architects of Saturday Morning. (On display through May 29.)
Gravity and Light
The Opalka Gallery has Gravity and Light: Caroline Ramersdorfer Sculpture, 1985-2016. "Starting with huge blocks of marble, granite and other stone, Ramersdorfer carves intricate interiors as if from the inside out, harnessing light and the material's innate properties." (On display through March 5.)
Patterns
The Tang has Sixfold Symmetry: Pattern in Art and Science. "Patterns, systems, and networks are all around us, and in this digital age we are increasingly aware of their influence on our lived experience. This exhibition explores some of the ways in which human beings create and manipulate patterns, and why we are intrinsically driven to do so." (On display through March 12.)
Markets
Troy Makers Market
Saturday: Local craft vendors will display and sell wares at the Troy Makers Market in conjunction with the Troy Waterfront Farmers Market at the Troy Atrium. Saturday 9 am to noon
Farmers' markets
+ Troy Waterfront Farmers Market is in the Atrium for the season. Saturday 9 am-2 pm
+ The Saratoga Farmers' Market is in the the Lincoln Baths in Spa Park. Saturday from 9 am-1 pm
+ The Schenectady Greenmarket is indoors at Proctors. Sunday from 10 am-2 pm.
+ The Spa City Farmers' Market is indoors at the Lincoln Baths. Sunday from 10 am-3 pm
Day trips
Explore New Paltz, head for The Berkshires, the Catskills, or Columbia County.
The Madison, Downtown Troy BID, The Mop & Bucket Company, The Albany Institute of History and Art, and NYS OGS advertise on AOA.
Say Something!
We'd really like you to take part in the conversation here at All Over Albany. But we do have a few rules here. Don't worry, they're easy. The first: be kind. The second: treat everyone else with the same respect you'd like to see in return. Cool? Great, post away. Comments are moderated so it might take a little while for your comment to show up. Thanks for being patient.