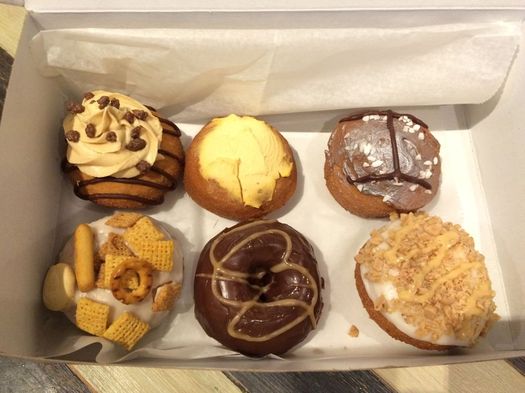 By Deanna Fox
When you think of the Super Bowl -- that high holy American holiday -- and all the food and feasting it entails, the first thing you think of is donuts, right? Right! We thought so, too.
That's why when Nick at Cider Belly in downtown Albany reached out to Daniel B. (and Daniel B. reached out to us) to come check out some donut creations inspired by the game, we jumped at the chance.
Fun names, interesting flavor combos, and an excuse to eat donuts for lunch like real adults. We're all for it.
Cider Belly is offering a six-pack (one of each flavor listed below) for $13 (with an "extra point" bonus donut) now through the Super Bowl. Call in advance if you can to ensure they still have them available that day. All of the donuts are built from the same cider donut base that Cider Belly is known for.
Here's what we thought of each flavor...
Matty Rye-In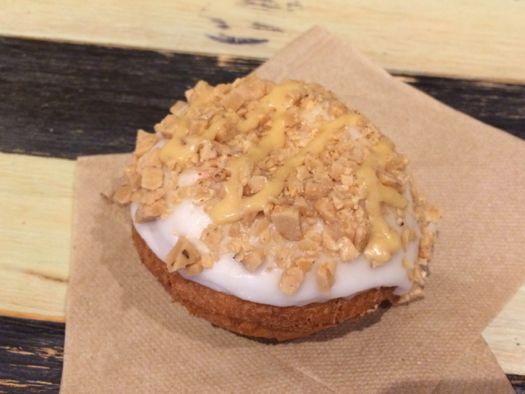 Vanilla spice donut topped with a vanilla glaze, dipped in toffee and finished with a caramel rye whiskey drizzle.
This donut reminded us more of a coffee cake than a donut. The toffee crunch on top provided a great contrast to the moist, cakey donut base and helped to cut through the saccharine-sweet glaze and caramel drizzle. A subtle hint of warm spice came through on the finish, like a good glass of rye should, but, "the sweetness drowns out everything else," said Daniel.
Brady Crunch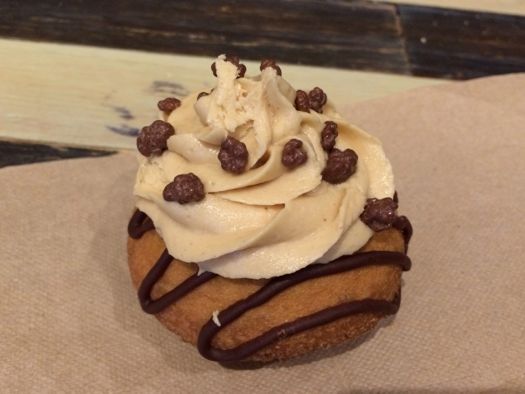 Vanilla spice donut drizzled with fudge, topped with peanut butter buttercream and sprinkled with Nestle Buncha Crunch pieces.
Oooo peanut butter. If you love it as much as we do, this is your donut. The same donut base as the Matty Rye-In is used but it had a drier consistency (more donut than cake here). The smooth peanut butter frosting was heavenly, and AOA Greg noted, "I would smear that frosting all over everything." But Daniel thought it "made the whole thing taste like a goo-ball," and a bit more of the crunchy candy pieces would have added texture to the otherwise soft and smooth donut. That PB frosting though....
Bill Belichex Mix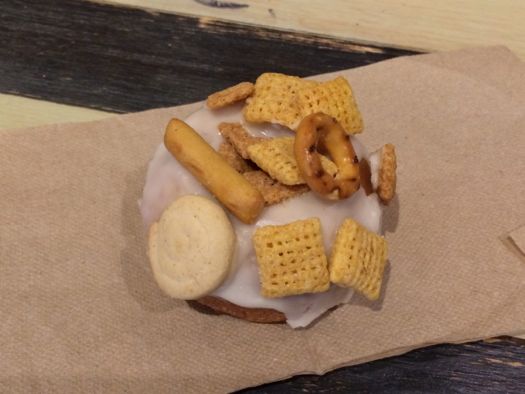 Vanilla spice donut topped with a vanilla honey frosting and honey nut Chex Mix.
Extra points awarded for the name on this donut, and for incorporating that classic American snack mix. The donut base is repeated and the honey flavor in the glaze is deeply pronounced, but the addition of salt would have been welcomed. The sweetness of the Chex Mix made the donut feel a bit one-note, and a savory version would have handily solved it. Greg wished the Chex Mix had been crushed so it was easier to get the multiple pieces of the snack in a single bite. Daniel suggested "a crushed and whole combination" so it would read as Chex Mix, which Greg called the "the Ina Garten school that everything should look like what it is." And who can say no to a Chex Mix-topped donut? (No one, that's who.)
Dirty Bird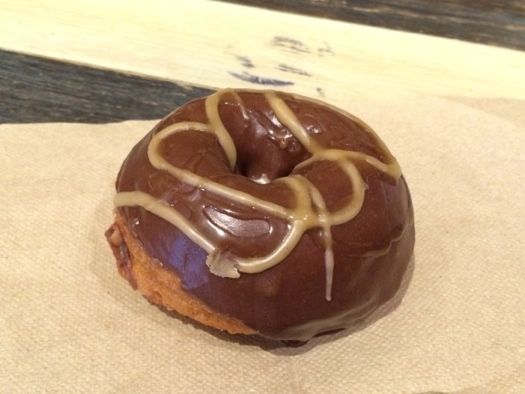 Vanilla spice donut topped with chocolate fudge and caramel, espresso, and maple drizzles.
If you were to eat this donut with your eyes closed, no doubt you would think it was a maple donut on smell alone. One bite through the rich fudge topping quells that thought, though -- this is a chocolate donut, despite the vanilla cakey base. The maple taste does come through, along with a bit of the espresso, and was probably the donut we were least enthralled with.
Super Hole Ring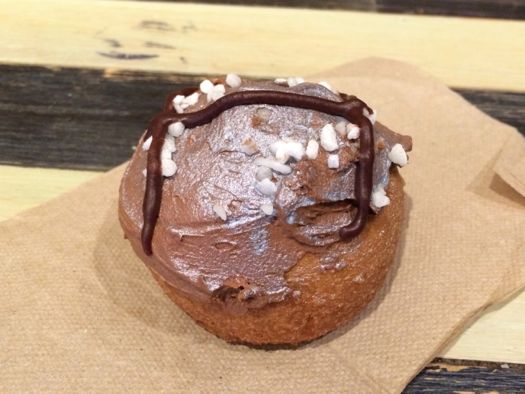 Vanilla spice donut topped with chocolate buttercream, sprayed with edible silver, sprinkled with sugar crystals and finished with a fudge drizzle Roman numeral.
Made to resemble a championship ring, this donut features a luscious chocolate buttercream that creates a pillar of yumminess in the vacant center of the donut. Edible silver paint and sugar dragees that glisten like diamonds finish it off. This one reads most like a donut and was the the most obvious Super Bowl-inspired donut.
Just Wingin' It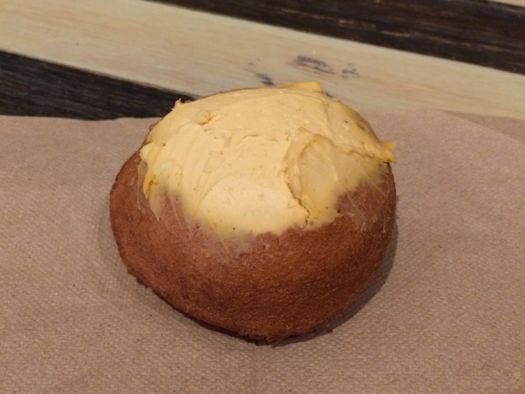 Buffalo sauce donut topped with a Buffalo blue cheese frosting.
From our experience, there is no in-between on this donut. Either you love it, or you don't. The donut base itself deviates from the vanilla spice flavor and uses Buffalo sauce to give it a little fiery kick and turn the donut an unmistakable orange color. (It is still sweet like a donut, however.) The topping had all the tangy notes of a cream cheese frosting with the noticeable punch of blue cheese. (Daniel calls the frosting "an expression of creaminess."). Greg said it reminds him more of a bagel than a donut and asked, "Why haven't we been putting cream cheese on our donuts all this time?" The men of the group loved it. I did not. Something about the sweetness of the donut paired with the classic taste of a chicken wing didn't sit right with me. But the fact that it even exists is noteworthy, because America!
And if you can't have buffalo wing-flavored donuts for the Super Bowl, when can you?
Deanna Fox writes about many things, mostly about food. More can be found on her website, Twitter, or Instagram.
Earlier on AOA:
+ Trying the Super Bowl-themed cupcakes from Coccadotts
+ The Best Dozen: Cider Belly
Find It
Cider Belly Doughnuts
23 N. Pearl St
Albany, NY 12207