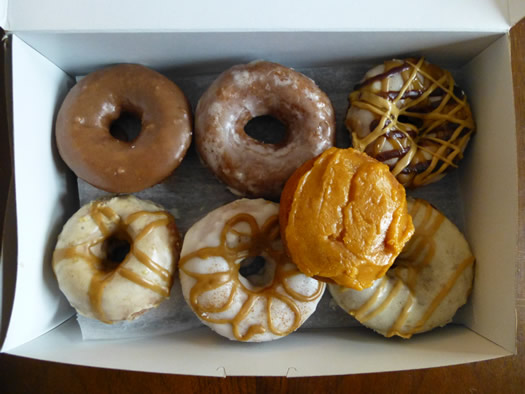 By Daniel B.
We've enlisted Daniel B. to survey Capital Region donut shops -- and pick his favorite donuts -- for a short series called The Best Dozen.
For denizens of the Capital Region apple cider donuts are a seasonal rite of passage. Can fall even happen without a trip to go apple picking at your favorite orchard, fortified with a sack of freshly made apple cider donuts?
The best apple cider donuts are those made just moments before consumption. They don't travel well, and that has led some to suggest that these donuts are tied to a sense of place. And up until now, that place has always been the apple orchard.
Cider Belly has decided to turn that idea on its head by offering a fabulous array of apple cider donuts in downtown Albany. With so many to choose from, it's tempting to order one of everything.
But trust me, after eating through a box of my own, there's a better way.
About the shop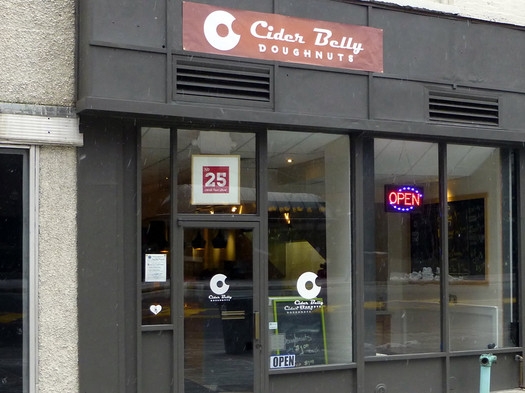 Let's get this out of the way right now: Cider Belly's donuts are fantastic.
On the most recent Tour de Cider Donut, the shop ran away with the victory besting Times Union reader voting favorite Kristy's Barn and Yelp darling Yonder Farms. It also pulled away from the otherwise amazing Bella Napoli and the beloved Schuyler Bakery.
But at Cider Belly, the cider donut is just the starting point. They take these expertly fried, moist, and tender specimens and top them with a fantastic variety of glazes and drizzles. Some are better than others. And not all of their donuts are of the apple cider variety either. On my visit, they had vanilla and pumpkin donuts, too.
Every day the varieties are different. So on your visit, the selections may vary from what I sampled below. But hopefully this can provide a basic structure for thinking about the glazes, drizzles, and shells to inform your future decisions.
Oh, and just in case you are counting, Cider Belly sells a baker's dozen. Not appearing in the group shot below is the plain jane unadorned cider donut.
The mixed dozen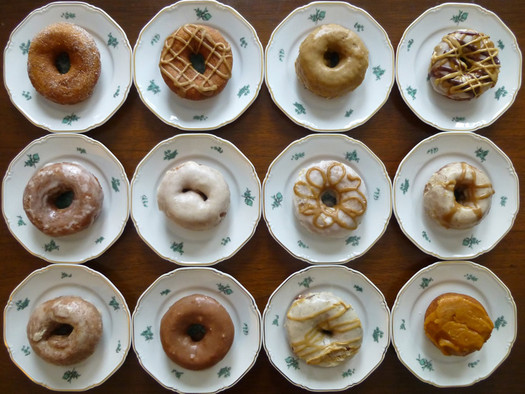 Column by column, staring from the left.
Cinnamon sugar
Glazed
Apple cider glazed /
Maple
Butter rum
German chocolate /
Cappuccino
French toast
Banana espresso /
Crazy Monkey
Bonanza Pumpking
Pumpkin pie
The best of the bunch
Plain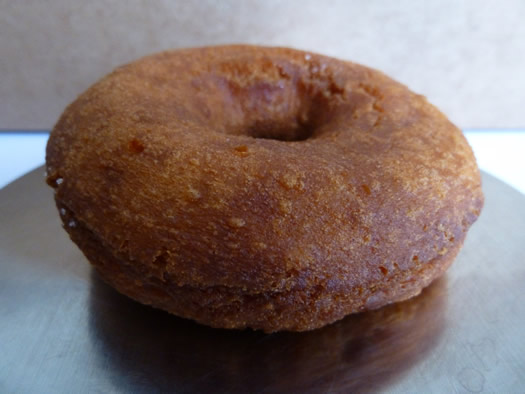 No kidding, this apple cider donut is fantastic. With a crisp crust and a moist, tender crumb there is no need for cinnamon sugar. It's delicious on its own. If you are going to specialize in apple cider donuts, you need to make an excellent one. And there is no doubt that Cider Belly has done just that.
Cinnamon sugar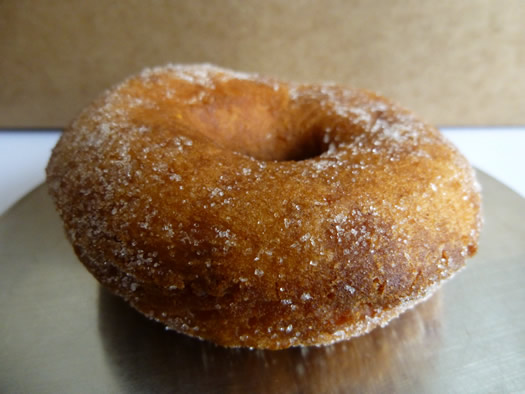 Again, this shop really nailed and improved upon the cider house donut. It's got a good crust and a shows a restrained hand in the application of cinnamon sugar. The topping enhances, but doesn't overwhelm.
Maple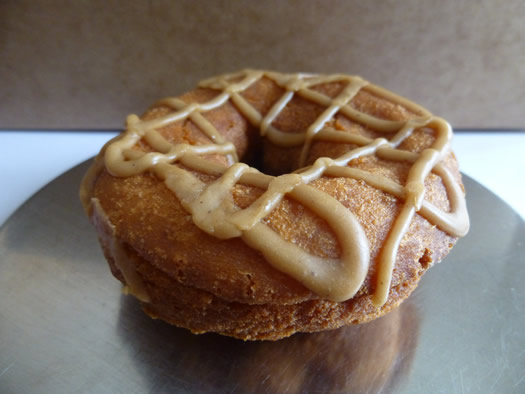 The apples of autumn meets the sap of spring in this cross seasonal delight. With a mere lattice drizzle of maple glaze, the otherwise plain cider donut is elevated into a slightly sweeter and more interesting treat.
The solid choices
Apple cider glaze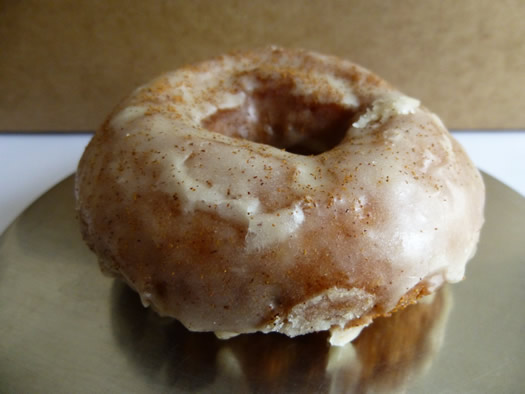 A clever way to amplify the apple cider flavor of an apple cider donut is to top with an apple cider glaze. Well done. It's thickly applied and has a good crackle. The addition of cinnamon helps to keep the sweetness in check.
Butter rum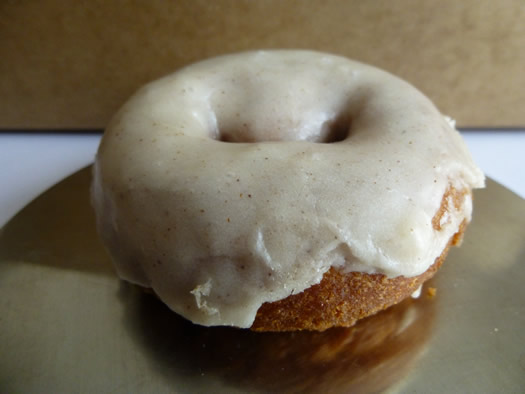 Ooh. That's fun. The flavors of rum, butter and sweet spice thickly coat a well made apple cider donut. It's evocative of egg nog in a way that feels very right for a winter donut indulgence.
Banana espresso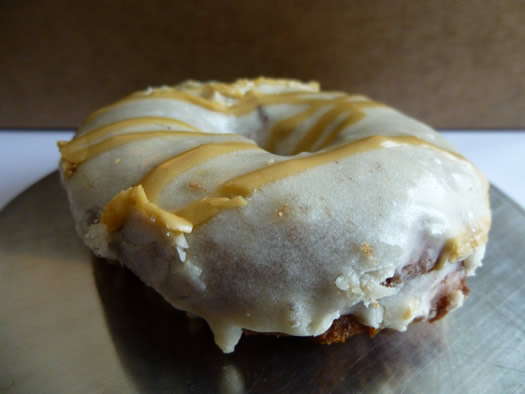 It's more like the banana express. There's a ton of banana flavor topping this vanilla donut shell. Like its apple cider cousin, the vanilla donut has a crisp crust and tender crumb. What's lost is the espresso flavor of the drizzle, which I suppose helps to keep some of the sweet tropical fruit in check, but largely disappears into the background.
The disappointments
Glazed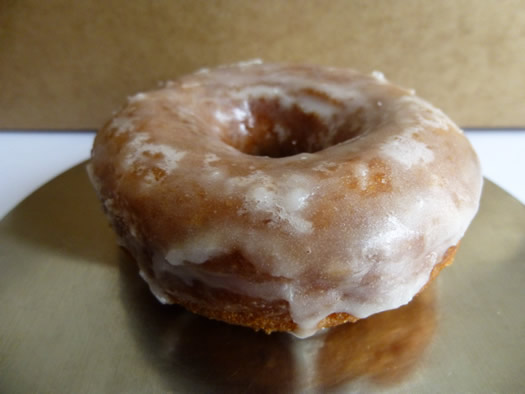 The glaze itself is good. But instead of elevating the apple cider donut, being encased in a thick layer of crackling sugar pushes the cider donut too close too cloying for my taste.
German chocolate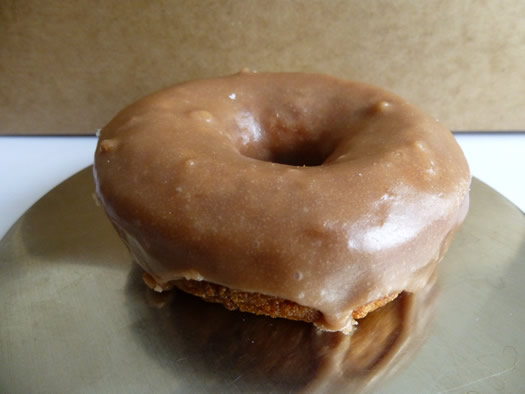 The flavor of the glaze doesn't hold up to the donut and gets washed out. So instead of chocolate, or even the chocolate-coconut-pecan combination associated with German chocolate cake, all this tastes of is sweet.
Cappuccino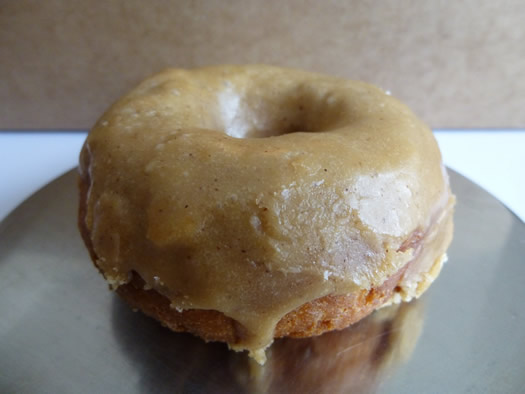 A strong coffee aroma bursts forth from this glaze and the coffee flavor provides a bit of bitterness to help temper the sweetness. But it's still not enough. The donut tastes sweeter than candy. I like the flavor combination, however I'll take my coffee in a separate cup.
French toast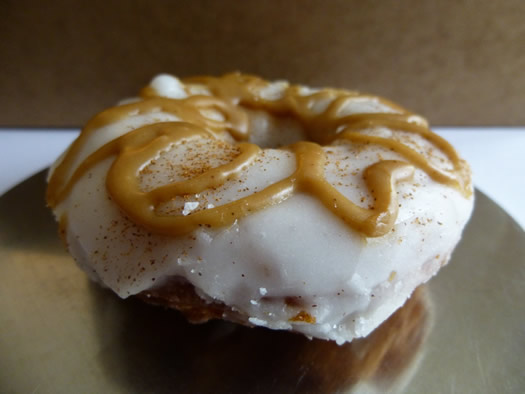 Sugar bomb. Oh my god. I'm blind. My ears are ringing. I can feel this past my teeth and in my jaw. The vanilla donut is completely lost. I can barely even taste the maple drizzle.
Crazy Monkey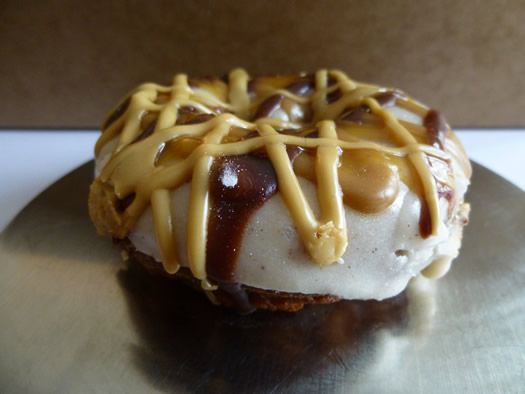 Really, I don't know what I was thinking when I agreed to put this one in my box. Look at all of those drizzles. It's sweet on top of sweet on top of sweet on top of sweet. Perhaps all of the restraint from earlier specimens had to come out somewhere. Surely, this is someone's favorite donut, but it is not mine.
Bonanza Pumpking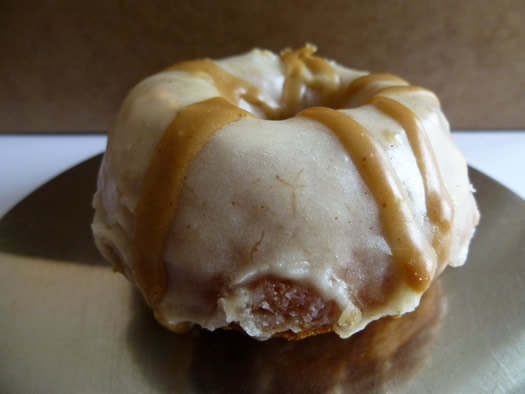 Ooh, a pumpkin donut. That's good. And I'm a fan of their banana glaze. But I can't say I'm completely sold on the flavor combination of banana and pumpkin. Maybe if I gave it some time it would grow on me. But there are other donuts that are easier for me to love.
Pumpkin pie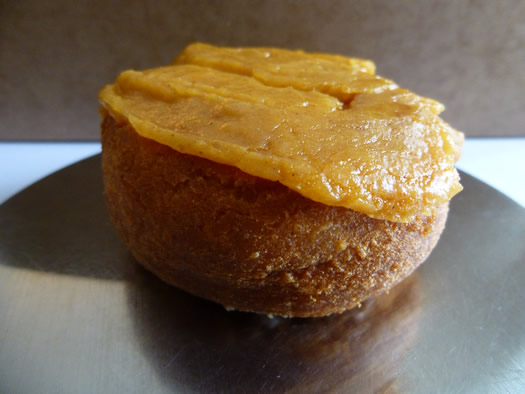 How can you resist a pumpkin donut slathered with pumpkin pie filling? Well, hopefully my experience can dissuade you. I love pumpkin pie filling, a rich pumpkin custard spiked with spices. But this was more vegetal than custardy and ultimately that's what didn't work for me with this seasonal variety.
The best dozen
3 Plain
3 Cinnamon sugar
3 Maple
1 Apple cider glazed
1 Butter rum
1 Banana espresso
Here's the strategy, since every visit to Cider Belly is a new experience with all kinds of novel flavors: go heavy on the classics and supplement with varieties that look interesting. Of course, if you happen to have a raging sweet tooth, you will have a much different experience at Cider Belly and should throw this recommendation out the window.
Looking through the evaluation above with seven disappointments, it seems especially harsh. Part of the problem is that the highs are so high. At other donut shops those flavors that fall in "The solid choices" category would be "Recommended." But the recommended flavors, in this case, are even better.
The bakers dozen will set you back just $10, and I was told that people periodically wander in off the street to order one of everything. There are plenty of tables to enjoy your donuts on site, which is highly recommended, because chance are some of the donuts will still be warm. Plus Stacks Espresso has a coffee stand inside the shop so you can get something great to wash it down.
Frankly, the best strategy may be to skip the dozen entirely, and just wander in to ask for one of whatever is hot. Because as opposed to most shops, Cider Belly is making donuts all day long. Should the hot donut turn out to be something crazy sweet, just take smaller bites and order a giant black coffee.
Whatever happens, just make sure to not completely abandon your local orchard in the fall.
Daniel B. is the proprietor of the FUSSYlittleBLOG.
More Best Dozen:
+ ShopRite in Colonie
+ Stewart's
+ Cookie Factory in Troy
+ Market Bistro in Latham
+ Park Side Eatery in Saratoga Springs
+ Bella Napoli in Troy
Find It
Cider Belly Doughnuts
23 N. Pearl St
Albany, NY 12207
Say Something!
We'd really like you to take part in the conversation here at All Over Albany. But we do have a few rules here. Don't worry, they're easy. The first: be kind. The second: treat everyone else with the same respect you'd like to see in return. Cool? Great, post away. Comments are moderated so it might take a little while for your comment to show up. Thanks for being patient.