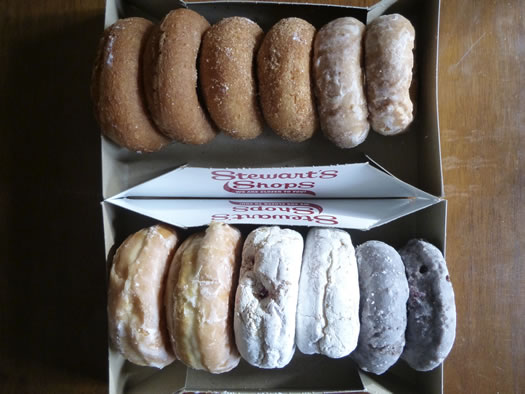 By Daniel B.
Donuts are convenient. I like to think of them as delicious energy pillows. They make a good breakfast treat, and you may also want one any time you have a cup of coffee.
Stewart's Shops is one of the more popular places for coffee around the Capital District. In some ways this regional convenience store is the heart and soul of the area. And it just so happens that they sell donuts, too.
What kind of donuts can you expect from a regional institution better known for its milk, eggs, and ice cream? Are they as good as the award-winning Philly Vanilla ice cream? Or are they a little rougher around the edges, like Stewart's Mountain Brew Ice?
The only way to find out was to eat them all.

About the shop
There are Stewart's everywhere in the Capital Region. So to determine which location to visit for the evaluation, I reached out to Gary Dake, president of Stewart's Shops. While theoretically all shops should have all flavors, Mr. Dake explained (via Twitter) that the shop on Route 50 past the Wilton Mall is the highest volume store in the chain.
Calling ahead, I learned there were six flavors to choose from, and they were happy to set aside two of each into a mixed dozen for me to pick up.
Ordering by the dozen from Stewart's would seem to be the exception versus the norm. Yes, they have donuts. But most are pre wrapped and labeled for either individual sale. Of course there are regular incentives to get consumers to buy two instead of just one. And while the shop does have apple fritters, they are priced at a premium over their donuts.
The mixed dozen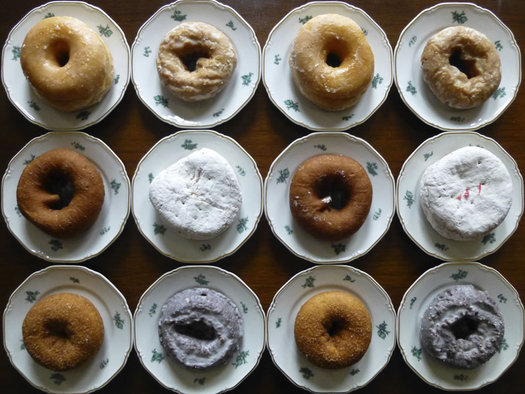 Column by column, starting from the left.
Glazed
Cake
Cider /
Ginger glazed
Jelly
Chocolate glazed /
Glazed
Cake
Cider /
Ginger glazed
Jelly
Chocolate glazed
The best of the bunch
Ginger glazed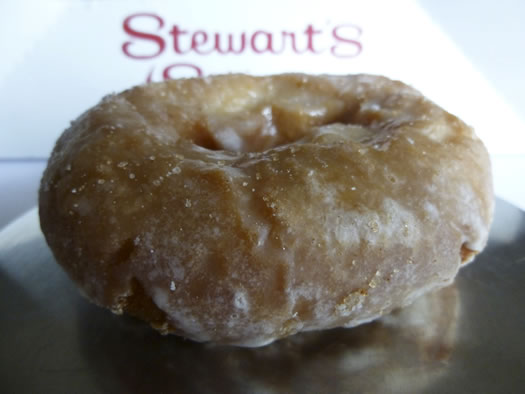 This donut screams, "I'm ginger, and I'm proud!" What an unexpected delight when biting into this crisply glazed cake donut to be greeted with the bright, peppery flavor of fresh ginger. It may not be for everyone, but its true flavor, moist interior, and balanced sweetness makes this donut a winner.
The solid choices
Jelly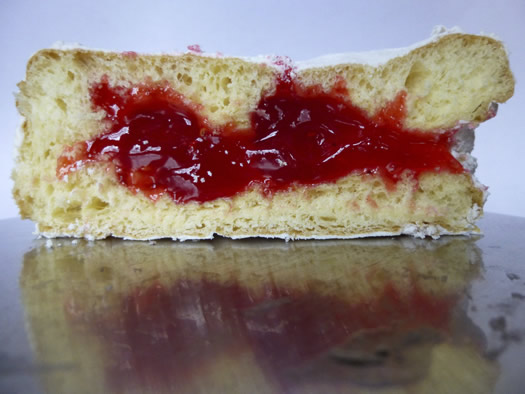 A respectable version of the classic. The powdered sugar coating has remarkable adhesion and the sticky raspberry jelly helps to keep the interior of the yeast-raised shell moist.
Chocolate glazed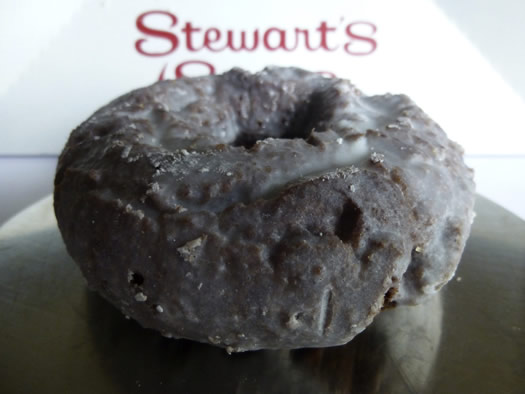 Chocolate donuts, where have you been? Sure, this could benefit from a bolder cocoa flavor (which could also help to cut the sweetness). But the crisp glaze is an enjoyable contrast to the moist cake inside. It eats like a meal, and pairs well with coffee.
Glazed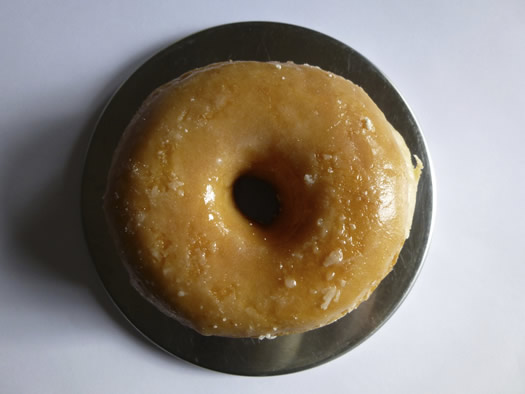 The rich, tender crumb is the best part of this yeast-raised donut. The glaze itself is a bit lackluster. Specifically, it's thin and wet. However, the thin glaze does manage to keep this donut from turning into a sugar bomb, and that's a good thing.
The disappointments
Cake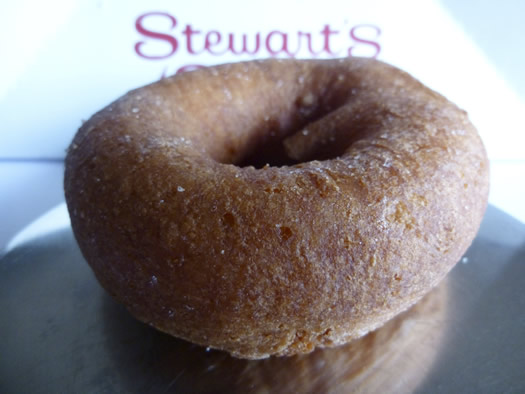 Despite a lovely dark brown exterior, there is no crust to speak of on this donut. The interior texture is more gummy and pasty than moist. There's a little vanilla flavor, but not much else going on here. It's best to move along.
Apple cider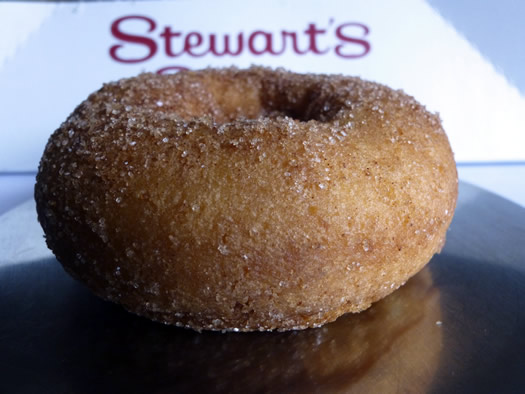 There is a distinct apple aroma and flavor in this donut -- which is notable because too many cider donuts taste mostly of cinnamon and spice -- but oddly so. This is more redolent of a Jolly Rancher apple candy than anything else. I'd recommend sticking to the ones from your favorite local orchard.
The best dozen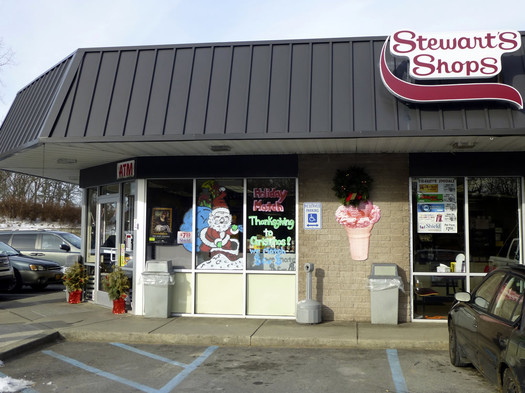 4 Ginger glazed
3 Jelly
3 Chocolate glazed
2 Glazed
It helps that the expectations for donuts at a convenience store -- where they do not fry on site -- are relatively modest. This makes the deliciousness of Stewart's ginger glazed donut especially surprising.
Equally surprising, given the regional chain's Capital Region roots, is their lackluster apple cider donut. But that's how the donut crumbles.
Most days Stewart's sells its donuts for $1.49 per pair, which after tax makes a dozen run $9.57. Although they do run a two-donuts-for-$1 special on Tuesdays and Sundays.
It's good to know that when you're in there for a little pick me up that one can get a little energy pillow to accompany that convenient cup of coffee.
Daniel B. is the proprietor of the FUSSYlittleBLOG.
More Best Dozen:
+ Cookie Factory in Troy
+ Market Bistro in Latham
+ Park Side Eatery in Saratoga Springs
+ Bella Napoli in Troy
Hi there. Comments have been closed for this item. Still have something to say? Contact us.