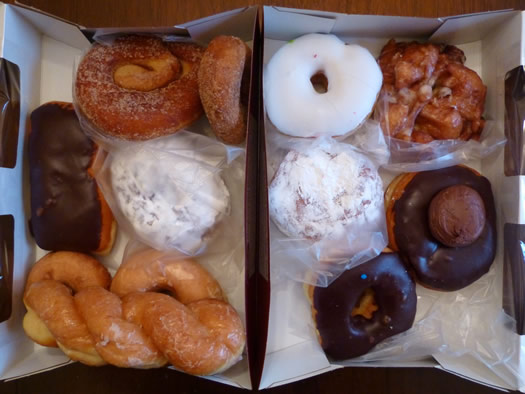 By Daniel B.
We've enlisted Daniel B. to survey Capital Region donuts -- and pick his favorites -- for a short series called The Best Dozen.
Donuts don't have to come from a standalone bakery. You can also find them in your local neighborhood grocery store.
The ones at Price Chopper's Market Bistro in Latham make an impression because the store's donut rack includes a variety of signature square donuts in addition to the classics. To the eye the signature donuts are reminiscent of the more famous specimens found at shops such as NYC's Doughnut Plant and elsewhere.
But are the Market Bistro donuts any good? And which ones are worthy to pack into your dozen? Well, there's only one way to find out.
About the shop
Above the counter is a sign that claims over 20 varieties of donuts, so not all variations were able to be sampled.
Market Bistro's donut counter is self service, which has its pros and cons. On the upside, you can pack your donuts gingerly so that they don't get crushed. But on my visit, the handle to the case was sticky with jelly.
Overall, these are big donuts. By weight the glazed at Market Bistro was over 20 percent larger than its counterpart donut at Bella Napoli. You can try to squeeze a dozen into two boxes, but for safer transport it might require three.
Also: Those signature square donuts can't be included in an official dozen, and for good reason. They are nearly a half pound each! That's a lot of donut. So these were included in a very special bonus round. Because how could we not try these magnificent creatures.
The mixed dozen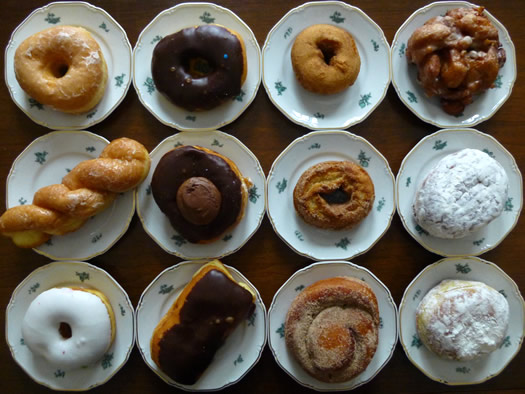 Column by column, starting from the left.
Glazed
Glazed twist
Vanilla iced /
Chocolate iced
Headlight
Chocolate iced Bavarian long john /
Cake
Cinnamon sugar cake
Cinnamon sugar Persian /
Glazed apple fritter
Powdered jelly
Powdered lemon
The best of the bunch
Glazed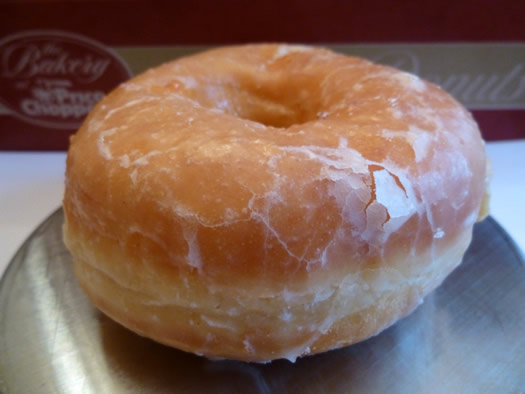 One of the best glazed donuts I've found so far in the region. It has a good rise with a yeasty aroma. The interior crumb is rich and light, and the glaze is thick enough to crackle.
The solid choices
Chocolate iced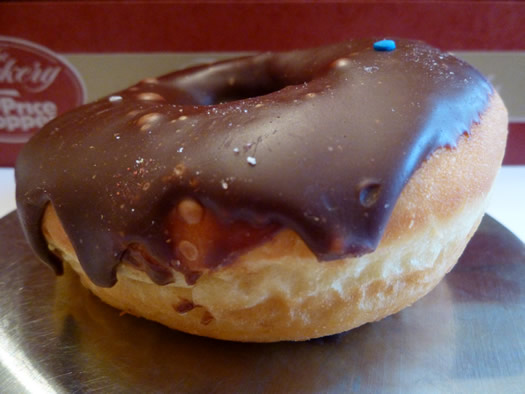 Solid version of the classic. There's a decent cocoa aroma from the icing, but the flavor didn't blow me away. Still, the donut itself has good lift and a tender interior. Taken as a whole it works quite well.
Cinnamon sugar cake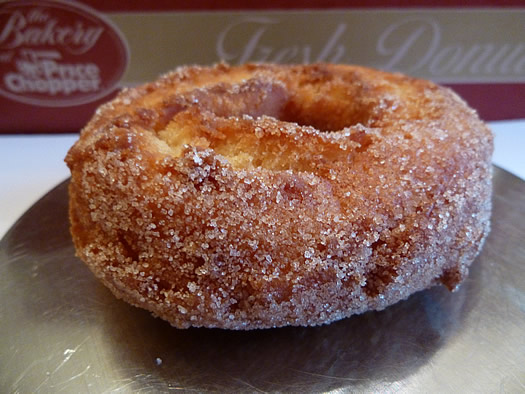 Cider donut producers have known for years that cinnamon sugar adds a crunch to cake donuts that don't develop a proper crust. The topping fills that function here too, and complements the cake donut's nutmeg without making the whole thing overly sweet.
Powdered jelly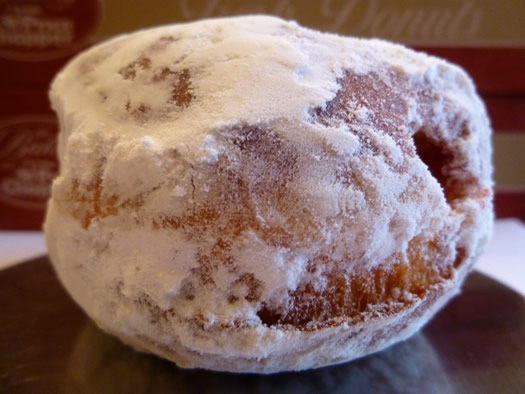 Holy moly. There are raspberry seeds in that jelly. It's not full of seeds, but there are enough to know that at least some real fruit made it into the mix. Mostly this donut shines in proportion and placement, with just enough starchy jelly piped into a crisp, yeasty shell.
The disappointments
Glazed twist
Based on the strength of the glazed, this was surprising. But it turns out when dough gets its strands in a twist, it doesn't get as light and tender as it would otherwise.
Vanilla iced
The good news is that it actually has a noticeable vanilla flavor. The bad news is that it tasted to me like an artificial vanilla flavor, and that the whole thing is cloyingly sweet.
Headlight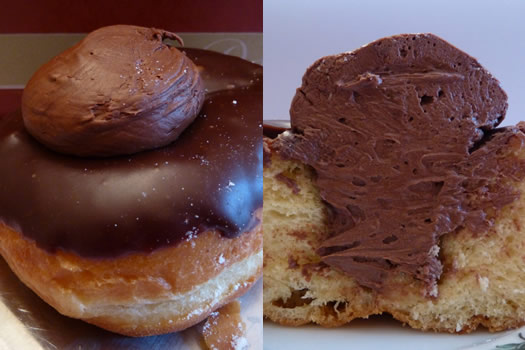 Take a filled donut, and put the filling on the outside, and you've got a headlight. So much sugar and greasy icing on this thing. If you want bang for your buck, it's right here. Over five and half ounces of sugar and fat. I'd rather have two glazed.
Chocolate-iced Bavarian long john
Market Bistro calls it Bavarian crème, but it tastes very similar to Boston cream filling. It's a little starchier, and this elongated bar form isn't quite as tender as its rounder siblings. I wish the long form meant more filling, but that's not the case. This isn't bad, but I bet the traditional Boston cream is better.
Cinnamon sugar Persian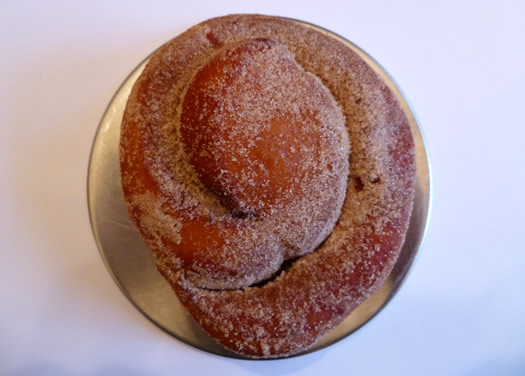 Cake
There's not a lot going on here. It's not bad, just dull. I'd love more crispness in the crust. Barring that, I'd go for the cinnamon sugar version of this donut.
Persian
It's also available glazed. And I bet when glazed it's lovely. Sandy cinnamon sugar really clashes with the light pillowy crumb of this yeast donut swirl. (Why is this style of donut called a "Persian"? It might be derived from the name "Pershing.")
Glazed fritter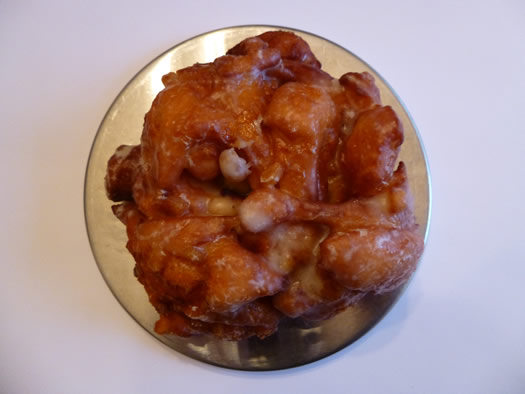 Like the Persian, this was an unfortunate lapse in judgement. The cinnamon sugar fritter is surely superior. There are so many nooks and cranny's on this specimen, that all the glaze pools into its pockets and creates a sticky sugar bomb.
Powdered lemon
It's a pretty good donut, but the lemon flavor gets drowned out by the rest of the donut. It does offer a hint of lemon, and maybe that's all you're in the mood for. But I want my filled donuts to work a little harder
Bonus: The signature square donuts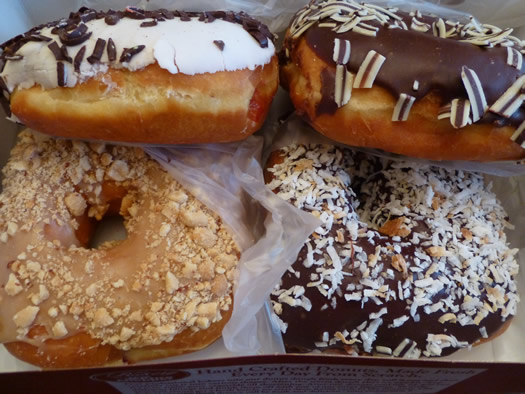 Signature chocolate curl
The dark chocolate curls are striking on the white icing. But the jelly filling injected into two of the four corners doesn't nearly penetrate into every bite. I'd rather have just one of Market Bistro's solid jelly donuts.
Signature triple chocolate
My hope was with chocolate icing and chocolate shavings on top, that this donut would be stuffed with something chocolate. It's not. This is a glorified chocolate-iced Bavarian long john with a fanciful topping. Actually, it's more like two of them bound together. No thanks.
Signature chocolate coconut
Yet another chocolate iced Bavarian long john clone, but this time with toasted shredded coconut on top.
Signature peanut butter & jelly
Finally, something interesting. This donut has crushed peanuts over a peanut butter icing. It also offers a bit of saltiness in contrast to all the sweets. But it's still not quite enough. There isn't enough raspberry jelly or icing to stand up to the massive donut. That said, it's the best of the bunch, so it may be worth a try.
The best dozen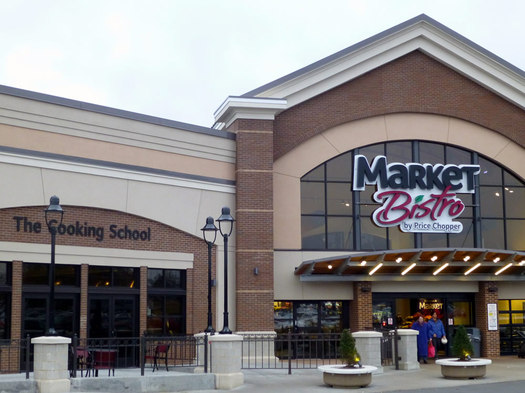 3 Glazed
2 Chocolate iced
2 Cinnamon sugar cake
2 Powdered jelly
1 Glazed Persian
1 Cinnamon sugar apple fritter
1 Chocolate iced Bavarian crème filled (aka Boston cream)
This dozen boldly goes where no dozen has gone before. It includes donuts not sampled as part of the original dozen. However, one can learn and extrapolate from experience. The long johns didn't have a great filling ratio or as tender an interior as the more traditional stuffed donut shells. Cinnamon sugar is a better match for the fritter, and the winning Market Bistro glaze will totally elevate the Persian.
These eleven deep fried classics (plus one glazed Persian) will set you back a mere $8.98 and will probably fit nicely in two of the self-serve boxes. Just don't forget to use those protective plastic sheets to pluck your donuts from their racks.
Market Bistro has raised the bar for glazed donuts. That's a big deal. Well done.
Daniel B. is the proprietor of the FUSSYlittleBLOG.
More Best Dozen:
+ Park Side Eatery in Saratoga Springs
+ Bella Napoli in Troy

Find It
Market Bistro
873 New Loudon Road
Latham, NY 12110
Hi there. Comments have been closed for this item. Still have something to say? Contact us.