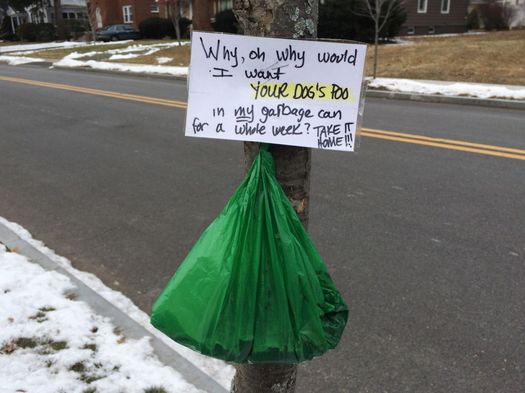 The world is currently full of big, important questions. This is not one of them.
That said, we all have to get along with our neighbors (to some extent), and that's especially true in places where we live close together.
We were thinking about that when we recently passed this sign -- with, um, evidence -- tacked to a tree on Euclid Ave in Albany. And it got us wondering about the ethics of dropping a bag of dog poop in a neighbor's garbage can.
In defense of garbage can exclusivity
Dogs are wonderful creatures. But they are creatures, thus they poop. (Everyone does.) And that poop is often stinky, even when bagged. Dropping that packet of poop in a garbage will often make said can smell, especially if the weather's warm. And if it's not your dog, why should you have to put up with that? Picking up poop and dealing with it is like a tax for having a dog -- it's not fair to make someone else pay a portion of that.
This rule is true for a garbage can set out at the curb the night before because, again, poop smells and those bags also somtimes fail if squished.
It's especially true for cans that stand empty along the street after that morning's trash pick-up, because now you're consigning the can owner to hold that poop for an entire week.
Another thing: Garbage cans have limited capacity. Adding something to someone else's can is taking space from them, which in some places is not just inconsiderate but could cost that person a fee. (This is not true in Albany -- which currently has more or less unlimited residential garbage pickup -- but that will almost certainly be changing in the next few years.) And sure, a small bag of dog poop doesn't take up much room, but where do you draw the line?
Also: It's just plain tacky to drop your dog's poop off like that. We all have our own shit to deal with in life, so deal with yours.
In defense of dropping it while it's hot
Dogs are wonderful creatures. They bring joy to many people, and they're often good for neighborhoods because they help bring people together. (Despite the question often being asked, can we not all agree on who's a good boy?) If having dog poop dropped in your garbage can every so often is like having to pay a portion of the dog tax, that's not terribly unfair because we all benefit from having dogs around.
Additionally, the smell of bagged dog poop is not that bad. And, really, there are probably things just as foul smelling (or worse) in your garbage already.
You know what is a real, stinky neighborhood problem? Dog poop that isn't picked up. Being OK with people dropping a bag of poop into a garbage can is another way to encourage people to do the right thing, especially when public garbage cans aren't present.
Also: Come on, a bag of dog poop just doesn't take up that much room.
So, where does that leave us...
We lean toward the no-drop side. If your dog dumped it, you should pick it up and dispose of it properly in your own can or a public receptacle. (And if a public garbage can is already overflowing, you should hold onto the bag until you take it home or find a public can with space.) People shouldn't have to deal with someone else's dog poop.
Maybe there's a case to be made for the odd bag tucked in with the rest of someone's garbage when a can has been set out the night before pick up, just because the possible imposition on someone else will probably be small -- especially if the bag is stuffed into a larger garbage bag (to guard against bag failure or leftovering).
But dropping a bag of poop in someone's empty garbage can so that it will sit there for an entire week until the next pick up... that's a bright-line no-go.
Or, to look at this differently: How would you feel if, while tucking that poop into someone else's garbage can, that person walked outside and saw you? Yeah, that would be awkward in most cases. And there's a reason for that. Because you know you shouldn't be doing it.
____
Earlier:
+ The ethics of the shoveled parking spot
+ It's winter. Your dog has pooped. What now?
Hi there. Comments have been closed for this item. Still have something to say? Contact us.