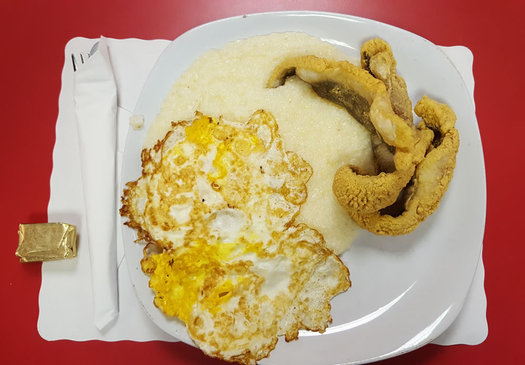 By Deanna Fox
People who work in the food industry often play a game of telephone (y'know, the one you played as a kid, passing a message to each other in a series of whispers) when it comes to good food. One person finds a place, mentions it to another, who then passes the news on again. I was the lucky recipient of the message in a triad including Celina and Daniel. Go here, they said. Try the whiting.
Who am I to turn away from news like that?
The place they passed along was The Breakfast Spot, a space vacated by the old Portelli's Joe N' Dough Cafe, a location that's hosted many incarnations of an early morning/late night (depending on how you view it) diner intended to serve locals and the work shifts that miss noonday food carts and regular-business-hour establishments.
Tucked away in a skinny building on Central Avenue in Albany, it's a gem that's due for wider recognition.
Whiting isn't a fish you find a lot around here. Cod and haddock reign at local fish fry places, and more upscale restaurants tend to focus on bass, salmon, tuna, and halibut. But whiting's light, clean flavor makes it an easy starter-fish for seafood phobic and it often stands in for its cousin, pollock. It's something you are more likely to see in the southern US or the Caribbean, where fishing for it is more prominent.
But The Breakfast Spot highlights it here, and for that I'm thankful. There are worse ways to wake up than with a plate full of soul food.
A generous portion of whiting, dredged in cornmeal and flour that has been seasoned with salt, pepper, and a touch of paprika is quickly fried in the open kitchen. (In exceptionally fresh oil, which is worth noting since keeping a clean fryer seems not a priority for many establishments.) The cornmeal adds an earthy sweetness without masking the fish, and the pepper and paprika give a gentle heat at the finish. It's crunchy and tender and still somehow light. Tilapia is also offered as part of the fish and grits platter ($7.50).
A grand helping of grits come on the plate, as well. Smooth and buttery, they're cooked to perfection: Nearly fluid and slightly gelatinous, but still toothsome (thanks to its namesake grittiness of the ground, dried corn) and they hold their form when scooped up with a spoon. Packets of butter are offered in case you want a more supple texture, but you don't need it. Add hot sauce if you'd like, but avoid adulterating this superb plate as best you can. This is complete breakfast mastery, showing good food need not be fancy or expensive.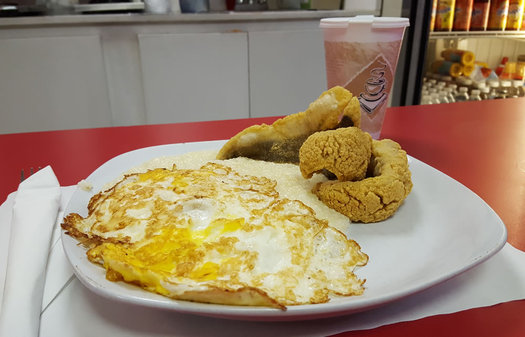 I ordered my eggs over hard and they came exactly to my liking, with glossy whites and crisp edges. A deft hand is running the kitchen at The Breakfast Spot.
The coffee comes in a styrofoam cup, and there are tubs of Country Crock in the cooler, but neither deter from the happy review of The Breakfast Spot.
Instead, it points to the dedication to serving as a gathering spot for a community. I might have been the only patron when I walked in around 8:30 am one Wednesday morning, but by the time I left about 45 minutes later, men had found their preferred seats at the low, vintage counter and red vinyl stools and lady parking meter attendants (likely just coming off a shift) had flooded in, typically in pairs, to grab a coffee or pick up a call-ahead order of sausages, eggs, and waffles.
It's clear The Breakfast Spot is a neighborhood place in this community along Central Ave -- a spot for the people who live and work there, this is their place. But lucky for us outsiders, we interlopers, the people there let it be our place, too. Get in now while you can still find a seat.
Deanna Fox writes about many things, mostly about food. More can be found on her website, Twitter, or Instagram.
More Eat This
+ Tom Kha at Celadon Thai
+ Pizza dinner at Mia Lucci's
+ Breakfast sandwich at Gibby's Diner
Find It
The Breakfast Spot
66 Central Ave
Albany, NY 12206
Say Something!
We'd really like you to take part in the conversation here at All Over Albany. But we do have a few rules here. Don't worry, they're easy. The first: be kind. The second: treat everyone else with the same respect you'd like to see in return. Cool? Great, post away. Comments are moderated so it might take a little while for your comment to show up. Thanks for being patient.