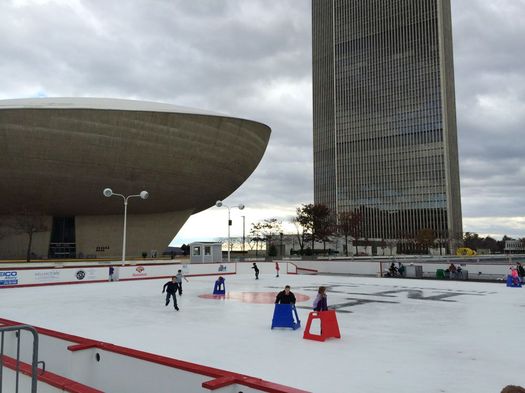 Oh weekend, we knew you'd come! They said you wouldn't on Monday, and by Wednesday, we wondered a little if you'd ever arrive. But here you are -- full of promise and fun things to do .
After the jump, a few options we thought you might enjoy.
Planning something you don't see on our list? Tell us about it in the comment section. Everything is more fun when you share.
And whatever you're up to, have a fantastic weekend!


1st Friday
Friday: Albany's 1st Friday starts at 5 pm. Shops and galleries are open late with art, performances and other surprises. A few things happening this month:
+ Albany Center Gallery hosts a preview of the 39th annual Photography Regional
+ The Albany Institute of History and Art is open late with free admission
+ The First Presbyterian Church of Albany has an exhibit of watercolors by Capital Region artist Kevin Kuhne.
+ Jeff Strange plays Celtic tunes at the University Club of Albany
+ Alan Thomson's Little Big Band headlines at the monthly 1st Friday swing dance at the
MAAC tournament
Friday-Monday: The MAAC -- Siena's conference -- continues its men's and women's basketball tournaments at the TU Center, with games running through Monday. The winner of the conference tournament heads to the NCAA tournament. Friday-Monday various times -- single session tickets $18.50 and up
Siena
+ The Siena women take on Iona Saturday at 2:30 pm in the quarterfinals.
+ The Siena men face Fairfield Saturday at 9:30 pm in the quarterfinals.
Hannaford MAAC-n-Cheese
Friday: To go along with the MAAC tournament, there's the Hannaford MAAC-n-Cheese Fest at the new Albany Capital Center. "Fans of all ages will have the opportunity to sample gourmet mac-n-cheese dishes from numerous Capital Region restaurants; as well as varietals of craft beer from New York breweries." Friday 4-6:30 pm -- Tickets are still available at the door. $10
Kidz Expo
Saturday: The Empire State Plaza hosts the annual Hannaford Kidz Expo. Music, dance, theater, crafts, reptile adventures, rides, face painting, vendors and more. Saturday 10 am-5 pm -- free admission
Roller derby
Saturday: The Hellions of Troy take on the Roller Radicals at Rollarama. Saturday 8 pm -- $12 / $3 for kids under 12
Battle of the Brushes
Saturday: The Albany Barn hosts Battle of the Brushes, a live painting showdown. Six artists get paint, canvas, a theme, and a time limit and compete in a live painting contest. Music, food and beer. Saturday 6-10 pm -- $5 admission
Food and drink
Chatham Brewing 10th Anniversary Celebration
Saturday: Chatham Brewing celebrates its 10th anniversary with a party, food, entertainment, and a VIP happy hour with anniversary beers and tastings from other craft producers. Saturday noon to 11 pm -- free admission / VIP happy hour $25
Irish Soda Bread competition
Saturday: The Irish American Heritage Museum in Albany hosts its annual Irish soda bread competition. registration 10am to noon, awards at 2pm -- $5 entry fee per category
Stage
Wicked
Friday-Sunday: A touring production of Wicked continues its run at Proctors. It is, of course, the massively popular Broadway show adapted from the book by Albany native Gregory Maguire. Friday-Sunday various times -- $38 and up
I Never saw Another Butterfly
Friday-Sunday: The Theater Institute at Sage presents I Never Saw Another Butterfly, a play about one of the few children who survived the Terezin concentration camp in WWII. Friday and Saturday at 7:30 pm, Sunday at 2 pm -- $15
Skin Deep
Friday-Sunday: Curtain Call Theater presents Skin Deep. "A large, lovable, lonely-heart, named Maureen Mulligan gives romance one last shot on a blind-date with sweet awkward Joseph Spinelli." Friday and Saturday at 8 pm, Sunday at 3 pm -- $24
To Kill A Mockingbird
Friday-Sunday: Classic Theater Guild presents the stage version of Harper Lee's To Kill a Mockingbird in the Proctors GE Theater. Friday and Saturday at 7:30pm, Sunday at 2pm -- $20 / $18 students and seniors
A Night of Irish Theatre
Friday-Sunday: The Irish American Heritage Museum presents "A Night of Irish Theater", featuring Lady Gregory's Spreading the News and George Bernard Shaw's How He Lied To Her Husband. Friday-Sunday various times -- $10
Votes for Women
Friday-Sunday: Siena College will host performances of Votes for Women, an immersive theater experience to mark the 100th anniversary of the women's vote in New York State. Friday and Saturday at 8pm and Sunday at 7 pm in Siena's Foy Hall -- free
Ronald K. Brown/Evidence
Friday: The Ronald K. Brown/Evidence dance company will be at The Egg. "Ronald K. Brown creates dances that fuse traditional African dance with contemporary choreography that invites audiences to share in their celebration of community and the resilience of the human spirit. Evidence will perform the Afro-Cuban inspired 'Why You Follow,' 'On Earth Together' - a celebration of the music of Stevie Wonder and 'March' set to a speech by Dr. Martin Luther King, Jr." Friday 8 pm -- $28
Film
As You Are premiere SOLD OUT
Friday: As You Are -- the Sundance prize-winning film that shot in this area in 2015 -- will make its local premiere at the Spectrum. The event will feature a post-screening Q&A with the Albany natives behind the film: writer/director Miles Joris-Peyrafitte, writer Madison Harrison, and producer/colorist Joseph Mastantuono. Friday 7 pm -- $20
(The film is staring a week-long theatrical run at The Spectrum Friday, so there are other chances to catch it.)
His Girl Friday
Friday: The NYS Writers Institute's classic film series continues with a screening of the 1940 Carey Grant/Rosalyn Russel comedy His Girl Friday. There will be pre-screening discussion about women in journalism with Lydia Kulbida, Rosemary Armao, Marion Roach Smith, and Casey Seiler. Friday 7:30 pm at Page Hall on the UAlbany downtown campus -- free
No Man's Land
Sunday: The Spectrum is screening a recording of the 2016 West End production of No Man's Land, starring Ian McKellen and Patrick Stewart. "One summer's evening, two ageing writers, Hirst and Spooner, meet in a Hampstead pub and continue their drinking into the night at Hirst's stately house nearby. As the pair become increasingly inebriated, and their stories increasingly unbelievable, the lively conversation soon turns into a revealing power game, further complicated by the return home of two sinister younger men." Sunday 11 am -- $15
Suffragette
Sunday: The NYS Museum is screening Suffragette, a drama that looks at the lives and work of early suffragettes, followed by a talk on local suffragette Alice Morgan Wright. Sunday 2 pm -- free admission
Madison classics
This weekend The Madison screens Fahrenheit 451 -- the 1966 film based on Ray Bradbury's novel of the same name, this weekend. They're also screening The Wizard of Oz and the Paul Newman film, Nobody's Fool.
Comedy
Ted Alexandro
Friday-Saturday: The Comedy Works hosts Ted Alexandro. Alexandro has been seen on Letterman, Conan, Inside Amy Schumer, and Oz. The NY Times calls him "crafty, thoughtful and extremely funny." Friday and Saturday various times and prices
Jeff Dye
Friday-Sunday: The Funny Bone at Crossgates has Jeff Dye this weekend. Friday-Sunday various times -- $18
What could go wrong?
Friday: The Mop & Bucket Company presents What Could Go Wrong? an evening of improvised songs and scenes. " A show so spontaneous, even we don't know what to expect." Friday 8 pm -- $10 / $6 for students and seniors
Chortle Kombat
Saturday: Chortle Kombat returns to the Mop & Bucket Company. Teams of improvisors compete against each other creating scenes and songs based audience suggestions. Saturday 8 pm -- $15 / $6 for students and seniors.
Music
Friday: Rhiannon Giddens & Dirk Powell at Helsinki Hudson
"Together, the duo forge a unique blend of American music drawing on a multiplicity of traditions." 9 pm -- $45 and up
Friday: Electric Guest at The Hollow
Indie pop. With: Chaos Chaos. 9 pm -- $10.27 ahead / $12 day of
Friday: The Mohammad Reza Mortazavi concert at EMPAC was cancelled because of complications related to the Trump administration immigrant order. EMPAC will be showing video of a 2010 performance in Berlin instead. 8 pm -- free
Saturday: Ja Rule at Upstate Concert Hall
Hip hop star. With: D3V, Three Kings Entertainment, Nemesis, DJ IROC. 8 pm -- $25 ahead / $28 day of
Saturday: Dar Williams at Proctors
Singer/songwriter. With: Trevor Gordon Hall. 7:30 pm -- $26 and up
Saturday: BarrelFest at The Barrel Saloon
A day of music headlined by Skeeter Creek. Saturday starting at 1 pm -- $18 ahead / $20 at door
Saturday: Lee Reh at The Linda
From the Young Noble Gentlemen. EP release show with dinner, live band, DJ, and guest performances. 6 pm -- $49.99 ahead / $59.99 at door / $24.99 students
Saturday: Rain on a Conga Drum: The Songs of Townes Van Zandt at Caffe Lena
Featuring The Sea The Sea, Cloud Lifter, John & Orion Kribs, John Kruth, Michael Eck. 8 pm -- $20
Sunday: St. Paul & The Broken Bones at The Egg SOLD OUT
Soul band. With: Aaron Lee Tasjan. 8 pm -- $35 and up
Sunday: Pierce the Veil at Upstate Concert Hall
Rock. With: Falling In Reverse, Crown The Empire. 7 pm -- $32 ahead / $35 day of
Sunday: The Barefoot Movement at Caffe Lena
Up-and-coming bluegrass band. 7 pm -- $20
Sunday: Ice Cream at The Low Beat
Garage rock. With: The Rechorduroys. 7 pm -- $10
Dress for Success Albany
Saturday: Siena College hosts its annual Dress For Success sale in Foy Hall. "Very gently worn and new women's suits, dresses, shirts, blazers, skirts, slacks, shoes and handbags will be available at unbelievable prices. Most items priced $5 to $20. Designer items at higher prices." Sales are cash only. Saturday 10 am-2 pm -- free admission
Toy Show
Saturday: The Albany Polish Community Center hosts a toy show. Saturday at 9am -- $3 admission
Skating
Empire State Plaza
The ice skating rink at the ESP has re-opened for the week (weather permitting). The rink is open 11 am-8 pm (closed 3-4 pm for maintenance). It's free to skate. Skate rentals are $4 / $3 for kids / free on Fridays.
This Saturday there will be a learn-to-skate clinic in the morning. Registration is required.
Wicked Mohawk Valley
Saturday: The Schenectady County Historical Society's Mabee Farm Historic Site hosts author Dennis Webster for a talk about his new book Wicked Mohawk Valley, which focuses on stories of the underworld from the area. Saturday 2 pm -- $5
Museums/galleries
Alexander Hamilton/Wampum World/Captured Moments
Opening this weekend at the Albany Institute: Wampum World, a multimedia exhibit that sheds light on the Dutch and Native American cultures. It runs through June 18.
The Albany Institute of History and Art closes its Alexander Hamilton this weekend.
You can also still see Captured Moments, an exhibit of photos from its large photography collection. Captured Moments will be on display through May 21.
State Museum
The New York State Museum's a new exhibit about ice ages in New York. And the The People's Art: Selections from the Empire State Plaza Art Collection continues with works by artists such as Mark Rothko, Jackson Pollock, Helen Frankenthaler, Franz Kline, David Smith, and Alexander Calder. (On display through September 3, 2017.)
Together Until the End: Schenectady in the First World War
The Schenectady County Historical Society recently openedTogether Until the End: Schenectady in the First World War, an exhibit on Schenectady during WWI. (It's at 32 Washington Ave in Schenectady.)
Nick Cave Until
MASS MoCA is exhibiting Until, a new immersive installation by artist Nick Cave. Blurbage: "Through exuberant, politically charged materials, Cave probes issues relating to gun violence, race, and gender inequality. Wrapped in bright glitter, the work is sharp and also painfully beautiful." (On display through August 2017.)
Norman Rockwell Museum
The Norman Rockwell Museum in Stockbridge Hanna-Barbera: The Architects of Saturday Morning. (On display through May 29.)
Gravity and Light
This is the final weekend to see Opalka Gallery exhibit Gravity and Light: Caroline Ramersdorfer Sculpture, 1985-2016. "Starting with huge blocks of marble, granite and other stone, Ramersdorfer carves intricate interiors as if from the inside out, harnessing light and the material's innate properties."
Patterns
The Tang has Sixfold Symmetry: Pattern in Art and Science. "Patterns, systems, and networks are all around us, and in this digital age we are increasingly aware of their influence on our lived experience. This exhibition explores some of the ways in which human beings create and manipulate patterns, and why we are intrinsically driven to do so." (On display through March 12.)
Sleep-A-Thon
Friday: The Homeless Action Committee is holding its 24th annual Sleep-A-Thon in Albany's Townsend Park to call attention to the problem of homelessness and to fund its Outreach Van program. Friday 5 pm
Markets
Troy Makers Market
Saturday: Local craft vendors will display and sell wares at the Troy Makers Market in conjunction with the Troy Waterfront Farmers Market at the Troy Atrium. Saturday 9 am to noon
Farmers' markets
+ Troy Waterfront Farmers Market is in the Atrium for the season. Saturday 9 am-2 pm
+ The Saratoga Farmers' Market is in the the Lincoln Baths in Spa Park. Saturday from 9 am-1 pm
+ The Schenectady Greenmarket is indoors at Proctors. Sunday from 10 am-2 pm.
+ The Spa City Farmers' Market is indoors at the Lincoln Baths. Sunday from 10 am-3 pm
Day trips
Explore New Paltz, head for The Berkshires, the Catskills, or Columbia County.
The Madison, The Mop & Bucket Company, The Albany Institute of History and Art, Troy Music Hall, Sage, and NYS OGS advertise on AOA.
Say Something!
We'd really like you to take part in the conversation here at All Over Albany. But we do have a few rules here. Don't worry, they're easy. The first: be kind. The second: treat everyone else with the same respect you'd like to see in return. Cool? Great, post away. Comments are moderated so it might take a little while for your comment to show up. Thanks for being patient.