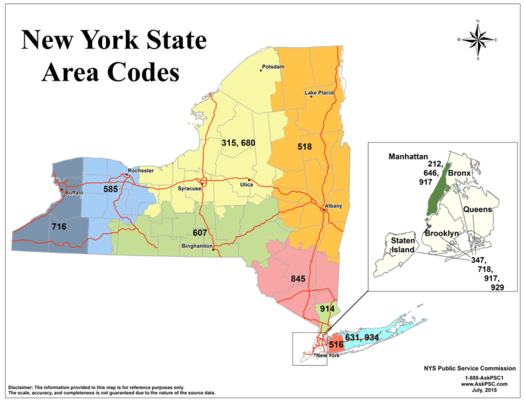 The new area code for this part of New York State is set to start in September. And the first (small) changes for telephone users connected to the new 838 area code begin later this month. From a state Public Service Commission press release blurbage:
As an intermediate step in the implementation of the new area code, a permissive dialing phase begins March 18, 2017, which will allow customers to dial either 7-digits or 10-digits (area code plus 7-digit local telephone number) on calls within the 518 area code; calls to other area codes must still be dialed as 1+ ten digits. The permissive dialing period will end on August 19, 2017, at which time callers will be required to dial 10-digits (area code plus 7-digit local telephone number).
Beginning September 19, 2017, customers in the 518 area code region requesting new service, an additional line, or a move in the location of their service, may be assigned a number in the new 838 area code.
In other words, this is all to get people accustomed to using 10-digit numbers ahead of when they'll actually have to use them.
Oh, and the other way looking at that September date is that it's the deadline for getting a new phone number with a 518 area code -- if, for some reason, that's important to you.
838? What is going on?
Here's the short backstory to all this...
The 518 area code is running out of telephone numbers. So a new area code is being added to its geographic area as an "overlay" to provide a new supply of telephone numbers. The 518 area code and the new area code, 838, will both exist in the same area. Everyone with a current 518 area code number gets to keep it. New numbers will get 838.
The downside to this plan -- and it's not much of a downside -- is that because we'll have two area codes operating in the same area, we'll have to include the area code whenever we're dialing a local number. (This downside is further blunted by the fact that most people have their mobiles or some sort of phone system dial for them these days.)
The other option on the table was to split the existing 518 area in half and assign the new code to one of the halves. That would have meant not adding the area code for local dialing -- but it also would have involved essentially breaking the phone number of a ton of people because they'd be assigned to a new area code. And because of the population distribution within the 518, the dividing line probably would have had to have gone through the Capital Region -- meaning, we'd probably end up often using area codes under that plan, too.
map: NYS PSC
Hi there. Comments have been closed for this item. Still have something to say? Contact us.