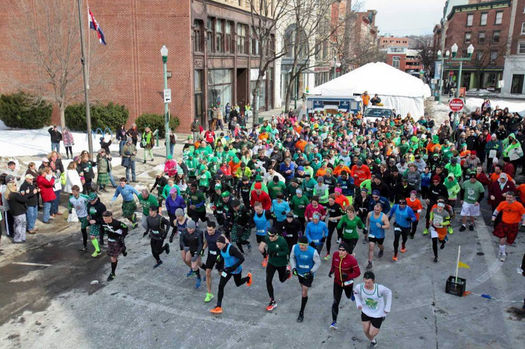 So... snow?
By now most of the streets are clear and you've probably made it through a good chunk of your Netflix queue -- so it's time to get out and do something on this final weekend of winter.
We've made our weekly list for you. You'll find it after the jump. Doing something you don't see there? Drop it in the comment section so we can all see.
And whatever you're up to, bundle up and have a fantastic weekend.



St. Patrick's Day
Friday is Saint Patrick's Day. Some places celebrated last week but there are plenty of events planned for this weekend. Here's a roundup of some related events and whatnot.
Collar City Kilt Fest
Saturday: The Collar City Kilt Fest returns to Troy. The festival revolves around a road race (kilts are not required), and it also includes music, highland dancing, a magic show, and other activities. Registration is still open for the race. Saturday 8 am to 5 pm
WWE Live: Road to Wrestlemania
Saturday: WWE superstars face off in WWE Live: Road to Wrestlemania at the Times Union Center. Saturday 7:30 pm -- $23 and up
Summer sports expo
Saturday-Sunday: The Adirondack Sports summer expo returns to the Saratoga Springs City Center this weekend. Exhibitors and vendors will be there with programs and products related to biking, hiking, kayaking, climbing, camping, healthy living, and more. Saturday 10 am-5 pm and Sunday 10 am-4 pm -- $5 / under 18 free
Food
Capitol Region Wine Festival
Saturday: The Capital Region Wine Festival returns to Proctors. Sample wines and foods from around the Capital Region. Entertainment, a live auction and more. Saturday, 1pm -- $25-$100
Wine and Chocolate Festival
Saturday: The Desmond hosts a wine and chocolate festival showcasing various chocolates, truffles cakes, pastries and other edibles. There are two sessions -- 1-4 pm and 5-8 pm. Saturday -- wine samplers $25 / designated drivers $10 / under 21 $10
Maple Weekend
Saturday: Some of the area's maple sugar farms are opening this weekend for tastings and demonstrations as part of the first of two New York State Maple Weekendsin March. Here's a map of participating producers.
Hudson Valley Restaurant Week
Friday-Saturday: Hudson Valley Restaurant Week comes to a close on Saturday. More than 230 restaurants in the Hudson Valley are offering prix-fixe lunch ($22.95) and dinner menus ($32.95). Reservations are suggested.
Stage
Greenwood: An American Dream Destroyed
Friday-Saturday: The Theatre Institute at Sage presents a staged reading of Greenwood: An American Dream Destroyed by Celeste Bedford Walker. Walker is doing a week-long residency at Sage. "This two-act drama tells the story of events surrounding the 1921 race disaster in Greenwood, Oklahoma. Greenwood, the premier Black Boomtown of its era, was referred to as the 'Negro Wall Street', and had successfully achieved complete economic independence from its neighbor Tulsa, Oklahoma. That all ended when 14 blocks of the town were burned down in one night." Friday 7 pm, Saturday 2 pm -- free but reservations are required
An Iliad
Friday-Sunday: An Illiad, an award winning play based on Homer's epic poem, continues at Capital Rep. Friday-Sunday -- various times and prices
The Women
Friday-Sunday: Steamer No. 10 Theatre presents The Women, Clare Booth Luce's fast-paced dark comedy about womanhood. Friday-Saturday 8 pm, Sunday 3 pm-- $20 / students and seniors $12
Doubt, A Parable
Friday-Sunday: Schenectady Civic Players presents Doubt, A Parable -- the story of a Bronx Catholic school principal, who suspects a young priest may have an improper relationship with a student. Friday-Saturday 8 pm, Sunday 2:30 pm -- $20
Lucky Stiff
Friday-Sunday: Clifton Park players opens a production of the musical comedy Lucky Stiff at the Shenendahowa High School East theater. Friday and Saturday 8 pm, Sunday 2 pm -- free
Into the Woods
Friday-Sunday: Schenectady Light Opera Company opens a new production of Stephen Sondheim's Into the Woods -- a collection of fairy tale characters, and what happens after their wishes are granted. Friday and Saturday 8 pm, Sunday 2 pm -- $22-$28
The Picture of Dorian Gray
Friday-Saturday: Creative License theater company presents a stage version of The Picture of Dorian Gray, based on the Oscar Wilde novel. Friday and Saturday 7:30 pm -- $15
A Streetcar Named Desire
Friday-Sunday: The Local Actors Guild of Saratoga presents Tennessee Williams' A Streetcar Named Desire. Friday and Saturday 8pm, Sunday 2pm -- $20
Skin Deep
Friday-Sunday: Curtain Call Theater presents Skin Deep. "A large, lovable, lonely-heart, named Maureen Mulligan gives romance one last shot on a blind-date with sweet awkward Joseph Spinelli." Friday and Saturday 8 pm, Sunday 3 pm -- $24
Burlesque
Saturday: Roxxi Tart's 1920's Burlesque Revue is at Hudson Harbor House on Broadway in Albany. Saturday at 8pm (doors at 7pm) --$20
Comedy
Brian Regan
Friday: Brian Regan will be performing at the Palace Theater. A favorite of comedians like Seinfeld, Chris Rock and Jimmy Fallon, Regan trades in finding the funny in mundane situations. Friday 8 pm -- $35.75 and up
Sean Wayans
Friday-Saturday: Actor, comedian, and director Sean Wayans will be performing at the Funny Bone at Crossgates Mall. Friday and Saturday various times -- $30
Pete Dominick
Friday-Saturday: Longtime warm-up for Jon Stewart and Stephen Colbert and SiriusXM talk show host, Pete Dominick is performing at Comedy Works. Friday-Saturday 7:30pm, 9:30pm -- $15 ahead / $39.95 (including dinner) / day of show $20 and $44.95
Alf Pacino & Guest
Friday: The Mopco Improv Theatre welcomes Alf Pacino, a longform, experimental house team of The Mop and Bucket Company. Friday 8-10 pm -- $10 / $6 for students and seniors
Chortle Kombat
Saturday: Chortle Kombat returns to the Mop & Bucket Company. Teams of improvisors compete against each other creating scenes and songs based audience suggestions. Saturday 8 pm -- $15 / $6 for students and seniors.
Improv 101
Saturday: The Mopco Improv Theatre in Schenectady is offering Improv 101, an introductory class to those interested in the art of Improvisation. Saturday 9:30 am -- $25
Hockey
Friday: The Albany Devils take on the Springfield Thunderbirds at the TU Center. Friday 7 pm -- $19 and up
Film
Madison Theatre thrillers
Friday-Sunday: It's a thriller weekend at the Madison theater with screenings of Alfred Hitchcock's Shadow of a Doubt, David Lynch's Blue Velvet, and last year's acclaimed French film, Elle. various time -- .35 to $5
Cradle Will Rock
Saturday: The Palace has a free showing of Cradle Will Rock -- the Tim Robbins film about the the development of the 1937 musical The Cradle Will Rock by Marc Blitzstein -- as part of a program with Opera Saratoga. The company will be producing a revival of the Blitzstein's work this summer. Saturday 2 pm -- free
Music
Friday: Get Up Jack at Revolution Hall
"Get Up Jack is a joyous retro-romp by six of the most energetic and charismatic performers in Irish music today." 8 pm -- $15 ahead / $18 at door
Friday: David Lindley, Chris Smither at The Egg
Multi-instrumentalist + singer/songwriter. 7:30 pm -- $29.50
Friday: The Whiskey Treaty Roadshow at MASS MoCA
"[F]oot-stomping folk-rock." With: Sarah Lee Guthrie, Ransom Pier. 8 pm -- $16 ahead / $22 day of
Friday: Hayley Jane & The Primates at Putnam Den
"[D]raws inspiration from a variety of styles, including 60s/70s rock and pop, old musical theater, folk, blues, soul, reggae, psychedelic, funk, bluegrass, and country." 9 pm -- free
Saturday: Lunasa at Troy Music Hall
"The hottest Irish group on the planet." 8 pm -- $34
Saturday: Consider the Source at The Hollow
"Sci-Fi Middle Eastern Fusion." With: Felix Martin, Ampevene. 8 pm -- $12
Saturday: Old Songs presents NY Women: Singing for Suffrage at State Museum
"With enlightening narrative and songs that women sang during the suffrage movement between 1848 and 1920, this dynamic concert tells the story of how American women won the right to vote." 2 pm -- free
Saturday: The Ms. Lisa Fischer & Grand Baton show at The Egg has been rescheduled to October 13.
Sunday: Sunday Symphonies for Families - Captain American: Musical Avenger at The Palace
"Team up with that fearless musical avenger, Captain American, as he battles the forces of darkness in defense of great American music! Come dressed as your favorite superhero and help Captain American and the Albany Symphony perform great American music by John Williams, Aaron Copland, Leonard Bernstein, and others." Sunday 3 pm -- $20 / free for kids 12 and under
Sunday: Barbara Nissman at Troy Music Hall
Classical pianist, playing works by Liszt, Bartok, Prokofiev, and Ginastera. 3 pm -- $25 and up
Proctors tour
Sunday: To celebrate the birthday of F.F. Proctor, and the 90th anniversary of his Schenectady theater, Proctors is hosting a guided walking tour of the building. Sunday 10 am -- free
Museums/galleries
In Motion: The African-American Migration Experience
In Motion: The African-American Migration Experience, continues at the Albany Institute of History and Art. The exhibit examines "how African Americans, constantly in motion, have formed and transformed themselves and their landscape through migration." (On display until March 26)
On Sunday, Sounds of Our Culture, a spoken word experience, will be held at the exhibit, with drumming, dance and personal reflections of African-American culture and history at the institute. Sunday 3-5pm
Also: The Albany Institute recently opened Wampum World, a multimedia exhibit that sheds light on the Dutch and Native American cultures. It runs through June 18.

Also also: Captured Moments, an exhibit of photos from its large photography collection continues at the Albany Institute. It will be on display through May 21.
Canstruction
The annual Canstruction display opened at the State Museum this week. Visitors can vote on their favorites by dropping canned goods into bins by each structure. The donations benefit the Food Pantries. It's on display through March 22.
Also at the State Museum: The The People's Art: Selections from the Empire State Plaza Art Collection continues with works by artists such as Mark Rothko, Jackson Pollock, Helen Frankenthaler, Franz Kline, David Smith, and Alexander Calder. (On display through September 3, 2017.)
Radical Kingdoms
The Mandeville Gallery at the Nott Memorial is exhibiting Radical Kingdoms -- a medieval perspective on arts and nature by contemporary artists from the 18th and 19th centuries including John James Audubon. (On display until June 18, 2017)
Nick Cave Until
MASS MoCA is exhibiting Until, a new immersive installation by artist Nick Cave. Blurbage: "Through exuberant, politically charged materials, Cave probes issues relating to gun violence, race, and gender inequality. Wrapped in bright glitter, the work is sharp and also painfully beautiful." (On display through August 2017.)
Norman Rockwell Museum
The Norman Rockwell Museum in Stockbridge Hanna-Barbera: The Architects of Saturday Morning. (On display through May 29.)
Together Until the End: Schenectady in the First World War
The Schenectady County Historical Society recently openedTogether Until the End: Schenectady in the First World War, an exhibit on Schenectady during WWI. (It's at 32 Washington Ave in Schenectady.)
One Giant Try It
Sunday: The Arts Center of the Capital Region hosts its annual "One Giant Try It!" day. It's a chance for kids and adults to explore arts studios and engage in interactive workshops. If you try something and like it, you can get a 10 percent discount on a summer class or camp. Sunday noon to 3 pm
Cooking classes
Gougeres and Soup
Saturday: Different Drummer's Kitchen hosts a class about making soups and gougeres (a puff pastry flavored with cheese) Saturday at 11:30am -- $65
Cooking with Guinness
Saturday: Serendipity Arts studio in Saratoga Springs hosts a Cooking with Guinness class. Saturday 6 pm -- $45
Ice cream season has started
Test the totally non-scientific theory that eating ice cream in the cold warms you up, by making your inside as cold as your outside, so you don't notice. It may not work, but it's still delicious.
Markets
Troy Makers Market
Saturday: Local craft vendors will display and sell wares at the Troy Makers Market in conjunction with the Troy Waterfront Farmers Market at the Troy Atrium. Saturday 9 am to noon
Farmers' markets
+ Troy Waterfront Farmers Market is in the Atrium for the season. Saturday 9 am-2 pm
+ The Saratoga Farmers' Market is in the the Lincoln Baths in Spa Park. Saturday from 9 am-1 pm
+ The Schenectady Greenmarket is indoors at Proctors. Sunday from 10 am-2 pm.
+ The Spa City Farmers' Market is indoors at the Lincoln Baths. Sunday from 10 am-3 pm
Day trips
Explore New Paltz, head for The Berkshires, the Catskills, or Columbia County.
The Madison, The Mop & Bucket Company, The Albany Institute of History and Art, Creative License, The Adirondack Summer Sports Expo, and Troy Music Hall. AOA is a media sponsor for the Collar City Kilt Fest.
Say Something!
We'd really like you to take part in the conversation here at All Over Albany. But we do have a few rules here. Don't worry, they're easy. The first: be kind. The second: treat everyone else with the same respect you'd like to see in return. Cool? Great, post away. Comments are moderated so it might take a little while for your comment to show up. Thanks for being patient.