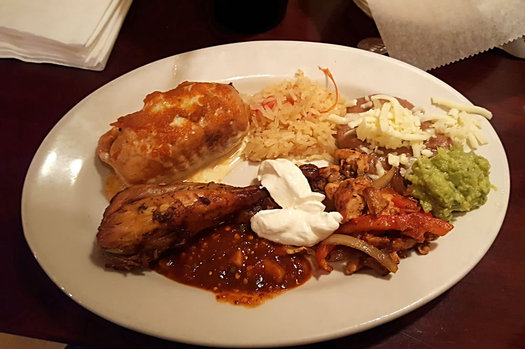 By Deanna Fox
Every culture and cuisine has its own version of a greasy spoon diner. Places with quick crowd-pleasing menu items that focus less on modern, qualitative platitudes (farm-fresh local zero hormone free range organic sustainable conflict-free!) and more on getting cheap eats dipped, fried, or otherwise laden in fat on the table with haste.
Greasy spoons are abundant in Albany, and in many ways, these sorts of establishments comprise the hallmark of our local eating scene.
When it comes to the Tex-Mex variety, Sala Latina reigns, and its Monday night buffet is one of the best bargains in town.
Albany has long been plagued with the complaint of a pervasive dearth of authentic, varied ethnic food. Over the past decade-plus, that's changed. New regional taco joints seem to be springing up en masse lately, but the collective normative "Mexican food" hovers around those bordertown standards of taquitos, quesadillas, fajitas, chimichangas, and nachos.
Salsa Latina gets that, and while dishes like bistec salteado and picada paisa debunk that outlook, the restaurant isn't going out of its way to suade its customers away from the fixtures of Tex-Mex cuisine.
Enter the Monday buffet. Buffets are America's original prix fixe dining option, epitomizing through food all that America stood for: endless options and opportunity for a price that felt like you were getting away with something. The paradox of choice wasn't a paradox at all at buffets, since choosing between an additional serving of mac and cheese and a second bowl of soft-serve ice cream impacted nothing but one's waistline.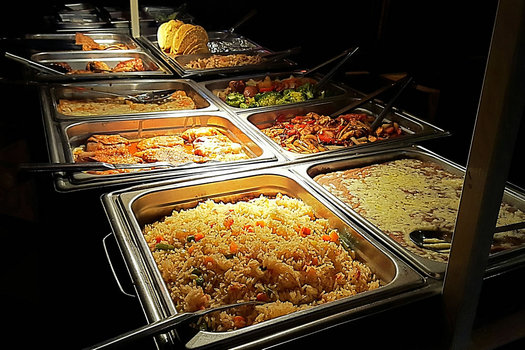 Salsa Latina has rounded up the classics of the Tex-Mex genre and put them in one centralized steam-tray station:
+ A fajita station is prepped with sauteed onions and peppers and a choice of chicken or beef.
+ Next to it sits a taco station with fried crispy shells and steamed soft tortillas and a variety of fresh toppings: shredded iceberg lettuce, tomatoes, onions, sour cream, pico de gallo, homemade hot pepper sauce, guacamole, and shredded cheese.
+ Enormous trays of refried beans are creamy and salty with stringy queso splotches across the top.
+ Roasted chicken legs, speckled in ruddy brown cumin and cayenne, are fall-off-the-bone tender with flavorful meat.
+ Mexican rice is instantly recognized by its classic ochre color but resembled fiesta confetti with perfectly cubed carrots and segmented green beans.
+ Chimichangas are rolled tightly and fried and include a chicken, rice, and cheese filling, but lose their crisp exterior by being smothered in red enchilada sauce and more queso. (This is not a complaint.)
+ Steamed and seasoned broccoli and roasted potatoes account for a sliver of the buffet spread but are deserving of attention.
+ A mock-bunuelo dessert tray of fried tortillas doused in honey, sugar, and cinnamon cap off the buffet and the meal.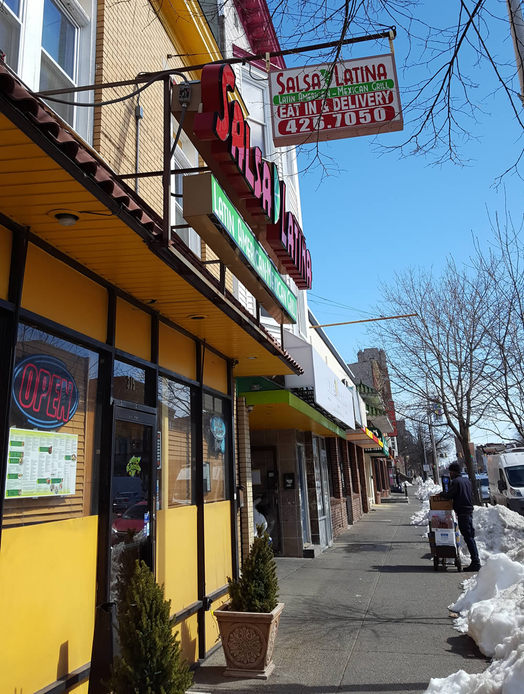 Buffets as a whole are dwindling in America. Even with the economic slump of the late aughts, a shift towards mindful food consumption meant that fast casual was in, and all-you-can-eat buffets were out. Repeated mergers and bankruptcy filings by restaurant conglomerates that own chain buffets (think Old Country Buffet, HomeTown Buffet, and Ryan's, among others) signify the end of these classic eateries. [Forbes] [Reuters]
Regardless, the buffet option -- Mondays only, lunch 11 am-3 pm ($7) and dinner 5-9 pm ($12) (beverages excluded) -- seems to work for Salsa Latina, and by price-value alone, this is a great deal. A plate of fajitas from the regular menu, served with Mexican rice, refried beans, guacamole salad, sour cream, and pico de gallo, runs $15.75 and is finite. There is no limit at the buffet. And after more visits to Salsa Latina than I care to admit, I can assure the hesitant that there is no quality difference between the buffet and the standard menu versions.
It's not fine dining, but it's good dining, and it plays into the touchstones of Capital Region food while giving us Southwest flavors that are deeply entrenched in the American dining repertoire.
Deanna Fox writes about many things, mostly about food. More can be found on her website, Twitter, or Instagram.
More Eat This
+ Ramen at David's Uptown Noodle
+ Cinnamon buns at Fifth Tier Baking Studio
+ Fish and grits at The Breakfast Spot in Albany
Find It
Salsa Latina
315 Central Avenue
Albany, NY 12206
Hi there. Comments have been closed for this item. Still have something to say? Contact us.