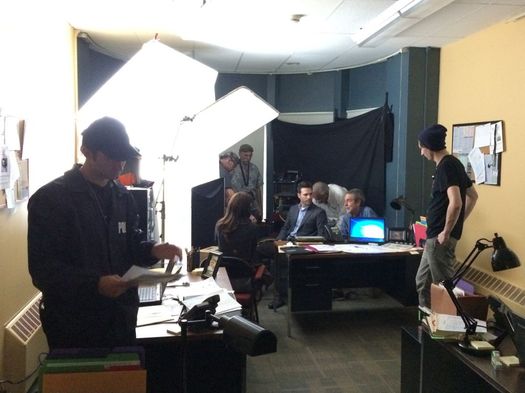 When it shot in Troy last October it was called Derailed. Now it's Off The Rails and will be shown on the Lifetime Movie Network this Sunday, March 26 at 8 pm. Blurbage:
After surviving a train derailment, Nicole Barrow has lost all of her memories. The only things she remembers about herself are that she has a husband running for Attorney General and she is a geography professor with a love of cartography. Months of recovering lead her to believe she is slowly putting her perfect life back together. However, when she is approached by several strange men claiming she had contacted them to meet for sexual fantasies, she discovers a series of social media pages claiming to be her. Has her identity been stolen, or is this her former self? As she scrambles to put the pieces of her mind together, she questions who she can trust and must fight to remember the truth.
We hear the story is actually set in Troy and at Sage.
The Tomorrow Paradox
Another locally-shot film -- the indie sci-fi production The Tomorrow Paradox -- is set to screen at The Madison this Saturday, March 25 at 7 pm. The director, Bruce Wemple, will be there for a post-screening discussion.
And speaking of Lifetime movies (not sure how it's come to this)...
That movie about Joyce Mitchell and the Clinton Correctional Facility prison break is set to air April 23.
Earlier: Movies that filmed in -- or were set in -- the Capital Region