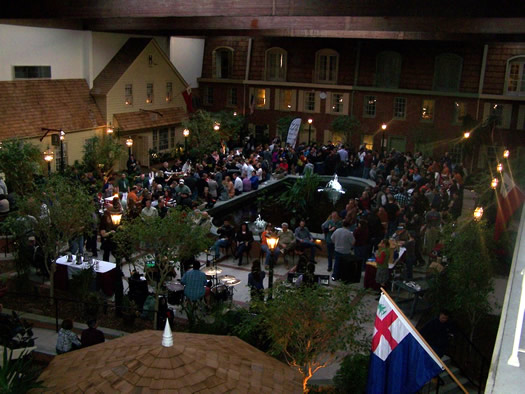 OK, March is still doing its lion thing, but it's spring and it's the weekend -- two things to be happy about.
After the jump, our list of stuff to do that we thought might interest you this weekend. Planning something that isn't on our list? Tell us about it in the comments. Everything is more fun when you share.
And whatever you're up to, be sure to bring your umbrella, and have a great weekend.


Capital District Garden and Flower Show
Friday-Sunday: The annual Capital District Garden and Flower Show at HVCC runs through the weekend. The show includes displays, demonstrations, and sales of plants, bulbs, and seeds. Friday 10 am-8 pm / Saturday 9 am-7 pm / Sunday 10 am-5 pm -- $12 ahead / $14 at the door / kids 12 and under free
Knotted
Sunday: Knotted -- the "curated wedding showcase for the offbeat couple who doesn't quite fit the traditional wedding market" -- is back at the Takk House in Troy. More than 30 vendors will be showing off their wedding-related wares and services. Sunday 1-4 pm -- $8
Food
New York Craft Brewers Festival
Saturday: The Desmond hosts the annual New York Craft Brewers Festival . More than 50 New York State breweries and brewers will be offering samples of their creations. (Online tickets are sold out. See the link for the details.) Saturday 4 pm -- $40 general admission / $ 15 designated driver / VIP sold out
Jewish Food Festival
Sunday: The annual Jewish Food Festival returns to Congregation Gates of Heaven in Schenectady. Unlimited samples of Jewish foods from around the world, a dessert contest, family activities, and more. (Bring 3 food items for the Northeast Regional Food Bank and get $5 off on admission.) Sunday noon-3 pm -- $20 adults / $8 teens / free for under 12
Colonie Restaurant Week
Friday-Sunday: Colonie Restaurant week comes to an end this Sunday. Three course meals for $25 at participating restaurants.
Wine 101: Wine and Chocolate pairing
Friday: Adirondack Winery hosts a wine and chocolate pairing, with sampling and explanations of how to best pair wine and chocolate. Friday 7 pm -- $30
Low Beat Brunch
Sunday: Celina's Kitchen is hosting brunch at The Low Beat. Sunday 10:30 am-3 pm
Stage
Find Your Way Home
Sunday: The Palace hosts a screening of the first act of Find Your Way Home, a musical by Albany's own Jeff Strange and Jimmy Kelly. Performers include Ronan Tynan, Alex Sharpe, Andy Cooney, and The New McKrells. Sunday 4 pm -- $25
An Iliad
Friday-Sunday: An Illiad, an award winning play based on Homer's epic poem, continues at Capital Rep. Friday-Sunday -- various times and prices
The Picture of Dorian Gray
Friday-Saturday: Creative License theater company presents a stage version of The Picture of Dorian Gray,based on the Oscar Wilde novel. Friday and Saturday 7:30 pm -- $15
Doubt, A Parable
Friday-Sunday: Schenectady Civic Players presents Doubt, A Parable -- the story of a Bronx Catholic school principal, who suspects a young priest may have an improper relationship with a student. Friday-Saturday 8 pm, Sunday 2:30 pm -- $20
Lucky Stiff
Friday-Sunday: This is the last weekend for the Clifton Park Players production of the musical comedy Lucky Stiff at the Shenendahowa High School East theater. Friday and Saturday 8 pm, Sunday 2 pm -- free
Skin Deep
Friday-Sunday: Curtain Call Theater presents Skin Deep. "A large, lovable, lonely-heart, named Maureen Mulligan gives romance one last shot on a blind-date with sweet awkward Joseph Spinelli." Friday and Saturday 8 pm, Sunday 3 pm -- $24
The Women
Friday-Sunday: Steamer No. 10 Theatre presents The Women, Clare Booth Luce's fast-paced dark comedy about womanhood. Friday-Saturday 8 pm, Sunday 3 pm-- $20 / students and seniors $12
Schenectady Light Opera 90th Anniversary Gala
Friday-Saturday: Schenectady Light Opera celebrates its 90th season of musical theater with a performance and reception. Friday and Saturday reception at 6:30 pm, show at 8 pm -- $25 for the show only / $60 show plus reception (Friday's reception is sold out)
Wait Until Dark
Friday-Sunday: The Sand Lake Center for the Arts presents a production of the thriller, Wait Until Dark. Friday and Saturday 8 pm, Sunday 2 pm -- $18 / $10 under 18
Sleeping Beauty
Sunday: New York Theatre Ballet presents the ballet Sleeping Beauty at the Egg. Sunday 3 pm -- $18
Garden Brothers Circus
Saturday-Sunday: The Washington Avenue Armory hosts the Garden Brothers Circus. Saturday and Sunday various times -- $28 / $8 kids
Comedy
Kelly McFarland
Friday-Saturday: Stand-up comedian Kelly McFarland will be performing at The Comedy Works. Friday-Saturday -- various times and prices
John Henton
Friday-Sunday: Actor/comedian John Henton takes his stand-up act to The Funny Bone this weekend. Friday-Sunday -- various times and prices
Nick Di Paolo
Saturday: Nick Di Paola brings his stand-up act to Cohoes Music Hall. Di Paola has been seen on The Tonight Show, Late Night with David Letterman, Jimmy Kimmel Live, and Conan. Saturday 8 pm -- $25
Sebastian Maniscalco
Friday: Proctors hosts stand-up comedian Sebastian Maniscalco. Friday 7 pm --- $43.75 and up
Pretty Much the Best Comedy Show: Adrienne Iapalucci
Saturday: Last Comic Standing semifinalist Adrienne Iapalucci will be at Proctors for the Pretty Much the Best Comedy Show series. Saturday 8 pm -- $15 ahead / $20 day o
MopCo Friday Night Fringe
Friday: MopCo Improv Theater has a double bill on Friday with Electric City Puppet Improv and Spontaneous Twilight Zone. Friday 8 pm -- $10 / $6 for students and seniors
Chortle Kombat
Saturday: Chortle Kombat returns to the Mop & Bucket Company. Teams of improvisors compete against each other creating scenes and songs based audience suggestions. Saturday 8 pm -- $15 / $6 for students and seniors.
Film
Sci-fi at the Madison
Friday-Sunday: It's a sci-fi weekend at The Madison Theater with screenings of Back to the Future, Fantastic Beasts and Where to Find Them, They Live. various times -- .35 to $5
The Tomorrow Paradox
Saturday: The Tomorrow Paradox -- an indie sci-fi production that shot in the area -- will screen at The Madison. The director, Bruce Wemple, will be there for a post-screening discussion. Saturday 7 pm -- $10
I Am Not Your Negro
Friday-Sunday: The Saratoga Film Forum is screening the documentary, I Am Not Your Negro. The film stemmed from 30 pages of an unfinished manuscript of author James Baldwin, and uses interviews, letters, archival footage and more to examine what the book might have uncovered. Friday-Sunday 7:30 pm -- $8
Divided We Fall
Saturday: Congregation B'nai Sholom presents a screening of Divided We Fall. This Czech perspective on the Holocaust is the story of a Czech town occupied by German forces in the last years of World War II. Saturday 7:30pm -- $5 suggested donation
Double Indemnity
Sunday: Troy Public Library is screening Billy Wilder's noir classic Double Indemnity. Sunday 2 pm -- free
Lacombe Lucien
Friday: The NYS Writers Institute film series presents LaCombe Lucien, Louis Malle's 1974 film about a young man in Nazi-occupied France who is turned down by the resistance because of his age, and instead becomes a member of the Gestapo. Friday 7:30 pm in Page Hall on the UAlbany downtown campus -- free
The Rocky Horror Picture Show
Friday: The Kids of Albany present a screening of The Rocky Horror Picture Show, with live shadow cast at Cohoes Music Hall. Friday 8 pm and midnight --- $12 / prop kits will be sold for $4
Music
Friday: Aoife O'Donovan + Julian Lage & Chris Eldridge at Massry Center
Americana. 7:30 pm -- $30 / $20 students
Friday: Gilberto Santa Rosa at The Egg
Salsa star. (SOMOS Conference show.) 9 pm -- $100
Friday: Guy Davis at Caffe Lena
Acoustic blues. 8 pm -- $22
Friday: John Brown's Body at The Hollow
Reggae. With: Dr. Jah and the Love Prophets. 8 pm -- $15
Friday: Moondance - The Ultimate Van Morrison Tribute Concert at The Linda
As it says on the label. 8 pm -- $20
Friday: The Slaughterhouse Chorus at The Low Beat
With: Bridge Under Fire, Spirit of Violence. 8 pm
Friday: Elise Testone at Helsinki Hudson
From American Idol. 9 pm -- $12
Saturday: Mavis Staples at MASS MoCA
Powerhouse R&B/soul/gospel singer singer. 8 pm -- $35 ahead / $45 day of
Saturday: Driftwood at Caffe Lena
Americana. 8 pm -- $22
Saturday: Cajun-Zydeco Dance with Zydeco Connection at Old Songs
Evening starts with dance instruction, music starts an hour later. 7 pm -- $15
Sunday: Langhorne Slim at Helsinki Hudson
Alt-country singer/songwriter. 8 pm -- $20
Liberty Con
Friday-Sunday: The Underground Railroad History Project is hosting Liberty Con 2017 at Schenectady County Community College. It's a weekend of workshops, keynote speakers, conversations about the legacy of slavery in contemporary times, and will encompass topics such as race relations, gender issues, immigration reform, white privilege, and religion. Friday-Sunday various times and prices
Museums/galleries
The Unknown Museums of Upstate New York
Saturday: The Schenectady Historical Society hosts author Chuck D'imperio for a talk on 50 hidden treasures that can be found in Upstate New York museums. Saturday at 2 pm -- $5
In Motion: The African-American Migration Experience
This is the last weekend for In Motion: The African-American Migration Experience at the Albany Institute of History and Art. The exhibit examines "how African Americans, constantly in motion, have formed and transformed themselves and their landscape through migration." (On display until March 26)
Also: The Albany Institute recently opened Wampum World, a multimedia exhibit that sheds light on the Dutch and Native American cultures. It runs through June 18. And the new Captured Moments, an exhibit of photos from its large photography collection continues at the Albany Institute. (On display through May 21.)
The People's Art
The The People's Art: Selections from the Empire State Plaza Art Collection continues at the NYS Museum with works by artists such as Mark Rothko, Jackson Pollock, Helen Frankenthaler, Franz Kline, David Smith, and Alexander Calder. (On display through September 3.)
Radical Kingdoms
The Mandeville Gallery at the Nott Memorial is exhibiting Radical Kingdoms -- a medieval perspective on arts and nature by contemporary artists from the 18th and 19th centuries including John James Audubon. (On display until June 18.)
Nick Cave Until
MASS MoCA is exhibiting Until, a new immersive installation by artist Nick Cave. Blurbage: "Through exuberant, politically charged materials, Cave probes issues relating to gun violence, race, and gender inequality. Wrapped in bright glitter, the work is sharp and also painfully beautiful." (On display through August 2017.)
Norman Rockwell Museum
The Norman Rockwell Museum in Stockbridge Hanna-Barbera: The Architects of Saturday Morning. (On display through May 29.)
Together Until the End: Schenectady in the First World War
The Schenectady County Historical Society recently openedTogether Until the End: Schenectady in the First World War, an exhibit on Schenectady during WWI. (It's at 32 Washington Ave in Schenectady.)
Ice cream season has started
Test the totally non-scientific theory that eating ice cream in the cold warms you up, by making your inside as cold as your outside, so you don't notice. It may not work, but it's still delicious.
Hockey
Devils
Friday-Saturday: The Albany Devils are at home this weekend with games at the TU Center. Friday 7 pm and Saturday 5 pm
Benefit tournament
Friday-Sunday: Union College's Messa Rink hosts the Stick it to Brain Tumors Women's Ice Hockey Tournament. Women's ice hockey, silent auction, and more. Games start Friday at 4 pm and run through the weekend.
Soccer
Friday: The US Men's National Team plays a World Cup qualifier against Honduras in San Jose. The Albany chapter of the American Outlaws supporters group will be at Wolff's in Albany and the Saratoga chapter will be at Bailey's in Saratoga Springs if you're looking for a crowd to watch along with. Friday 10:30 pm
Markets
Troy Makers Market
Saturday: Local craft vendors will display and sell wares at the Troy Makers Market in conjunction with the Troy Waterfront Farmers Market at the Troy Atrium. Saturday 9 am to noon
Farmers' markets
+ Troy Waterfront Farmers Market is in the Atrium for the season. Saturday 9 am-2 pm
+ The Saratoga Farmers' Market hosts its annual Spring Festival on Saturday is in the the Lincoln Baths in Spa Park. Workshops, demonstrations and activities for kids.Saturday from 9 am-1 pm
+ The Schenectady Greenmarket is indoors at Proctors. Sunday from 10 am-2 pm.
+ The Spa City Farmers' Market is indoors at the Lincoln Baths. Sunday from 10 am-3 pm
Day trips
Explore New Paltz, head for The Berkshires, the Catskills, or Columbia County.
The Madison, The Mop & Bucket Company, The Albany Institute of History and Art, and Creative License advertise on AOA.
photo: New York State Brewers Association
Say Something!
We'd really like you to take part in the conversation here at All Over Albany. But we do have a few rules here. Don't worry, they're easy. The first: be kind. The second: treat everyone else with the same respect you'd like to see in return. Cool? Great, post away. Comments are moderated so it might take a little while for your comment to show up. Thanks for being patient.