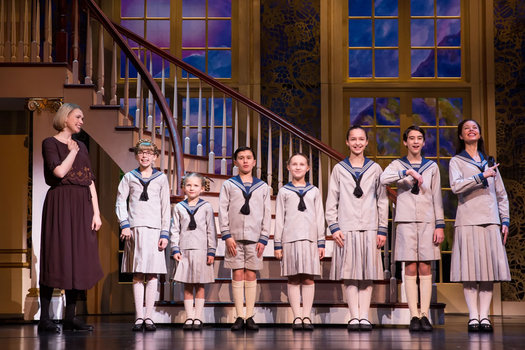 Into every weekend a little rain must fall.
Well, not every weekend, but this weekend for sure.
While April does its April-y thing, there's plenty of stuff for you to do, provided you don't mind dodging a few raindrops. You'll find our list after the jump.
Planning something you don't see here? Tell us about it in the comments.
And whatever you're up to, remember your umbrella, and have a fantastic weekend.


​First Friday
Friday: It's 1st Friday in Albany, so lots of venues are open with art, music and performances. A few things on the schedule:
+ The Albany Institute is open for free starting at 5pm
+ The Cheese Traveler will have art, music, poetry and cheese demos
+ Albany Barn hosts its annual youth art exhibition
+ The Lustre Kings headline the monthly 1st Friday swing dance at 25 South Allen
Friday starting at 5 pm
Food/drink
Downtown Albany Restaurant Week
Friday: Downtown Albany Restaurant Week continues. More than 15 restaurants are offering three-course meals for $20.17. It's a good idea to make a reservation.
Hudson Valley Hops
Saturday: Hudson Valley Hops returns to the Albany Institute of History and Art. Regional craft beer tastings, brewing and distilling artifacts and industry experts. Saturday 4 pm -- $35
Just The Brunch Of Us
Sunday: Just the Brunch of Us -- hosted by 518blk.com and DJ Trumastr -- will be at Levels Banquet Hall in downtown Albany. "Music will be provided by DJ Trumastr, along with a gourmet brunch buffet and drink specials, courtesy of the beautiful and spacious Levels Banquet Hall. 518blk.com will also be in the house, giving you life with photo-ops and giveaways." Sunday 11 am-3 pm -- $25 (RSVP required)
Tasting beer
Friday: Different Drummer's Kitchen hosts a beer tasting seminar with certified cicerone Erik Budrakey Friday 6 pm -- $69
​Breakfast and Empanadas
Sunday: Honest Weight hosts a class on breakfast and empanadas with Chef Ricardo. Sunday 2 pm -- free
Stage
The Sound of Music
Friday-Sunday: A touring production of the stage musical The Sound of Music is at Proctors. The Broadway musical features music by Richard Rodgers and lyrics by Oscar Hammerstein. (And it was from the 1959 musical that the hugely famous film was adapted.) Friday-Sunday various times -- $20 and up
ChipandGus
Friday-Saturday: The comedy ChipandGus returns to Proctors. The actors actually play ping pong during the show. "ChipandGus, is the story of two friends, oddball acquaintances. Set in a rundown game-room of a rundown sports bar in Schenectady, NY, their monthly ping pong game uncovers buried secrets in this moving comedy!" Friday-Saturday 7:30 pm -- $25
Radiance: The Passion of Marie Curie
Friday-Sunday: The Theater Institute at Sage presents Radiance: The Passion of Marie Curie. Alan Alda's play about the Nobel Prize-winning physicist looks at her life following the death of her husband and partner Pierre Curie, and the physicist who helped her find the strength to return to the work that resulted in her second Nobel Prize. Friday and Saturday 7:30 pm, Sunday 2 pm -- $15
​The Normal Heart ​
Friday-Sunday: Curtain Call Theater opens a production of The Normal Heart, the story of a gay activist who loses his lover to AIDS. Friday and Saturday 8 pm, Sunday 3 pm -- $24​
Selected Shorts
Sunday: Selected Shorts will be at Troy Music Hall for a live show. Readers include Sonia Manzano from Sesame Street, Michael Urie from Ugly Betty, and Jim True-Frost from The Wire. The theme of the stories is "Lovers and Strangers". Sunday 3 pm -- $25

100 Saints You Should Know
Friday-Sunday: Theatre Voices presents a staged reading of the play 100 Saints You Should Know at Steamer 10. Friday-Sunday various times -- free
They Built America: The Workers of the Erie Canal
Saturday: Capital Rep presents They Built America: The Workers of the Erie Canal -- the story of a young Irish immigrant who disguises herself as a boy to work on the Erie Canal. Saturday 11 am -- $11 adults / $9 students
Comedy
Eric McMahon and Joe Bubliewicz
Friday-Saturday: Stand-up comedians Eric McMahon and Joe Bubliewicz will be performing at The Comedy Works. Friday-Saturday -- various times and prices
Matthew Broussard
Friday-Sunday: Matthew Broussard will be performing at The Funny Bone at Crossgates. Friday-Sunday various times -- $12
Mark Normand and Guests
Saturday: Actor/comedian Mark Normand (The Comedy Show, Inside Amy Schumer) headlines at the Saratoga Winery this weekend. Saturday 9 pm -- $25 show only / $45 dinner and show
What Could Go Wrong
Friday: The Mop & Bucket Company presents What Could Go Wrong -- billed as "a night of improv comedy so spontaneous even we don't know what to expect." Friday 8 pm -- $10 / $6 for students and seniors
Chortle Kombat
Saturday: Chortle Kombat returns to the Mop & Bucket Company. Teams of improvisors compete against each other creating scenes and songs based audience suggestions. Saturday 8 pm -- $15 / $6 for students and seniors.
Music
Friday: WCDB Anniversary Party at The Low Beat
Palehound, The Parlor, Hospital Corners, Another Michael. 7 pm -- $10
Friday: New York Voices at The Egg
"[U]nmatched harmonies and inspired arrangements to jazz, Brazilian, R & B, classical, and pop..." 8 pm -- $34
Friday: The Kurt Baker Combo + Soraia at The Hangar
Rock. 8 pm -- $10
Friday: Primate Fiasco at Putnam Den
"The Primate Fiasco uses instruments that are loud without electricity..." With: Barika. 9:30 pm -- $10
Friday: Sara Kilborne: The Lavender Blues at Helsinki Hudson
"The Lavender Blues brings to life the story of queer music before World War II." 8 pm -- $15
Friday: Jane Voss & Hoyle Osborne at Old Songs
Vaudeville blues, early jazz and country music. 7:30 pm -- $20 / $5 age 12 and under
Saturday: Albany Symphony: Beethoven's Ninth at The Palace
Probably the most famous Beethoven symphony. 7:30 pm -- $19 and up
Saturday: Miracle Legion at MASS MoCA
And Lou Barlow is opening. 8 pm -- $18 ahead / $24 day of
Saturday: Meklit at Sanctuary for Independent Media
"Meklit's music is imbued with poetry and multiplicity, from hybridized sounds of Tizita (haunting and nostalgic music) drawing from her Ethiopian heritage, to jazz, folk songs, hip-hop and art rock." 7 pm -- $15
Saturday: The Subdudes at The Egg
Blues/folk. 8 pm -- $34
Saturday: Matuto at The Linda
Roots music festival with: Heavenly Echoes Gospel Singers, The Red Haired Strangers, The Lazy Suns. 8 pm -- $15
Saturday: James McMurtry at Helsinki Hudson
"Award-winning rock singer-songwriter James McMurtry writes literate, politically charged songs with country, folk, Americana, and Texas influences." With: Ray Mason. 9 pm -- $25
Saturday: Frank Wakefield Band at Caffe Lena
"Legendary mandolin player Frank Wakefields shows are famous for the power and raw beauty of his mandolin playing and for his liveliness and humor on stage." 8 pm -- $22
Sunday: Jackson Browne at The Egg
Rock 'n Roll Hall of Famer, performing with Greg Leisz. 8 pm -- $54.40 and up
Sunday: Sonny Ochs 80th Birthday Concert at Proctors
Folk. 4 pm -- $28 ahead / $39 day of
Sunday: Ari Hest at Caffe Lena
Singer/songwriter. 7 pm -- $20
Film
The Black Panthers: Vanguard of the Revolution
Friday: The NYS Writers Institute will be screening the documentary The Black Panthers: Vanguard of the Revolution at UAlbany. The doc's director -- Stanley Nelson -- and producer -- Marcia Smith -- will both be there for a discussion following the film. Friday 7 pm, downtown campus, Page Hall -- free
The Salesman
Friday-Sunday: The Saratoga Film Forum is screening the Iranian film The Salesman-- the story of a couple whose relationship begins to turn sour during their performance of Arthur Miller's Death of a Salesman. Friday-Sunday 7:30 pm -- $8
SHOT! The Mick Rock Documentary
Saturday: Proctors is screening the new documentary SHOT! The Psycho-Spiritual Mantra of Rock in the GE Theater. It's the story of David Bowie photographer Mick Rock. Saturday 7 pm -- $9 adults/ $6 students
How To Marry A Millionaire
Sunday: The Troy Public Library is screening How to Mary A Millionaire, starring Marilyn Monroe, as this Sunday's feature film. Sunday 2 pm -- Free
Madison Theater
This weekend at the Madison Theater: Krzysztof Kieślowski's French drama Three Colors: Blue, George Axelrod's Lord Love A Duck, and the dialogue-less animation film The Red Turtle.various times -- .35-$5
Hockey
Friday: The Albany Devils take on St. John's at the TU Center. Friday 7 pm -- $15 andup
Easter Egg-Stravaganza
Saturday: There's a charity Easter Egg Hunt in Congress Park in Saratoga Springs for kids ages 2 to 12. Proceeds benefit Taylor's Heroes. Saturday 10 am-1 pm -- $10 per child
Museums/galleries
Historic Cherry Hill
Saturday: Historic Cherry Hill Mansion opens for the season on Saturday with tours of the final stage of the restoration of the house. Saturday 1-3 pm -- $1
Wampum World/Captured Moments
The Albany Institute recently opened Wampum World, a multimedia exhibit that sheds light on the Dutch and Native American cultures. (On display through June 18.)
And the new Captured Moments, an exhibit of photos from its large photography collection continues at the Albany Institute. (On display through May 21.)
The People's Art
The The People's Art: Selections from the Empire State Plaza Art Collection continues at the NYS Museum with works by artists such as Mark Rothko, Jackson Pollock, Helen Frankenthaler, Franz Kline, David Smith, and Alexander Calder. (On display through September 3.)
Nick Cave Until
MASS MoCA is exhibiting Until, a new immersive installation by artist Nick Cave. Blurbage: "Through exuberant, politically charged materials, Cave probes issues relating to gun violence, race, and gender inequality. Wrapped in bright glitter, the work is sharp and also painfully beautiful." (On display through August 2017.)
Norman Rockwell Museum
The Norman Rockwell Museum in Stockbridge Hanna-Barbera: The Architects of Saturday Morning. (On display through May 29.)
Together Until the End: Schenectady in the First World War
The Schenectady County Historical Society recently openedTogether Until the End: Schenectady in the First World War, an exhibit on Schenectady during WWI. (It's at 32 Washington Ave in Schenectady.)
Fire Tower
Saturday-Sunday: This is opening weekend of the season for the Cornell Fire Tower in Gansevoort. Great views and talks with the fire monitor. Saturday-Sunday 10 am-3 pm
Steamroller Print Day
Saturday: The Sage Albany campus is hosting a Steamroller Print Day. "How do you make prints that are too big for the press? You rent a steamroller, of course! Come see students from around the region make giant woodblock prints by pressing them under the weight of a two-ton roller." Saturday 10 am-5 pm -- free
Ice cream season has started
Test the totally non-scientific theory that eating ice cream in the cold warms you up, by making your inside as cold as your outside, so you don't notice. It may not work, but it's still delicious.
Markets
Troy Makers Market
Saturday: Local craft vendors will display and sell wares at the Troy Makers Market in conjunction with the Troy Waterfront Farmers Market at the Troy Atrium. Saturday 9 am to noon
Farmers' markets
+ Troy Waterfront Farmers Market is in the Atrium for the season. Saturday 9 am-2 pm
+ The Saratoga Farmers' Market is at the Lincoln Baths Saturday from 9 am-1 pm
+ The Schenectady Greenmarket is indoors at Proctors. Sunday from 10 am-2 pm.
+ The Spa City Farmers' Market is indoors at the Lincoln Baths. Sunday from 10 am-3 pm
Day trips
Explore New Paltz, head for The Berkshires, the Catskills, or Columbia County.
The Madison, The Mop & Bucket Company, The Albany Institute of History and Art, Downtown Albany BID, Troy Music Hall, and Sage advertise on AOA.
photo: Matthew Murphy
Say Something!
We'd really like you to take part in the conversation here at All Over Albany. But we do have a few rules here. Don't worry, they're easy. The first: be kind. The second: treat everyone else with the same respect you'd like to see in return. Cool? Great, post away. Comments are moderated so it might take a little while for your comment to show up. Thanks for being patient.