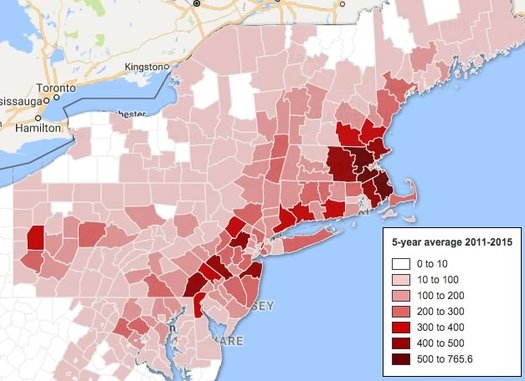 This part of the country -- the whole Northeast, really -- is a hot spot for Lyme disease. The map* above depicts the average number of Lyme cases** reported in each county each year between 2011-2015 -- the numbers are published by the federal Centers for Disease Control and Prevention.
There's a larger, clickable national map after the jump if you'd like to explore further.
New York is tagged as a "high-incidence state" for Lyme by the CDC -- it had the 13th highest rate of confirmed cases per 100,000 people across the three years 2013-2015. (Vermont had the highest rate, and Massachusetts the fifth.)
Here's info from the state Department of Health of ways to lessen the risk of being bitten by a tick and what to do if you are. (And don't forget about taking precautions for your dog, too!)
Look up
The map is at the top in large format -- click or scroll all the way up.
* This map has a few complications, including: 1) It's a total count of reported cases, not taking into account population (so there could be a lot of cases in a given county, but if it also has a lot of people, the incidence of Lyme might be relatively lower than the count suggests) and 2) The counts are for the county of residence the patient, not necessarily where the person was exposed to Lyme.
**. As the CDC notes on its website, disease surveillance data has limitations, notably that 1) not every case ends up being reported and 2) reports depend in part on the effort and resources available in each state to collect them.
Earlier:
+ The spread of Lyme disease
+ Ask AOA: A good doctor to treat Lyme disease?
+ More Lyme disease -- a lot more

Hi there. Comments have been closed for this item. Still have something to say? Contact us.