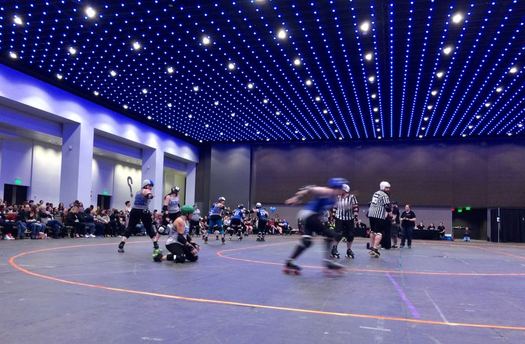 We interrupt this May weekend for a dose of early April.
Will it be cold? A little. Will it rain? Probably. Will there be interesting stuff to do? Absolutely!
After the jump, our weekly rundown of options we thought might interest you.
Doing something you don't see here? Share it with the rest of us in the comment section.
And whatever you're up to, bring an umbrella and have a fantastic weekend.



1st Friday
Friday: It's 1st Friday in Albany, so many of the city's shops and galleries will be open late.
A few things happening:
+ The Albany City School District's annual Elementary School Art Show is at the Albany Institute
of History and Art. (The institute is open from 5-8pm free of charge.)
+ UAG presents Motherart -- an exhibit on motherhood, sisterhood and womanhood, by 11 artists, at The Albany Barn Stage 1 Gallery.
+ Albany Center Gallery opens the 2017 Mohawk-Hudson Regional Invitational show with a reception from 5-8 pm
+ Annie and the Hedonists are headlining the 1st Friday swing dance at the Albany Elks Lodge on South Allen.
Roller Derby
Saturday: The Albany All Stars take on the Hartford Wailers at the Albany Capital Center. Saturday, doors at 6 pm, whistle at 7 pm -- $12 / $5 for kids 10 and under
Basilica Farm & Flea
Saturday-Sunday: Basilica Farm & Flea hosts its spring market this weekend at Basilica Hudson. Handmade and vintage goods, along locally-sourced food products. Saturday 10 am-6 pm, Sunday 11 am-5 pm -- $5 for the whole weekend / kids under 12 admitted free
Farmers' markets move outdoors
It's May, and the area farmers' markets are moving outdoors.
+ Troy Waterfront Farmers Market is in on River Street around Monument Square. Saturday 9 am-2 pm
+ The Delmar Farmers Market is Bethlehem Central Middle School (332 Kenwood Ave). Saturday 9 am-1 pm
+ The Saratoga Farmers' Market is outdoors at High Rock Park Saturday 9 am-1 pm
+ The Schenectady Greenmarket is at its outdoor location around city hall. Sunday 10 am-2 pm
+ The Spa City Farmers' Market is on the lawn of the the Lincoln Baths. Sunday 10 am-3 pm.
Troy Makers Market
Saturday: Local craft vendors will display and sell wares at the Troy Makers Market in conjunction with the Troy Waterfront Farmers Market. Saturday 9 am to noon
Capital Roots Spring Brunch
Sunday: Capital Roots has its 30th annual spring brunch at the ESP Convention Center. It features a buffet prepared by 125 restaurants, a silent auction, kids activities, and more. Sunday 10 am-2 pm -- tickets start at $25
Stage
A Shot in the Dark
Friday-Sunday: Albany Civic Theater opens a new production of the mystery/comedy A Shot in The Dark. Adapted from the French play L'Idiote, it was the inspiration behind the Peter Sellers Pink Panther movies. Friday and Saturday 7:30 pm, Sunday 3 pm -- $18 / $10 students
The Curious Savage
Friday-Sunday: Schenectady Civic Theater opens a production of The Curious Savage -- a comedy about a woman who has been left $10 million by her husband and is trying to make the best use of it, in spite of her step-children's efforts to have her committed. Friday and Saturday 8 pm, Sunday 2:30 pm -- $20
The Foreigner
Saturday-Sunday: This is closing weekend for Home Made Theater's production of The Foreigner, Larry Shue's smart comedy about a painfully shy Englishman so terrified of conversation that when he lands in a new place, he pretends that he can't speak or understand English -- a situation that allows him to overhear much more than he should. Friday and Saturday 7:30 pm, Sunday 2 pm -- $24
How to Succeed in Business Without Really Trying
Friday-Sunday: Schenectady Light Opera Company closes out its season with How To Succeed in Business Without Really Trying, Frank Loesser's musical comedy climbing the corporate ladder. Friday and Saturday at 8 pm, Sunday at 2 pm -- $22 - $28
Some People Hear Thunder
Friday-Sunday: The musical Some People Hear Thunder continues at Capital Rep. Blurbage:
Some People Hear Thunder is a powerful musical love story - an uplifting tale of a young reporter, his true love in America, and Armenians fighting for dignity and survival in the face of brutality. Set between 1914 and 1915, in New York and southern Turkey, in the midst of shocking historical events, Some People Hear Thunder comes to life through song, dance and beautiful storytelling.
It runs through May 21. Friday-Sunday various times -- $20 and up
Dirt: The Secret Life of Soil
Saturday: Hudson Valley Community College presents the Arm of the Sea Theater production of DIRT -- The Secret Life of Soil. "DIRT is a theatrical experience for all ages that combines over-size mask and puppet characters, visual storytelling and live music in a fun-filled tale about the secret life of soil." Saturday noon-1 pm -- free
Blithe Spirit
Friday-Sunday: Troy Civic Theater presents Noel Coward's Blithe Spirit at the Arts Center of the Capital Region. Friday and Saturday 8 pm, Sunday 2 pm -- $15 / $13 students and seniors
Mary-Kate Olsen is in Love
Friday-Sunday: Confetti Stage presents Mary-Kate Olsen is in Love. Billed as "a funny play about sad people," the play follows a woman who thinks the Olsen twins are her best friends, "but maybe they only like her because she's their target demographic." Friday and Saturday 7:30 pm, Sunday 2 pm -- $15 / $10 for students
Comedy
Tony Hinchcliffe
Friday-Saturday: The Funny Bone presents the "dark, edgy" stand-up of Tony Hinchcliffe. Friday and Saturday various times and prices
Earl David Reed
Friday-Saturday: The Comedy Works presents Earl David Reed, a broadcaster and stand-up comic with an improvisational style. Friday and Saturday various times and prices
What Could Go Wrong?
Friday: The Mop & Bucket Company presents What Could Go Wrong?, a night of spontaneous improv scenes and songs based on audience suggestions. Friday 8 pm -- $15 / $6 for students and seniors
TheaterSports
Saturday: MopCo presents TheaterSports. Teams of Improvisors compete against each other to create songs and scenes based on audience suggestion (think Whose Line is It Anyway)
Saturday 8 pm -- $15 / $6 for students and seniors.
Steve Gillespie
Sunday: Steve Gillespie headlines at The Funny Bone. Sunday 6 pm -- $12
Film
The Danish Girl
Friday: Author David Ebershoff will be at UAlbany as part of the NYS Writers Institute. He's the author of The Danish Girl, and will be talking about the story following a screening of the Oscar-nominated film adapted from the book. Friday 7 pm, downtown campus, Page Hall -- free
It Came From Schenectady Presents The Room
Friday: It Came From Schenectady presents its annual screening of The Room -- noted for being one of the worst films of all time -- at Proctors. "Critics may disagree on a great many things, but one thing they all agree on is that movies get made and that this is one example." As with all ICFS events, there will be comfy couches for viewing, prizes, and themed drinks. Friday 7 pm -- $9 / $6 for students
Your Name
The Spectrum is showing Your Name this week. It's a very popular anime film released last year in Japan that's gotten strong reviews.
To Kill a Mockingbird
The Madison is screening the classic screen adaptation of Harper Lee's To Kill a Mockingbird this weekend. Also showing this weekend, The Little Mermaid, Heathers and 2003's The Room -- billed as one of the worst movies of all time. Friday-Sunday various times
Drive-ins
Turn up the heat in the car, drive-in season has arrived.
+ Malta: Screen 1: Guardians of the Galaxy and Beauty and the Beast | Screen 2: Boss Baby and Fate of the Furious
+ Jericho:: Guardians of the Galaxy and Beauty and the Beast
+ Hollywood: Beauty and the Beast and Guardians of the Galaxy
Twelfth Night
Sunday: The Spectrum is screening the National Theater Live production of Twelfth Night. Sunday 11 am -- $15
Music
Friday: Chase Rice
Country. 8 pm -- $25 ahead / $28 day of

Friday: Mary Gauthier
Americana singer/songwriter. 8 pm -- $22
Friday: Northern Faces at The Low Beat
Rock. 8 pm -- free

Friday: Cassie & Maggie MacDonald
Celtic music duo from Nova Scotia. 7:30 pm -- $23 / kids 12 and under $5
Saturday: Enter the Haggis at The Egg
Celtic rock. 8 pm -- $29.50

Saturday: My Bubba at MASS MoCA
Swedish/Icelandic vocal duo. With: Jacqui Alpine. 8 pm -- $16 ahead / $22 day of
Saturday: The Armed Man - A Mass for Peace at EMPAC
Albany Pro Music and Capital District Youth Chorale. "'The Armed Man' outlines the growing menace of war, interspersed with moments of reflection, and ends with the hope for peace. " 7:30 pm -- $35 / $15 students
Saturday: PROJECT Trio with Empire State Youth Orchestra
"Virtuosic trio and YouTube sensation, PROJECT Trio, teams up with the exceptional youth musicians of Empire State Youth Orchestras Repertory and String Orchestras." 3 pm -- $20
Saturday: The Orange at The Low Beat
Together again. With: Haley Moley, S.E. Ward. 8 pm
Saturday: Garland Jeffreys at The Linda
Singer/songwriter. 8 pm -- $18
Saturday: All About the Drum: Reggie Harris & Co at Proctors
An 8th Step show. 7:30 pm -- $24 and up
Saturday: Tragedy : The All Metal Tribute To The Bee Gees
Like it says on the label. 8 pm -- $12
Saturday: The Killswitch Engage + Anthrax show at Upstate Concert Hall is sold out.
Sunday: Mayday Parade
Pop punk. With: Knuckle Puck, Milestone. 7:30 pm -- $25
Sunday: The Kalichstein-Laredo-Robinson Trio
Chamber music trio. 3 pm -- $35 and up
Sunday: Marbin at The Low Beat
Jazz fusion. With: Miss This, The Gazebo Effect. 7:30 pm -- $8
History days
Albany History Fair
Sunday: Historic Cherry Hill hosts the annual Albany History Fair. This year's event, titled Whose Side Are You On?, examines suffrage and anti-suffrage in Albany . There will be a costumed debate on the suffrage issue, a talk by Dr. Kori Graves of the University at Albany, and a panel on women in politics today, featuring Assembly Member Patricia Fahy, Albany Mayor Kathy Sheehan, and Albany Common Council Member Dorcey Applyrs. Sunday noon to 4 pm -- free admission
Living History Day
Sunday: The Ten Broeck Mansion in Arbor Hill has its annual Living History Day. It includes tours, historical re-enactors, an archaeological excavation, demonstrations, hands-on activities, and music. Sunday noon-4 pm -- free admission
Baby animals
Hancock Shaker Village
This is the last weekend for baby animal tours at Hancock Shaker Village in Pittsfield. Adult admission is $20 / $8 for kids 13-17 / and free for kids 12 an under
Indian Ladder
The baby animals have arrived at Indian Ladder Farms and they're accepting audiences. Now through May 21. $6
Alternative Albany
Saturday: Albany's Mansion Neighborhood hosts Alternative Albany, an open house and celebration of the activist history of the neighborhood. Tours and open houses will be held at Albany Free School, Grand Street Community Arts , Family Life Center, and The Radix Center. Saturday 11 am-3 pm -- free
Flowers
Berkshire Botanical Garden
This is opening weekend at the Berkshire Botanical Gardens in Stockbridge. every day from 9 am-4 pm -- $15 / $14 seniors / $12 students / kids under 12 are admitted free
Tulips
The tulip beds in Albany's Washington Park are in bloom and it. Don't wait until Tulip Fest. It might be too late.
SUNY Cobleskill's Annual Plant Sale & Garden Fair
Saturday: SUNY Cobleskill's Plant Science Department hosts an annual sale with vegetables, herbs, perennials, mushroom logs, hanging baskets, and other plants. All the plants are grown by plant sciences students. Soil testing will also be available. Saturday 7 am-4 pm
Outside
Washington Park bird walk
Sunday: There's a bird walk in Albany's Washington Park, co-sponsored by the Washington Park Conservancy and the Albany Institute. "Bird watchers and nature fans of all kinds can try their hand at spotting the many species of birds in Washington Park. Tristan Lowery and John Pipkin from the Washington Park Conservancy will lead the walk and share their birding expertise." Starts at Englewood Place in Washington Park. "Participants should dress for all weather conditions and are encouraged to bring binoculars." Sunday 8 am -- $10 suggested donation
Woods & Waters Day
Sunday: Mabee Farm hosts Woods and Waters Day with nature walks, farm and garden tours, demonstrations, nature crafts and more. Sunday 11 am to 3 pm -- free
Museums
A Bonded Friendship: Moses and Eliphalet
The Schenectady County Historical Society hosts a book talk and signing with Gretchen Hathaway, author of A Bonded Friendship: Moses and Eliphalet. "This book tells the story of how two people, an escaped slave and a college president, become close friends in the small bustling city of Schenectady. The relationship between Moses Viney and Eliphalet Nott has been shared by many in our small community and the writing of this historical fiction brings the story to life for a broader audience." Saturday 2 pm -- $5
The Arkell
Saturday: It's Community Day at the Arkell Museum in Canajoharie. "Come see the wild side of the Arkell Museum and Canajoharie Library and celebrate the animal kingdom! Explore the wide range of animals on display, from daring bronze sculptures to vivid illustrations, then try your hand at making your own animal artwork." There will also be guided tours of exhibits. Free admission.
A Spirit of Sacrifice: New York State in the First World War
Saturday: The New York State Museum recently opened A Spirit of Sacrifice: New York State in the First World War -- an exhibit focused on the contributions of New Yorkers to WWI, both on and off the battlefield. (On display through June 3, 2018.)
Also at the State Museum: The People's Art: Selections from the Empire State Plaza Art Collection, with works by artists such as Mark Rothko, Jackson Pollock, Helen Frankenthaler, Franz Kline, David Smith, and Alexander Calder. (On display through September 3.)
Branding The AfroFuture
Schaffer Library at Union College presents Branding The AfroFuture, an installation by Stacey Robinson. It includes posters, comics, and other multimedia/graphic works that shed light on how black people used music, religion, and art to express their resistance to black oppression. (On display until March 2018.)
Wampum World/Captured Moments
The Albany Institute recently opened Wampum World, a multimedia exhibit that sheds light on the Dutch and Native American cultures. (On display through June 18.) And Captured Moments, an exhibit of photos from its large photography collection continues. (On display through May 21.)
Nick Cave Until
MASS MoCA is exhibiting Until, a new immersive installation by artist Nick Cave. Blurbage: "Through exuberant, politically charged materials, Cave probes issues relating to gun violence, race, and gender inequality. Wrapped in bright glitter, the work is sharp and also painfully beautiful." (On display through August 2017.)
Norman Rockwell Museum
The Norman Rockwell Museum in Stockbridge Hanna-Barbera: The Architects of Saturday Morning. (On display through May 29.)
Together Until the End: Schenectady in the First World War
The Schenectady County Historical Society presents Together Until the End: Schenectady in the First World War, an exhibit on Schenectady during WWI. SCHS is at 32 Washington Ave in Schenectady. (On display through November 2017.)
Food
Troy Food Tours
Saturday: Taste of Troy food walking tours have started up in the Collar City again. The 3 hour 1.5 mile tours include samples from five city restaurants. Availability is limited. Saturday 10 am to 1 pm -- $49 / $29 for kids
Summer Cookout series
Friday -- The Cheese Traveler hosts the first of its Summer Cookout series. Friday, 5 pm to 9 pm
Ice cream season has started
It's spring, it's local ice cream stand season.
Day trips
Explore New Paltz, head for The Berkshires, the Catskills, or Columbia County.
The Mop & Bucket Company, The Albany Institute, Home Made Theater, Troy Music Hall, The Spectrum, and Basilica Hudson advertise on AOA.
Say Something!
We'd really like you to take part in the conversation here at All Over Albany. But we do have a few rules here. Don't worry, they're easy. The first: be kind. The second: treat everyone else with the same respect you'd like to see in return. Cool? Great, post away. Comments are moderated so it might take a little while for your comment to show up. Thanks for being patient.