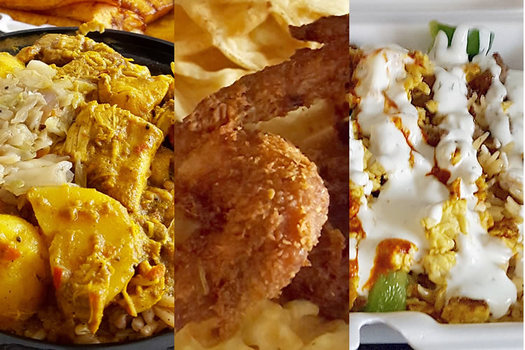 By Deanna Fox
Call it happenstance, or call it good planning: I ate at Troy Kitchen with friends two days in a row recently. That's probably not a big deal for most people, but schlepping from my rural Schenectady County home (with two kids in tow) over to Troy during the evening commute hours isn't always an easy feat.
The reward was worth it, though, especially since the inaugural vendors have moved out and new vendors have taken over booth space as part of the wonderfully conceived rental limits that are part of the Troy Kitchen concept.
It was the perfect opportunity to do a dine-around and sample what the new menus have to offer.
Troy Kitchen has come a long way since its opening last year. The space is more polished, with a varied mix of seating from booths to communal tables and window-facing counters to a lounge area with just enough room to dance when a band or DJ is on stage.
The food options reflect that progress. In the first year, the menu darling that was the biggest draw was the beef bulgogi from K-Plate. It's since rotated out of the Troy Kitchen repertoire, but Bespoki Bowl -- a poke/seasoned raw fish vendor -- continues to serve the "K-Plate" beef dish. Magdalena's Menu is another holdover from the first class of Troy Kitchen vendors, but three others have come forth to occupy booth space and are starting off their tenure with a bang.
Halal Palace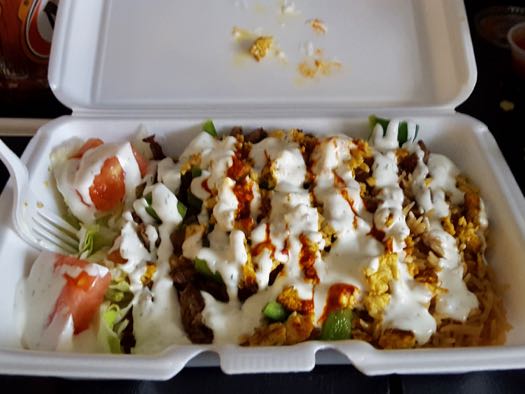 Street food is finally getting its due credit, and NYC-style halal carts are top among them. Kebab (seasoned meat -- here, chicken or lamb -- on a stick) and falafel (the chickpea and/or fava bean puree that is formed into a ball and deep-fried) are the building blocks of the Halal Palace menu. A gyro sandwich ($5) wraps the kebab or falafel in a warmed pita with fresh lettuce and red onion before a drizzle of "white sauce," which blends mayonnaise or yogurt and lemon juice with warm Middle Eastern spices like caraway, sumac, cardamom and a dash of turmeric.
I'd suggest you try the lamb and chicken platter ($6), served with seasoned rice and both white and "hot" sauce, which uses the pungent toasted flavors of harissa pepper paste as its base. If you're new to Middle Eastern or halal cart dishes, the platter is a great primer on the flavors of the cuisine.
Grandma G's Soul Food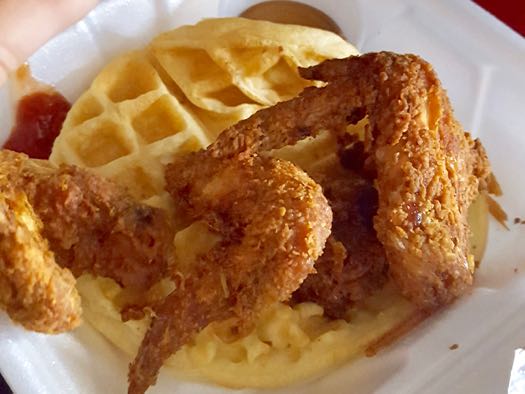 Whenever I hear "soul food" or "grandma" when it comes to a restaurant, I cringe a little. More often than not, those terms are gimmicks designed to draw people in, but rarely deliver.
Not the case at Grandma G's. Southern-style fried chicken wings (that is, the actual wing with tip included. No drumsticks here) ($6) are punctuated with seasoned salt and paprika, double-dredged before a trip into the fryer. Mac and cheese is a buttercup yellow color, with real butter, cheddar and American cheese, and creamy milk. Collard greens are perfectly tender, and never stringy, with a briny pop from a last-minute kiss of vinegar. Wedge fries come in a generous portion and are seemingly blanched, then fried, for a creamy mashed-potato-like interior and a crispy exterior. I can't wait to try the candied yams. The waffles were a bit undercooked to my liking, but all sins are forgiving with a taste of the umber-colored hot sauce, a spicy variation on honey mustard married with Carolina-style BBQ sauce.
M&K Island Hut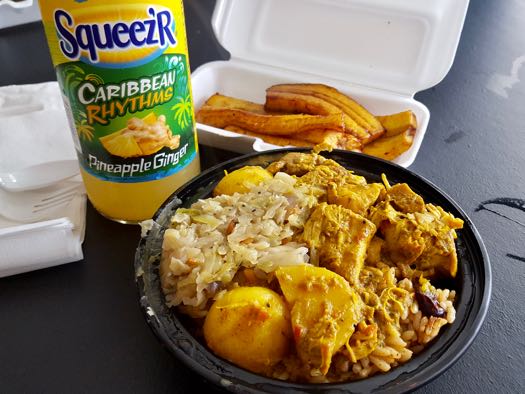 Caribbean food is booming in the region, and M&K Island Hut is a good example of why. Rough cuts of curry chicken ($6) and small, skinless white potatoes are slow-cooked and tinged with the spices of maritime trade routes. Allspice -- a hallmark of Jamaican food -- is abundant and paired with coriander, cumin, anise, and mustard seeds so vibrantly, it tastes as though the spices were ground fresh to order. Pigeon peas and rice offer subtle hints of coconut. Cabbage and carrot are stewed together to bring out the carrot's sweetness, foiled by garlic and paprika. Fried sweet plantains ($2) are cooked at peak ripeness, seasoned with little more than citrus and salt, melting on the tongue with every bite.
____
There's much to love at Troy Kitchen, but perhaps the fact that it even exists is reason enough to appreciate it. The chance to try a new cuisine for a very reasonable price is a treat, and if you don't like what you ordered, simply walk up to another booth.
There are a few vacant spots yet to be filled (the bakery portion left behind by Butter and Sugar company begs for an ice cream or confectioner to step in) and a chopped cheese vendor is slated for the fifth booth. But whatever arrives in the next phase of Troy Kitchen, no doubt it will expose our palates to new and exciting flavors.
Deanna Fox writes about many things, mostly about food. More can be found on her website, Twitter, or Instagram.
More Eat This
+ Sopes at Viva Cinco de Mayo
+ Massaman curry at Emmanuel Thai
+ Buffet dinner at Salsa Latina
Find It
Troy Kitchen
77 Congress Street
Troy, NY 12180
Say Something!
We'd really like you to take part in the conversation here at All Over Albany. But we do have a few rules here. Don't worry, they're easy. The first: be kind. The second: treat everyone else with the same respect you'd like to see in return. Cool? Great, post away. Comments are moderated so it might take a little while for your comment to show up. Thanks for being patient.