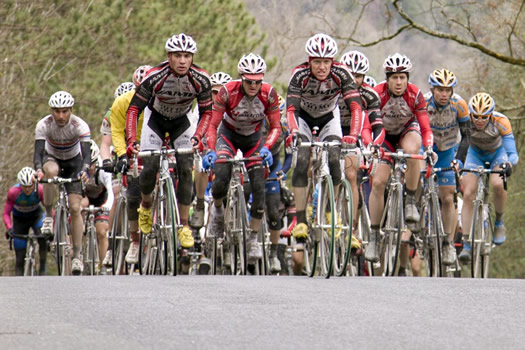 Hello spring. Nice of you to make a return visit. And in time for the weekend.
Looking for something to do in the Capital Region this weekend? Look no further. OK, look a little further -- just after the jump. We've lined up a list of stuff we thought would interest you, including food, beer, cultural festivals, bike races, music, theater and comedy.
Doing something you don't see here? Share it in the comment section so we can all see. And whatever you're up to, have a fantastic weekend.


St. Sophia Greek Festival
Friday-Sunday: Saint Sophia's in Albany hosts its annual Greek Festival this weekend. Greek food, music, dancing and craft vendors. Friday 6-10 pm, Saturday noon-10 pm, Sunday noon-7 pm -- $3 / under 12 free
Albany Barn birthday Barn-B-Q
Friday: The Albany Barn celebrates its birthday with a barbecue -- chicken, ribs and fried fish with sides, plus music art, a raffle and birthday cake. Friday 6 pm -- $15 to $35
Saratoga Brewfest
Saturday: The Saratoga Race Course hosts the annual Saratoga Brewfest. Beers from around the country, food from local restaurants, music and games. Saturday 1-5 pm -- $50
Tour of the Battenkill
Friday- Sunday: The Tour of the Battenkill returns to Washington County this weekend. The event is America's largest one-day pro/am cycling race. There's a bike expo on Friday with an after-party sponsored by Brown's Brewing, bikes races on Saturday, and and a donut ride on Sunday. Friday-Sunday, various times and prices
Waterford Canal Festival
Saturday: The annual Waterford Canal Festival returns to Waterford Harbor with music, performances, kayaking, educational walks, kids activities and more. Saturday 10 am-1 pm -- free admission
Electric City Trucks, Taps, Corks & Forks
Saturday: Electric City Trucks, Taps, Corks and Forks will takeover the parking lot at Liberty and Broadway in Schenectady. The food truck festival is a fundraiser for the Schenectady ARC and includes vendors, craft brews, music and kids activities. Saturday noon-5 pm -- free admission
Lupine Fest
Saturday: The Albany Pine Bush Preserve hosts its annual Lupine Festival. Guided tours, music, wildlife tracking, and bird banding workshops, crafts and more. Saturday 10 am-4 pm -- free admission
SPAC Rock & Run
Sunday: SPAC's annual Rock & Run is in Saratoga Spa State Park. There's a 5K, 10K, a half marathon, and a kids run, followed by a concert featuring a dozen local bands. Sunday starting at 7:30 am -- registration fees from $5 to $50
Fashion on Pearl
Saturday: Peal Street will be shut down on Saturday from Pine to Columbia Street for a fashion show to benefit Ronald McDonald House. Daniel Mozzes Designs will turn the street into an outdoor runway. (There's a VIP party at Pearl Street Pub with a $35 admission.) Saturday 6:30 pm -- free admission
Queen size swap
Sunday: The Hanger in Troy is hosting the Queen Size Swap -- a body- and size-positive clothing swap. Swap clean, gently used clothing size 12 and up. Sunday 11 am-2 pm -- $10 ahead / $15 at the door
Flowers and plants
Cornell Cooperative Extension Garden Education Day and Plant Sale
Saturday: The Cornell Cooperative Extension Albany County's annual Garden Education Day & Plant Sale is at the cooperative extension facility in Voorheesville. Master gardeners will be there for tours and advice, but the big draw is the plant sale. We've been in past years and it's popular. There are a bunch of high-quality garden plants -- including both vegetables and flowers -- for low prices. And people start lining up before it starts in order to get their pick of the offerings. So, get there early and have in mind what you're looking for. Saturday from 9 am-1 pm
Capital Roots Spring Plant Sale
Saturday: The annual Capital Roots spring plant sale is at the org's Urban Grow Center in Troy (594 River Street). We've shopped this sale in the past and we were able to score good plants. It typically has veggies (including heirloom tomatoes), flowers, and perennials. Saturday from 9 am-1 pm
CCE Schenectady County Master Gardener Plant Sale
Saturday: CCE Schenectady County has its master gardener plant sale at the Sustainable Living Center in Schenectady's Central Park. "Organically grown vegetable plants, including heirloom and disease-resistant varieties, Herbs, Annuals and Perennials, Miniature/Fairy Garden Containers, "Planted" Garden-Art Chairs, Garden Theme Tag/Book Sale, Soil Testing, Vermicomposting and Rain Barrel Education, Garden Activities for KIDS." Satuday 10 am-2 pm
Washington Park tulip dig/sale
Saturday-Sunday: The annual Washington Park tulip dig/sale is this weekend . If you want your pick of the tulips, the day to go is Saturday as volunteers dig up the bulbs and get their pick of limited quantities. If you go to the Sunday sale, go early -- the tulips sell very quickly. Saturday and Sunday at 9 am
Landis Arboretum Spring Plant, Book, Bake Sale
Saturday-Sunday: The Landis Arboretum in Esperance (Schoharie County) hosts a spring plant, book, and bake sale. "Landis' sale features selections from respected local consignors, plants grown and tenderly potted up by Landis volunteers, and plants grown in our own greenhouse. We feature many native plants, and often have a 'theme; plant type for the spring sale" Saturday and Sunday from 10 am-4 pm
Greenbush Garden Club Plant Sale
Saturday: The Greenbush Garden Club organizes a plant sale at the Rensselaer Elks Club Pavilion in East Greenbush (683 Columbia Turnpike). Proceeds benefit school gardening and community beautification projects. Saturday: from 9 am-11 am (or until sold out)
Siberian Iris & Perennial Sale
Sunday: The Capital-Hudson Iris Society's annual Siberian Iris & Perennial Sale is in the parking lot of Main Square Shoppes in Delmar (318 Delaware Ave). It's a rain-or-shine event. "Siberian irises, daylilies, hostas, and a wide assortment of sun and shade perennials from our members' gardens. The prices and selection will be extraordinary." Sunday from 9 am-noon
Stage
Angels in America: Millenium Approaches
Friday-Sunday: The Local Actors Guild of Saratoga presents Angels in America, Part I: Millennium Approaches. It's the 25th anniversary of Tony Kushner's Pulitzer Prize-winning play about the AIDS epidemic and a world being smashed apart in preparation for a new order. Friday and Saturday at 7:30 pm, Sunday at 2 pm -- $20
A Shot in the Dark
Friday-Sunday: Albany Civic Theater continues its run of the mystery/comedy A Shot in The Dark. Adapted from the French play L'Idiote, it was the inspiration behind the Peter Sellers Pink Panther movies. Friday and Saturday 7:30 pm, Sunday 3 pm -- $18 / $10 students
Some People Hear Thunder
Friday-Sunday: The musical Some People Hear Thunder continues at Capital Rep. "Some People Hear Thunder is a powerful musical love story - an uplifting tale of a young reporter, his true love in America, and Armenians fighting for dignity and survival in the face of brutality." It runs through May . Friday-Sunday various times -- $20 and up
Blithe Spirit
Friday-Sunday: Theater Voices presents a staged reading of Noel Coward's Blithe Spirit Steamer No. 10 Theatre. Friday at 8 pm, Saturday at 3 pm and 8 pm, Sunday at 3 pm -- free admission
Steel Magnolias
Friday-Sunday: Curtain Call Theater presents Steel Magnolias. Friday and Saturday at 8 pm, Sunday at 3 pm -- $24
Comedy
Pretty Much the Best Comedy Show
Saturday: Mike Recine (Conan, Comedy Central) headlines Pretty Much the Best Comedy Show Underground at Proctors. Saturday 8 pm -- $15 advance / $20 at the door
TheaterSports
Saturday: MopCo presents TheaterSports. Teams of Improvisors compete against each other to create songs and scenes based on audience suggestion (think Whose Line is It Anyway) Saturday 8 pm -- $15 / $6 for students and seniors.
Film
Bond. James Bond
This weekend at The Madison: the 1973 Bond classic Live and Let Die. Also at The Madison this weekend: The Lego Movie and The Black Swan
Rosencrantz & Guildenstern are Dead
Saturday: The Clark is screening the London National Theater production of Tom Stoppard's Rosencrantz & Guildenstern are Dead, starring Daniel Radcliff and Josua McGuire. "Against the backdrop of Hamlet, two hapless minor characters, Rosencrantz and Guildenstern, take center stage. As the young double act stumbles their way in and out of the action of Shakespeare's iconic drama, they become increasingly out of their depth as their version of the story unfolds." Saturday 1 pm -- $18
Drive-ins
Drive-in season has arrived:
+ Malta: Screen 1: Alien Covenant and Snatched | Screen 2: Guardians of the Galaxy and Going in Style
+ Jericho:: Guardians of the Galaxy and Beauty and the Beast
+ Hollywood: Diary of a Wimpy Kid and Guardians of the Galaxy
Music
Friday: Drake White and The Big Fire at Upstate Concert Hall
Country. With: Dave Kennedy. 8 pm -- $12 ahead / $15 day of
Friday: The Sean Rowe show a The Hangar is sold out
Friday: Scott Sharrard & The Brickyard Band at The Upper Room
Guitarist from the Gregg Allman Band. 8 pm -- $20 and up
Friday: Emma's Revolution at Proctors
Folk. An 8th Step show. 7:30 pm -- $25 and up
Friday: Jon Snodgrass at The Low Beat
From Drag The River. With: Postage, Mikey Erg. 8 pm
Saturday: Sisters of Slide: Rory Block & Cindy Cashdollar at Caffe Lena
Blues. 8 pm -- $40
Saturday: Carl Palmer ELP Legacy at The Egg
"A drummer's drummer." 8 pm -- $38
Saturday: Freedom Fest 2017 With Ramallah at Upstate Concert Hall
Metalcore. With: All Out War, Terror, 100 Demons, and others. 12:30 pm -- $30 ahead / $40 day of
Sunday: Girl Blue at Caffe Lena
Rescheduled from February. 7 pm -- $16
International CrossFit Games
Friday-Sunday: The TU Center hosts the Reebok East Regional CrossFit Games this weekend. The games are a three day fitness competition. Friday-Sunday, various times and prices
Touch-a-Truck
Saturday: The annual Touch-a-Truck fundraiser will be help in the Crossgates Mall Dave and Buster's overflow parking lot. Kids of all ages can climb on and interact with fire trucks, military vehicles, big rigs, construction rigs and more. Proceeds benefit Veterans Count, NY. Saturday 9 am-2 pm -- $5 per person / $15 per family
Comic Jam
Saturday: Artist Ira Marcks hosts another Comic Jam at the Troy Public Library. Jams are collaborative comic workshops and you don't have to have any experience to join in. Drop in for a few minutes or stay the whole time. Work on an existing project or develop your own. Saturday 1-4 pm -- free
Search Party
Saturday: Confetti Stage hosts Search Party -- a treasure hunt adventure at the Albany Masonic Hall. Saturday 10 am-4 pm -- $13 for an individual / $10 on site for team members in groups of 4 or more
Oakwood Cemetery bird walk
Saturday: Birding experts will lead a morning bird walk through Oakwood Cemetery in Troy and identify migrating birds. An easy walk for all levels past ponds, waterfalls and more. (Rain date is Sunday.) Saturday 8 am-11 am -- $15
Spindle City & Van Schaick Mansion Heritage Day
Saturday: Historic Van Schaick Mansion celebrates Cohoes Heritage Day with tours, re-enactors, colonial games, and information on archaeology, genealogy, and more. Saturday 10 am -- free admission
Sacred Sites open house
Saturday-Sunday: A number of historic houses of worship around New York State are hosting open houses this weekend, and several Capital Region sites are participating, including the Albany Cathedral and St. John's in Troy. Here's how to find the open sites.
Baby animals
This is the last weekend to see the baby animals at Indian Ladder Farms. $6
Saratoga Springs Horse Show
Saturday-Sunday: The annual Saratoga Horse Show is at the Yaddo Show Grounds (across the street from the flat track on Union Avenue). The show includes hunters and jumpers. Saturday and Sunday starting at 8 am -- $4 / under 12 free
Museums
Blacksmithing workshop
Sunday: Mabee Farm is hosting a blacksmithing workshop. Sunday 9 am-5 pm -- $150 includes materials (registration required)
UAlbany MFA
This is last the weekend for the Master of Fine Arts Thesis Exhibition at the UAlbany Art Museum.
Berkshire Botanical Garden
The Berkshire Botanical Gardens in Stockbridge are now open for the season. every day from 9 am-4 pm -- $15 / $14 seniors / $12 students / kids under 12 are admitted free
A Spirit of Sacrifice: New York State in the First World War
Saturday: The New York State Museum recently opened A Spirit of Sacrifice: New York State in the First World War -- an exhibit focused on the contributions of New Yorkers to WWI, both on and off the battlefield. (On display through June 3, 2018.)
Also at the State Museum: The People's Art: Selections from the Empire State Plaza Art Collection, with works by artists such as Mark Rothko, Jackson Pollock, Helen Frankenthaler, Franz Kline, David Smith, and Alexander Calder. (On display through September 3.)
Wampum World/Captured Moments
The Albany Institute's continues Wampum World, a multimedia exhibit that sheds light on the Dutch and Native American cultures. (On display through June 18.) There are only a week left to see Captured Moments, an exhibit of photos from its large photography collection continues. (On display through May 21.)
Nick Cave Until
MASS MoCA is exhibiting Until, a new immersive installation by artist Nick Cave. Blurbage: "Through exuberant, politically charged materials, Cave probes issues relating to gun violence, race, and gender inequality. Wrapped in bright glitter, the work is sharp and also painfully beautiful." (On display through August 2017.)
Norman Rockwell Museum
The Norman Rockwell Museum in Stockbridge Hanna-Barbera: The Architects of Saturday Morning. (On display through May 29.)
Branding The AfroFuture
Schaffer Library at Union College presents Branding The AfroFuture, an installation by Stacey Robinson. It includes posters, comics, and other multimedia/graphic works that shed light on how black people used music, religion, and art to express their resistance to black oppression. (On display until March 2018.)
Together Until the End: Schenectady in the First World War
The Schenectady County Historical Society presents Together Until the End: Schenectady in the First World War, an exhibit on Schenectady during WWI. SCHS is at 32 Washington Ave in Schenectady. (On display through November 2017.)
Food
Ice cream season has started
It's spring, and local ice cream stands are beckoning.
Day trips
Explore New Paltz, head for The Berkshires, the Catskills, or Columbia County.
Farmers' markets
It's May, and the area farmers' markets are outdoors for the season.
+ Troy Waterfront Farmers Market is on River Street around Monument Square. Saturday 9 am-2 pm
+ The Delmar Farmers Market is Bethlehem Central Middle School (332 Kenwood Ave). Saturday 9 am-1 pm
+ The Saratoga Farmers' Market is outdoors at High Rock Park Saturday 9 am-1 pm
+ The Schenectady Greenmarket is at its outdoor location around city hall. Sunday 10 am-2 pm
+ The Spa City Farmers' Market is on the lawn of the the Lincoln Baths. Sunday 10 am-3 pm.
Troy Makers Market
Saturday: Local craft vendors will display and sell wares at the Troy Makers Market in conjunction with the Troy Waterfront Farmers Market. Saturday 9 am to noon
The Mop & Bucket Company, the Albany Barn, and The Albany Institute advertise on AOA.
photo: A Mengel
Say Something!
We'd really like you to take part in the conversation here at All Over Albany. But we do have a few rules here. Don't worry, they're easy. The first: be kind. The second: treat everyone else with the same respect you'd like to see in return. Cool? Great, post away. Comments are moderated so it might take a little while for your comment to show up. Thanks for being patient.