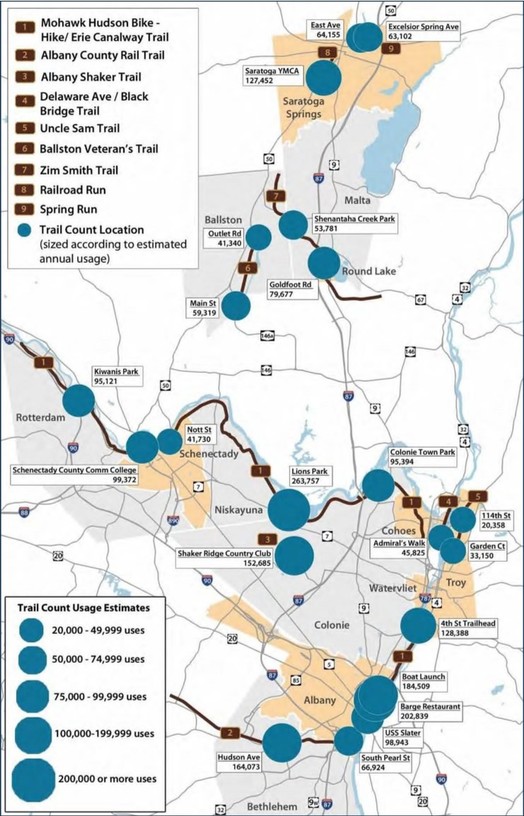 That map above depicts estimated usage at various points for the area's walk/bike trails based on survey and tracking done last year for the Capital District Transportation Committee. The full report is online if you'd like more detail and/or see how the numbers were gathered.
A few bits:
+ Points on the Mohawk Hudson Bike-Hike Trail had the top three highest-usage spots among all the trails: Lions Park in Niskayuna with an estimated 263,757 users, the Barge in Albany's Corning Riverfront Park with 202,839, and the boat launch in Corning Riverfront Park at 184,509.
+ Though relatively new, the Albany County Helderberg-Hudson Rail Trail had the fourth highest-usage spot -- Hudson Ave in Bethlehem at 164,073. The trail's South Pearl Street endpoint recorded an estimated 66,924 users. It'll be worth watching to see if the 2-mile connector the city of Albany is planning to build between the trail trail and the Mohawk Hudson Bike-Hike Trail will prompt more usage there.
+ The research also included gathering info about how and why people were using the trail. A bit that stuck out to us: Most of the people who use the trails drove to the trail first. From CDTC's June newsletter: "Trips that began with walking or bicycling to the trail were more likely to be for non-recreational trips like commuting and running errands." That makes us wonder if there are ways to better connect these trails with surrounding areas so that can be used more for "everyday" transportation, and whether that might diversify the types of people who use the trails.
+ CDTC also surveyed owners of residential properties along the trails. More than 60 percent said they were "satisfied" or "very satisfied" with having the trail nearby.
Earlier:
+ Here are the station locations for the bike share starting later this summer
+ The plan to connect two major bike paths at the Albany waterfront
+ The Madison Ave Road Diet moves to phase two
+ Bike Albany Map