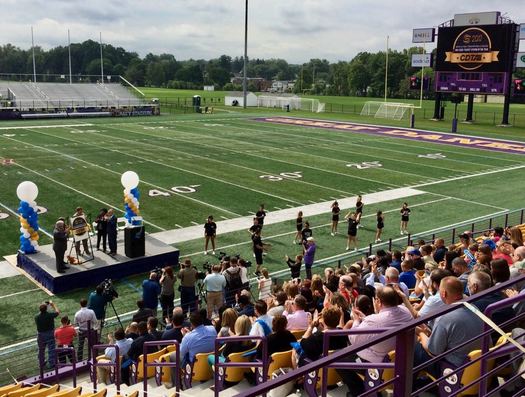 CDTA has been named the best mid-sized public transit system in North America by the American Transportation Public Transportation Association, a transit industry org. The local transit org announced the honor at UAlbany's Casey Stadium Tuesday.
The award is based on the span between 2014 and 2016. From APTA:
In the past three years, CDTA's ridership has been at record or near-record levels because of innovative projects like upstate New York's first [bus rapid transit] service and a successful Universal Access rider program. Additionally, bus frequencies have been increased during peak travel times to 10-12 minutes on most trunk services, a frequency that is unusual for a mid-size bus system.
CDTA joins the Toronto Transit Commission (large system) and Knoxville Area Transit (small system) in the honor.
As the blurb mentions, CDTA has had record-high ridership in recent years. In fiscal year 2016, boardings were up 25 percent compared to five years earlier. And those universal access programs -- in which large institutions arrange with CDTA for their employees/students to ride free -- represented 25 percent of all boardings in the system in that fiscal year. And this year the org launched a bike share.
"Continued improvement," is what CDTA CEO Carm Basile said Tuesday when asked after Tuesday's announcement about what's next for the transit org. He's worked at CDTA for 36 years -- he got hired right out of college -- and done all sorts of jobs within the org. "We want to be better at what we do. We want more people to ride our buses. We more people to use our facilities. We more people to ride bikes ... We're not satisfied easily."
CDTA advertises on AOA.