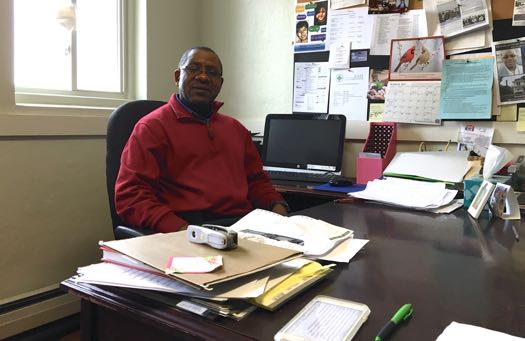 This week we're sharing the stories of a handful of refugees who have found new homes in the Capital Region.
For 17 years, Francis Sengabo was a man without a country.
In 1994, Sengabo escaped the genocide in Rwanda and went to a refugee camp in Tanzania. In Rwanda he had worked in planning and administration and later for the Red Cross and the UN High Commission for Refugees. In the camp in Tanzania he worked helping refugees while he waited for the UNHCR to decide where in the world he would go next.
He almost ended up in Australia. Thousands of Capital Region refugee families are better off because he landed, instead, in Albany.
Sengabo is one of the founders of RISSE, Refuge and Immigrant Support Services of Emmaus, where he's now the operations director.

What were you hoping for when you came to Albany?
I came here with nothing except hope. Hoping to be in a country where I could be secured with my family and able to work. Because, you understand that since 1994 up through 2007 I was stateless. And 2012 I became citizen. Seventeen years I was stateless, without legal document from a country.
When I came here to Albany I didn't know anybody, but the United Methodist Church was interested in hosting refugees from Congo. My wife was coming from Congo. We were here for two days and a former pastor came who spoke a little French. She asked what I was doing in my country and in refugee camp. She asked about our needs. I told her I needed to learn English. She said she can help and taught us English through bible.
What surprised you when you first came here?
Many things I was surprised. When we are overseas in our country we hear about democracy and free speech.
First of all I was surprised I could not talk to another person in French. Because everyone was speaking English.
Also I was surprised how people work individually. I never talked to my neighbor. In Africa, the whole street, you know each other -- you will sit down and talk. But everybody is at work here and in Africa they many people are idle, they don't have a job.
One day I took the bus, I went to Westgate, and generally in my country when you go to the bus you give the money to the driver -- which I did. It was $10 and the driver was surprised. I did learn that you must have change. He was a nice guy and he said "no, stay."
Everything that is electronic surprised me.
How did you start working with RISSE?
We found our kids were idle while school ended, they don't have anywhere to go. Pastor suggested I write a proposal to the church to help family of refugees and to help kids and that is how this RISSE program started. It started as a project of intervention for low income.
The community is so helpful, especially for this program. By the end of 2014, I believe, the house we are using caught fire. And the community helped and now we are using it. And we welcome for people to give us ideas how we can build up. We welcome volunteers.
You were a refugee and you work with refugees every day. What would you like others to know about the refugee experience?
To be a refugee is a bad experience, because sometimes people don't think how anybody can be a refugee. It doesn't matter where you live. The situation can change in one second.
Refugees are generally people who are vulnerable. You can imagine that someone will come to the US -- never went to school, doesn't know how to read, how to write ... how this person will survive in the US.
Third is to learn. I have been in this country 10 years and still I am learning. Refugees need help from the community to be independent. People are coming here from poor environment and not knowing anything, but to learn it takes time. But when you give them something to do, they can work. They need a job. But they need to learn. What I went through is not easy.
There are cultural adjustments as well, right?
To adjust is very hard. I have my wife and kids, one born here and two in Africa. Kids -- teenager is not easy. We do a chart for the kitchen because my wife works and I work. In my country women depend to the men and kids depend to the father. In my country kids belong to the community, not to individuals. Education is a triangle: school, community, and parents. Where here is not.
When I came here my older daughter was 7 years old. When you come with kids is not easy. My son and daughter were making schedule in the kitchen of when everybody can work, and I found my name there (laughs) and my wife came and said, "Why your father's name there?" But I sit down with them to say you are correct, we have to help each other.
The way family is built up here is different. I can tell you when I go to help families in the court, is different and can be difficult. For school I remember a professor said, "I can get a grant for books for parents to read stories to the kids." But I say, no, that doesn't work, maybe kids can read to the parents.
Do you feel like this is your home now?
Oh, yes, I do.
Because, of course, I don't know how to put in English, but -- nowhere is better than home. Always your home is better. But because of what happened there I don't have any member of my family in my country, so I feel that here I am safe and I am secured and when I talk to people from my country and other countries, they don't have food, they don't have schools, still there is a problem.
But here I am safe and I am home.
____
Earlier
+ Finding refuge: Olivier Mandevu
+ Finding refuge: Ni-Lar Way, Besa Paw, Christer-Say, Christer-Htoo
+ Finding refuge: Tafsela Hashimi
+ Finding refuge: Haeneypew Sey
+ Finding refuge: Amgad Abdalla
+ Finding Refuge: Niebiha
Hi there. Comments have been closed for this item. Still have something to say? Contact us.