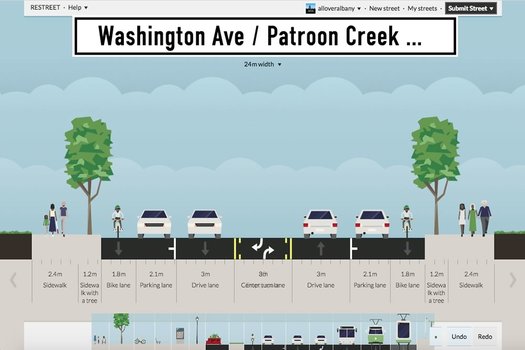 One of the difficult aspects of having public discussions about projects like the Madison Ave Road Diet is that it's hard for non planners/engineers to explicitly show what they'd like to see (it's true of building projects, too). And, maybe as a result, the discussion ends up being centered around what people don't want.
So this web app looks like it could be interesting and helpful: ReStreet allows anyone to plan the design of a street, laying out sidewalks, bike lanes, vehicle travel lanes, transit lanes, whatever. And then you can share the design with other people.
That image above is a screengrab of a sample design that we worked up this afternoon for upper Washington Ave in Albany.* The design includes wide sidewalks, protected bike lanes, a single travel lane in each direction, and middle turn lane.
What we like about this app is that it enables members of the public to essentially say "more like this," which seems like a path toward more productive discussion. So go give it a try.
[Via CityLab, which has backstory on the app.]
____
* Why upper Washington Ave? We've been thinking about it because the Capital District Transportation Committee, city of Albany, and UAlbany have been laying the groundwork to study the corridor in order to possibly change the design to better fit the recently lowered speed limit there.
Hi there. Comments have been closed for this item. Still have something to say? Contact us.