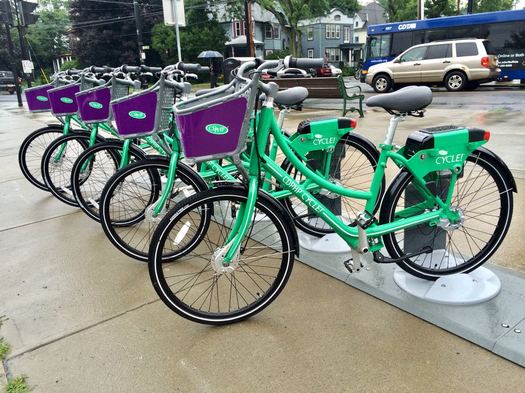 CDTA says it's ahead of its goal for the number of people signing up to use the new bike share -- the transit org says CDPHP Cycle has 2,028 members so far. The goal for the entire 2017 season was 2,000 members.
That was one of the numbers CDTA released Thursday in an update about the bike share. It reported that people have taken 7,615 bike rides using the system. Here's a breakdown of rides by city (rides per hub in each city):
+ Albany: 5,274 (264)
+ Saratoga Springs: 1,121 (280)
+ Troy: 764 (109)
+ Schenectady: 456 (65)
That Albany's had the most number of rides isn't surprising -- it also has way more hubs (20) than other city (7 for both Schenectady and Troy, 4 for Saratoga Springs). But its rides-per-hub number is still relatively high compared to Troy and Schenectady.
CDTA has said it would be using this first season to gather data about what's working -- and not working -- as it plans for expanding the system next year. It's looking like a key question will be why ridership is Troy and Schenectady is so far behind the other two cities.
Additional numbers from press release blurbage:
Nine of the top 10 busiest hubs were in Albany, with Hudson River Parkway - Corning Preserve leading the way. The Saratoga Spa State Park was the top hub in Saratoga Springs; Proctors Theatre (Jay and State Streets) was most popular in Schenectady; and the corner of Hill Street and Liberty Street, adjacent to Prospect Park, was the top hub in the Collar City.
Some other interesting stats include:
Average length of trip: 33 minutes
Average distance: 2.8 miles
Longest distance traveled: 24 miles
The bike share is scheduled to run through the end of November, weather permitting. CDTA's planning to roll it back out next April with 160 more bikes and additional hubs.
____
Earlier: Checking out the new CDPHP Cycle bike share
CDTA and CDPHP advertise on AOA.
Hi there. Comments have been closed for this item. Still have something to say? Contact us.