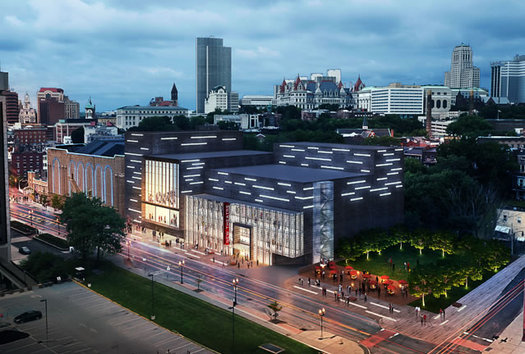 The Capital Region Regional Economic Development Council released its 2017 progress report this week. And one of the things that's immediately notable about these reports is the list of proposed priority projects up for state money in the next round of the Cuomo administration's Regional Economic Development Council initiative.
You know, these are the grants that are announced at an awards-show-like event, usually in December.
The list usually includes some interesting bits, and it also sometimes surfaces notable projects that are in the works.
So, let's have a look at a handful of items that caught our eye. They include mixed-use residential projects, the Schuyler Building renovation, the Capital Roots Grow Center, and -- for a second year -- the proposed Palace Theatre expansion...
Priority project list
There's an easy-scan listing of the CREDC's "priority" projects at the top in large format -- click or scroll all the way up.
The full report -- which include a bunch of bits about the Capital Region, as well as other projects in the running for potential grant money -- is also embedded up there. It includes a list of the status of previous projects that have gotten grant money, including projects that were "terminated."
A few projects that caught our eye
It's important to note that these projects -- and others listed in the the CREDC's report -- might not get funded. And if they do get funded by the state, they might not get funded at the requested level. And even if these some of these projects do get awarded funding, they still might not happen. And others that don't get funding might end up happening.
Urban Grow Center | Capital Roots
project cost: $3.7 million | ESD grant request: $700,000 (all public funds $1,442,000)
Description clip: "Project funding is requested to complete development of the Grow Center's nearly two-acre campus to include expanded indoor and outdoor public space, an incubator kitchen, an improved food hub responding to growing institutional demand for local foods, and a bank of greenhouses that will support local food production. The project also will house an adult job readiness program based on the successful Produce Project model, which has been operating since 2009 to serve at- risk youth. Previous grants have allowed Capital Roots to double food sales and foster an explosion of local redevelopment.The requested funding will enable Capital Roots to again double sales of local foods, providing $1 million to the local food economy annually and continue the local redevelopment sparked by the first phase of the project." Earlier: A tour of the new Urban Grow Center
Schuyler Building Renovation | UAlbany
project cost: $12 million | ESD grant request: $2.4 million (all public funds $12 million)
Description clip: "his project will allow the University at Albany to move forward
with the first phase of interior renovation and partial occupancy of the vacant Schuyler Building, the 105-year-old former Albany High School that will house the university's new College of Engineering and Applied Sciences (CEAS). It will transform the 1912 Gothic Revival building into a state-of-the-art home of the new engineering college. While the exterior will be historically restored, the inside will be remade into a network of modern classroom, laboratory and of ce spaces including maker/
tinker space and a refurbished 1,000-seat public auditorium." Earlier: Checking in on UAlbany's plan to convert the Schuyler Building
Starlite Theater Redevelopment | Starlite Associates, LLC/Galesi Group
project cost: $46.5 million | ESD grant request: $5 million (all public funds $6.3 million)
Description clip: "The project involves both infrastructure and building on a 58-acre site in the Town of Colonie, once the home of the Starlite Theater at 629 Columbia St., where there is currently severe traf c congestion. The infrastructure component of the project involves building a 0.40 mile-long connector road through the site to increase traffic capacity and improve traffic ow at the nearby intersection of Route 9/Route 9R/I-87; it will also include new sidewalks for pedestrians. Collectively, these projects will include approximately 860,000 square feet of office space, 3,000 dwelling units (single family homes, condominiums, apartments, senior housing) and 310,000 square feet of retail development. The project's second component will have two phases: Phase I, a spec 150,000-square-foot, multi- story of ce building with walking trails; and Phase II, a second 150,000-square-foot office building."
Schenectady Innovation Project | Re4orm Architecture
project cost: $15 million | ESD grant request: $2.9 million (all public funds $3.35 million)
Description clip: "This project will renovate 66,000 square feet of water-damaged, deteriorated space in downtown Schenectady to create a center for food and beverage production and development, as well as labs and training facilities for culinary education. It will include major upgrades to the façade of the building, which originally housed Breslaws Department Store. It will also completely transform what is currently a blighted 1.246-acre area in the severely distressed lower State Street area of downtown Schenectady. Damage from Hurricane Irene and Tropical Storm Lee, along with deferred maintenance, left this structure rundown and infested with mold. The new development will house SUNY/Schenectady County Community College's culinary and craft beverage lab space, including an on-site "incubator" kitchen, an in-house retail brewery, eight tenant brewers (three start-ups, four established), SUNY/SCCC, a restaurant, a cooperage, tasting areas and a Taste NY retail store."
Starbuck Island Development Project | South Island Apartments LLC
project cost: $9 million | ESD grant request: $1.8 million (all public funds $1.8 million)
Description clip: "By reclaiming an abandoned and contaminated industrial site, the funding will support creation of a livable community along with access to the Green Island waterfront with a publicly accessible marina and promenade. The project also improves safety by remediating/ redeveloping a vacant and contaminated area, while creating a main street feel with housing, restaurants, a marina, and a promenade and amphitheater in a location easily accessible to a larger commercial location. The proposed commercial uses will create jobs for those in the region, create new location desirable for housing, and allow patrons and residents to walk to their destinations, thus eliminating the travel barriers felt by many low income residents." (This is the site directly across the river from downtown Troy.)
Maker Space at Hillside View | Albany Barn
project cost: $645,000 | ESD grant request: $85,000 (all public funds $485,000)
Description clip: "This maker space, located in a mixed use development of a national register historic building, will provide multi-faceted support to accelerate the growth of creative businesses by offering affordable space, equipment, technical expertise and business development opportunities. At the same time it will offer employer-informed training programs to enable community residents, who in turn will be able to provide skilled contract labor to creative startups or pursue a career or education."
Broadway Streetscape Project | City of Albany
project cost: $750,000 | ESD grant request: $150,000 (all public funds $750,000)
Description clip: "This funding will support major improvements to the streetscape linking Albany's downtown Business Improvement District with Impact Albany's priority Warehouse District. The improvements include new lighting and sidewalks, upgrades to intersections and crosswalks, planting of street trees and additions of furniture. Taken together, the investments will enhance vehicle, bicycle and pedestrian safety and comfort. They will also coordinate and improve public transit in the area in ways that tangibly demonstrate Albany's commitment to downtown revitalization and climate action."
Palace Theatre Renovation and Revitalization Project | Palace Performing Arts Center Inc
project cost: $29 million | ESD grant request: $2.5 million (all public funds $5 million)
Description clip: "Project funding is being sought as part of a major renovation and revitalization of Albany's historic Palace Theatre. Funds will be dedicated to much-needed repairs to the historic theatre's infrastructure, renovations to seating and patron accessibility to meet Americans with Disabilities Act requirements, enhancement of the stage and backstage support services, and creation of a loading dock, all which will enable continued and increased programming of events." (The Palace requested money for this project last time around, but didn't get it.) Earlier: The Palace is planning a major expansion
Earlier
+ Capital Region economic development grants: Tivoli Preserve, Albany Skyway, Nipper, Troy movie theater, craft beverages, and more
+ Scanning the Capital Region Econ. Development Council's new batch of priority projects (2016)
Hi there. Comments have been closed for this item. Still have something to say? Contact us.