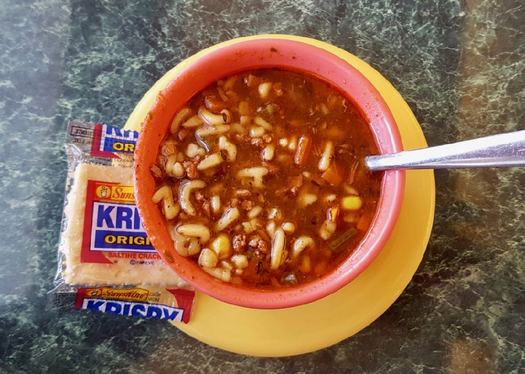 By Deanna Fox
Let's face it, beef can be boring. And most times, it is.
Burger joints focus on loading up toppings instead of creating a flavorful patty. Steak is almost always overcooked and improperly seasoned. Soups made from beef stock are nearly universally oil slicks, too unctuous to sip.
Fortunately for me, I live in a place rife with great beef preparations. I can get house-aged Chateaubriand within walking distance of my abode at The Bears. Quality cuts of farm-fresh meat are just a quick drive away at various farms and a butcher shop.
But it's a humble preparation -- beef and vegetable soup -- that is unrivaled.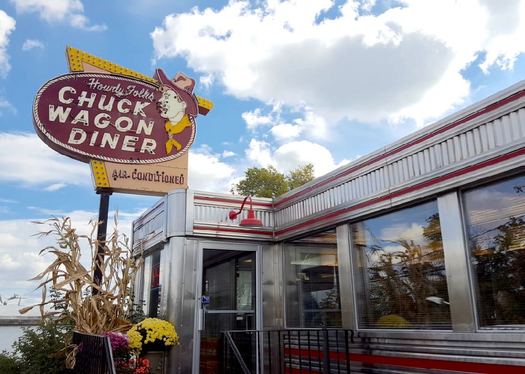 When you approach the Chuck Wagon Diner, on the Schenectady/Albany County line in Duanesburg, you can tell from outward appearance alone that the eating experience will be that of a classic American diner. Chromed and glistening with plenty of neon, the diner car was placed on a knoll at the base of the Helderbergs a handful of years ago and is rarely vacant during business hours (7 am-3 pm daily).
What's surprising is how good the food actually is. The resplendent nostalgia of the diner, including the Wall-O-Matic jukebox system, is a great draw -- but the home-cooked food keeps customers coming back.
Beef vegetable soup isn't something I tend to order when I'm out. It's usually from a bag, I'm almost always disappointed, and I know I could make a better version by simmering some leftover steak or brisket for a half-hour on my own stove. But I recently found myself at The Chuck Wagon with someone who didn't eat beef and sis dinner came with a cup of the soup o' the day: beef vegetable.
I was willing to take it off his hands.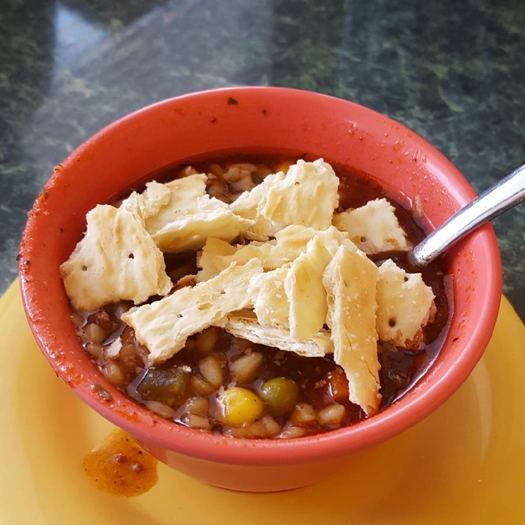 His loss, my gain. The soup was rich, as though the broth was made from scratch by roasting bones and vegetables together to deepen the nuances of each flavor (sweet carrot, acidic onion, savory marrow, tannic bay leaf) and included chunks and strands of tender beef that were browned in the pot before stock was added to deglaze the fond and brown nubbins that emphasis flavor. (I thought the meat was ground at first; it seems to just be finely minced.)
Tomato is added before salt and pepper and carrot, celery, peas and corn. The final addition is a bit of pasta... alphabet pasta. I had to control myself from trying to spell out words on my spoon with found letters.
It's a wonder how much of a treat alphabet pasta is as an adult, especially when it's in soup this good.
The cup was filling enough to sate me before my meal arrived, and the topping of saltine crackers was unnecessary but too tempting to resist.
A simple $3 cup of soup was all it took to jumpstart my interest in beef soup and bolster my love for soulful, unfussy gems (like Chuck Wagon Diner). I've got my own batch simmering on stove now.
Deanna Fox writes about many things, mostly about food. More can be found on her website, Twitter, or Instagram.
More Eat This
+ Vegetable stew at Kismet
+ Cereal sundae from Bumpy's Polar Freeze
+ Breakfast sandwich at Wren & Rail
Find It
The Chuck Wagon Diner
653 Western Turnpike
Duanesburg, NY 12056
Hi there. Comments have been closed for this item. Still have something to say? Contact us.