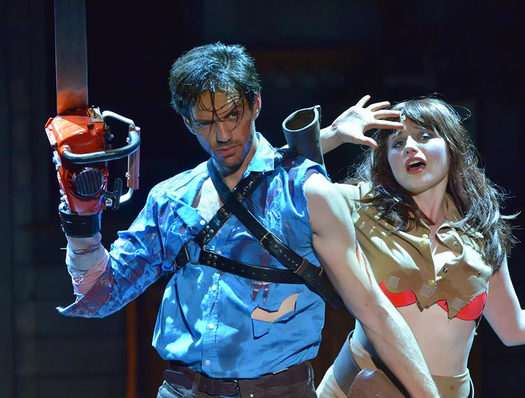 This weekend is a veritable trick-or-treat bag of stuff to do. And it's all fun sized.
Our list includes Halloween parties, haunted tours, scary movies, trunk-or-treating -- and some non-Halloween related stuff, too.
Doing something you don't see on our list? Share it with the rest of us in the comments.
Don't be frightened (unless you want to be.) And whatever you're up to, have a fantastic weekend.


Troy Night Out
Friday: Troy Night Out celebrates Halloween. Shops and galleries will be open late with art, events and specials. Here are a few things they have planned:
+ Participating stores will welcome trick-or-treaters
+ Oobleck has a concert in Monument Square
+ Mystery & Mayhem tours of downtown Troy presented by the Hudson Mohawk Industrial Gateway and Rensselaer County Historical Society - departing from 251 River Street ($15, $10 for students)
+ So it Would Seem, a new exhibit where artist manipulate vintage photographs and create works based on found images, opens at The Art Center of the Capital Region

Friday 5-9 pm -- most events are free unless otherwise marked
Halloween
Halloween is this Tuesday, but the celebrations begin this weekend.
Chris Pratt's Halloween Party - Under the Big Top
Friday: Chris Pratt's annual Halloween party will be held at Jennings Landing -- "down by the river" -- in Corning Riverfront Park. Costumes are mandatory. Friday 9 pm-midnight -- $30
Takk House Halloween Party
Friday: The Takk House is hosting a Halloween Party. Dancing with DJ Zane, Nine Pin Cider and Common Roots Brewing Company, Costume contest, photo booth and more. (21+) Friday 8 pm -- no cover
Boo-jolais Vampire Ball
Friday: The Alliance for Positive Health hosts the annual Boo-jolais Vampire Ball at the Albany Capital Center. An evening of costumes, wine tasting, food, desserts and more. Friday 6 pm-10 pm-- $90/$150
The Masquerade Presents: Streets of London
Friday: The Schenectady Armory will be transformed into 19th Century London for the Streets of London masquerade. It's a costume ball to benefit the Ronald McDonald House. Friday, 7 pm to 11 pm -- $175
Trunk or Treat
Saturday: UAlbany's School of Social Welfare is hosting a Trunk or Treat event in the Thurlow Parking Lot at 135 Western Avenue. Crafts, raffles, food, a bounce house and trunk or treating. Saturday 4-7 pm -- free
Lark Street BID's Annual Halloween Party
Saturday: The Lark Street Business Improvement District's annual party is back a the Washington Park Lake House. "There will be an Open Bar with Craft Beer, Cider & Wine, a photographer, costume contests, music and amazing decorations! Last year's event sold out and we expect this year to be even more fun!" Saturday 8-11:30 pm -- $40
90s Halloween Dance Party
Saturday:The Fuze Box hosts a 90s Halloween dance party. Saturday 9 pm-4 am -- free before 10 pm / $5 after 10 pm
City Fear Hall at the City Beer Hall
Saturday: City Beer Hall turns into City Fear Hall, filled with ghosts, ghouls, goblins and zombies a costume contest and more. Saturday 11 pm
Halloweentown
Sunday: The Palace hosts a screening of Halloweentown, with pre-show family friendly activities. Sunday noon -- $5
Hudson Halloween Parade
Sunday: Hudson's annual Halloween parade is on Warren Street. stores are open for trick-or-treating starting at 2 pm, parade at 4 pm -- free
Boo!
It's the time of the year when some of us like to scare ourselves silly. Here are a few options:

Murder at Cherry Hill
Friday - Saturday: Historic Cherry hill is hosting crime scene investigation tours surrounding the notorious 1827 murder at the site, which resulted in Albany's first public hanging. Friday and Saturday 5:30 pm and 7 pm -- $18 (paid reservations required)
Ghost Ship Cruise
Friday: Adirondack Cruise & Charter Co. is hosting a ghost ship cruise on Saratoga Lake. Friday and Saturday 7 pm and 8:30 pm -- $20 / $10 for kids
Zombie Zip Line
Mountain Ridge Adventure in Schenectady presents a zombie zip line tour. Various times and prices
Double M Haunted Hayride
The Double M Haunted Hayrides are continue through Halloween. various times and prices
Haunted Corn Maze
Friday-Sunday: The haunted corn maze is back at Schuyler Farms. Friday 4-10 pm, Saturday 10 am-10 pm, Sunday 10 am-6 pm -- daytime $8 / haunted $14
Field of Horrors Sneak Peak Weekend
Friday-Saturday: The Field of Horrors haunted attractions in Brunswick is open for the season. Saturday-Sunday 6:30-11 pm -- various prices
The Spirits of Rensselaer: RPI's Historic Ghost Tour
Friday - Saturday: The Spirits of Rensselaer, a 90-minute historic ghost tour of the lower RPI campus, continue this weekend. Friday & Saturday 8 pm -- $5 / free for RPI community
Nightmares at Liberty Ridge Farm
Saturday: Liberty Ridge Farm's Nightmares is open for the season with six haunted attractions, including two haunted houses and a haunted corn maze. Saturday 7-10:30 pm -- $15-$26
Ghosts in the Yaddo Garden Tours
Friday and Sunday: Yaddo is offering ghost tours of its gardens featuring stories of Native Americans, Edgar Allan Poe, and the Trask Family. Friday and Sunday 5 pm -- $10
Ghosts of Albany Walking Tour
Friday: The Ghosts of Albany Walking Tours work their way through downtown Albany telling "stories of ghosts, antique sites, scandalous tales, haunted places, mysterious sightings of apparitions, strange and unusual accounts of centuries past, legendary stories, folklore and ghostly experiences stranger than reality." They meet at the Hilton at 40 Lodge Street. Fridays 7:30 pm -- $15 per person (make a reservation, space fills quickly)
Stockade walking tours
Friday: Take a candlelight walking tour of Schenectady's historic Stockade neighborhood. Friday 7 pm and 7:30 pm -- $12 (advance purchase required)
Festivals
Saratoga Fall Festival
Saturday: The Saratoga Downtown Business Association hosts its Fall Festival. It's a family-friendly event with pony rides, a rock climbing wall, a petting zoo, trick or treating and the annual pumpkin roll down Caroline Street. Here's the full schedule of events. Saturday 11 am-4 pm
Festival of Nations
Sunday: The Empire State Plaza Convention Center hosts the 46th annual Festival of Nations. Food, crafts and performances from 25 countries. Sunday noon-5 pm -- $5 adults / $2 children
Stage
Evil Dead The Musical
Friday: Proctors presents a production of Evil Dead the Musical, the cult horror/comedy film. Friday 8 pm -- $20 and up ($85 for the splatter zone
I Love You Because
Friday-Sunday: Not So Common Players presents I Love You Because, a modern musical twist on Jane Austen's Pride and Prejudice. Friday and Saturday 8 pm, Sunday 2 pm -- free
Mary Armentrout Dance Theater at EMPAC
Friday: The Mary Armentrout Dance Theater, currently artists in residence at EMPAC, presents "a work-in-progress performance of new project integrating technology, history, and the human body." Friday 5 pm -- free
Local Actors Guild of Saratoga New Play Festival
Friday-Sunday: The Local Actors Guild presents a New Play Festival with three never-produced full length productions. Plays include: Our Time by Ken Levine, screenwriter for M*A*S*H and Cheers , Strong Street by Jeremy Buchner, and Affected by Christina Asselin. Friday and Saturday 8 pm, Sunday 2 pm -- $15
Peter and the Starcatcher
Saturday-Sunday: Home Made Theater in Saratoga has a production of Peter and the Starcatcher. The play is an inventive backstory for Peter Pan. Saturday 7:30 pm, Sunday 3 pm -- $29
The Legend of Georgia McBride
Friday-Sunday: Curtain Call Theater continues a production of The Legend of Georgia McBride."A small-time Elvis impersonator comes under the wing of a self-proclaimed grand dame of drag." Friday and Saturday 8 pm, Sunday 3 pm -- $25
Creep Show VI: Benefit for Caffe Lena
Sunday: The annual Creep Show benefit for Caffe Lena. "It's a sinful, silly and sinister musical extravaganza to raise funds for Caffe Lena's year-round programming." Music, comedy and more. Sunday 7 pm -- $20 / $10 for students
Thomas Friedman + John E. Kelly III
Friday: Union's Feigenbaum Forum on Innovation and Creativity has a conversation between NYT columnist Thomas Friedman and IBM senior vice president John E. Kelly III. Kelly oversees the division of IBM that developed Watson. (He's also a Union alum and chair of the college's board of trustees.) Friday 5 pm, Memorial Chapel -- free
PechaKucha Night
Friday: The Opalka Gallery hosts a PechaKucha night -- an evening of short talks by interesting people on different subjects. Speakers present 20 slides for 20 seconds each. Friday 6:30 pm -- free
Film
Film Columbia
Friday-Sunday: The Film Columbia film festival continues in Chatham. The schedule includes a bunch of films that are already getting attention because of screenings at other festivals and/or they're eagerly awaited because of stars or directors involved. Friday-Sunday various times and prices
Zombie film festival
Friday-Sunday The Madison Theater is hosting a Zombie film festival this weekend. The films in the lineup include: Romero's Dawn of the Dead (1978), Zombie (1979), Train to Busan (2016), [REC] (2007), The Girl With All the Gifts (2016), I Walked with a Zombie (1943), and the premiere of the local film Dead Burger. The festival is presented with UAlbany's Writing and Critical Inquiry program. And some of the screenings include talks and discussions involving University of Worcester (UK) lecturer Mikel Koven. Friday-Sunday various times
Night of the Living Dead with live accompaniment
Friday: Proctors is screening Night of the Living Dead accompanied by an original score played by the Andrew Alden Ensemble. Friday 7 pm -- $15 / $10 for students
Quills
Friday: The NYS Writers Institute film series continues with a screening of Quills. "The Marquis de Sade, notable French philosopher, writer, and sexual deviant, engages in a battle of wills with a doctor at the asylum where he is incarcerated." Friday 7:30 pm, Page Hall, downtown campus -- free
Song of Lahore
Sunday: Bow Tie Cinemas in Saratoga Springs presents a screening of the documentary Song of Lahore, "a documentary about a group of musicians called the Sachal Ensemble trying to survive in the oppression and brutality of modern day Pakistan. The film illustrates how their music-making not only brought inspiration to their lives, but literally sustained them in their struggles - and how, finally, they were discovered on YouTube by Wynton Marsalis and brought to the US for performances at Jazz at Lincoln Center." Sunday at 3:30 pm and 7 pm -- $5
* The group is performing at Proctors on Saturday, October 28 and at the SPAC Little Theater Monday, October 30.
The Magic Flute
Sunday: Proctors is screening the Royal Opera's production of Mozart's The Magic Flute. Sunday 1 pm -- $15
Comedy
Pretty Much the Best Comedy Show
Saturday: Pretty Much the Best Comedy Show returns to Proctors with headliner Erik Bergstrom. "Bergstrom's hilariously dark comedy is a fitting match for Halloween weekend, as an illustrator and author, he published his first book, "Grimmer Tales" (Penguin Books) in 2009 and has had his illustrations repeatedly appear in the New Yorker and other publications." Saturday 8 pm -- $15 advance, $20 at the door
Crime Alley: Sketch Comedy Show at MopCo
Friday: Crime Alley Sketch Comedy company returns to the MopCo Improv Theater, Friday 8 pm -- $10 / $6 for students and seniors
Tony Roberts
Friday-Saturday: Tony Roberts headlines at the Albany Funny Bone this weekend. Friday-Saturday, various times and prices
Spontaneous Broadway
Saturday: MopCo Improv Theatre presentsSpontaneous Broadway. Act one is a mock backers audition, in which the company invents songs based on audience suggestions. The audience votes on a favorite, and in act two, the company makes up the full musical, including costumes, sets and a reprise of the first act song. Saturday 8 pm -- $10 / $6 for students and seniors
Music
Friday: Primus at The Palace
Still kicking. 8 pm -- $29.50 and up
Friday: Cry Cry Cry at Troy Music Hall
Dar Williams, Lucy Kaplansky, and Richard Shindell. 8 pm -- $29 and up
Friday: The Puerto Rico Disaster Relief Team of the Capital Region Benefit Concert at The Egg
Alex Torres & His Latin Orchestra, Taina Asili y La Banda Rebelde, Bronte Roman, Orquesta Sabor Caribe. 7:30 pm -- $25 and up
Friday: The Mammals at Caffe Lena
Americana. 8 pm -- $20
Friday: Willie Watson at Helsinki Hudson
Folk. With: Suzanne Santo. 9 pm -- $20
Saturday: Gedeon Luke & The People at The Massry Center
Soul. 8 pm -- $35 / $10 students
Saturday: Loudon Wainwright III at The Egg
Part of a large musical family tree. With: Suzzy Roche and Lucy Wainwright Roche. 7:30 pm -- $34
Saturday: James McMurtry at The Hangar
"The most disinterested man in the world." 8 pm -- $20 ahead / $25 day of
Saturday: Mike Zito at The Upper Room
Blues. 7 pm -- $22 and up
Saturday: Mipso at Caffe Lena
Indie Americana. 8 pm -- $22
Saturday: Groovin'... Ghostly Legends and Friends at The Palace
"This entire production specializes in re-creating the look and sounds of the most popular artists from the greatest era of Classic Rock History..." A benefit for Veterans Miracle Center. 7 pm -- $28 and up
Saturday: Start Making Sense : A Tribute to Talking Heads Halloween Bash at The Hollow
Like it says on the label. 8 pm -- $20
Sunday: Renaissance at The Egg
Prog rock. 7 pm -- $34.50 and up
Sunday: Nano Stern at Sanctuary for Independent Media
"Chilean singer, composer and instrumentalist..." With: Taina Asili & Gaetano Vaccaro. 7 pm -- $15
Sunday: Across the Vast, Eternal Sky at Troy Music Hall
The music of Ola Gjeilo, featuring the American String Quartet. An Albany Pro Musica concert. 3 pm -- $25 and up
Hockey
Friday-Saturday: Union and RPI face off Friday at Union's Messa Rink and Saturday at RPI's Houston Field House. Friday and Saturday 7 pm
Renewable Energy & Sustainable Living Fair
Saturday: The Doane Stuart School hosts a Renewable Energy and Sustainable Living Fair. A dozen electric vehicles to try, a solar boat, tour of the school's green roof, exhibits , crafts and kid-friendly activities. Saturday, 10 am to 4 pm -- free admission
Museums/galleries
Ain't Got Time to Die
Saturday: 2 Depot Square in Chatham hosts an exhibit by street artist Scout/Pines that incorporates folk-art portraits of people whose stories have been overlooked or marginalized, including WWI hero Henry Johnson. opens Saturday 5-8 pm
International Observe the Moon Night
The Dudley Observatory is hosting an astronomy program for International Observe the Moon Night. Saturday 7-9 pm -- free with admission
Broadway Goes to War: "Soldier Shows" of World War I
Saturday: The State Library hosts Broadway Goes to War, a talk by author David Fisk. Saturday 2 pm -- free
The Tang
The Tang Museum at Skidmore College recently opened an exhibit of work by Njideka Akunyili Crosby this weekend. She was awarded one of the MacArthur Foundation "genius grants" this year. (On display through December 31.)
Albany Institute
Well-Dressed, an exhibit of high fashion from the 19th century, continues at the Albany Institute of History and Art, along with an exhibit about the the anti-suffrage movement in Albany. Also almost its entire collection of Hudson River School works is on display.
Hyde Collection
The Hyde Collection recently opened a a touring exhibit of folk art (on display through the end of 2017). And the new Feibes & Schmitt Gallery is open.
State Museum
The State Museum recently opened the first phase of its new Enterprising Waters: New York's Erie Canal exhibit.
MASS MoCA
MASS MoCA has a bunch of exhibits on display that make use of its huge gallery expansion.
USS Slater
The USS Slater, the destroyer escort historical museum in Albany, is open for tours. Wednesday-Sunday 10 am-4 pm -- $9 / $8 for seniors / $7 for kids 6 to 14 / free for kids 5 and under
Cider donuts
It's cider donut season. Try one, or try a lot. Here are a few places to try.
Farmers' markets
+ Troy Waterfront Farmers Market is on River Street around Monument Square. Saturday 9 am-2 pm
+ The Delmar Farmers Market is Bethlehem Central Middle School (332 Kenwood Ave). Saturday 9 am-1 pm
+ The Saratoga Farmers' Market is outdoors at High Rock Park Saturday 9 am-1 pm
+ The Schenectady Greenmarket is at its outdoor location around city hall. Sunday 10 am-2 pm
+ The Spa City Farmers' Market is on the lawn of the the Lincoln Baths. Sunday 10 am-3 pm.
Troy Makers Market
Saturday: Local craft vendors will display and sell wares at the Troy Makers Market in conjunction with the Troy Waterfront Farmers Market. Saturday 9 am to noon
Day trips
Explore New Paltz, head for The Berkshires, the Catskills, or Columbia County.
The Albany Institute, the Mop & Bucket Company, Downtown Troy BID, Troy Music Hall, and City Beer Hall advertise on AOA. And AOA is a media sponsor of the Boo-Jolais Vampire Ball and the Streets of London masquerade event.
Say Something!
We'd really like you to take part in the conversation here at All Over Albany. But we do have a few rules here. Don't worry, they're easy. The first: be kind. The second: treat everyone else with the same respect you'd like to see in return. Cool? Great, post away. Comments are moderated so it might take a little while for your comment to show up. Thanks for being patient.